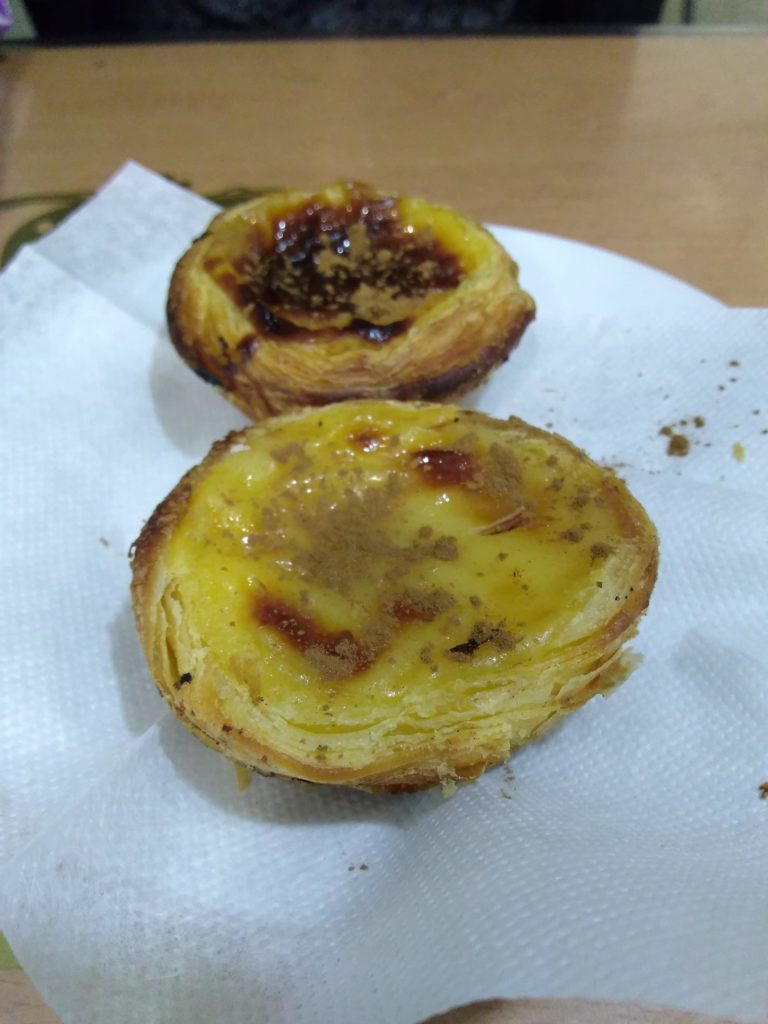 Today was another day at work, a more quiet one. As I settle into a rhythm, I get used to the women in dresses and men in suits or uniforms, and the fountains and gardens and courtyard outside. I hear people say things like "this is the nicest city I've ever worked in", or "this is the best-run embassy I've ever been in", or even "this was my reward for several hardship posts", and it all makes sense. It's a beautiful embassy, extremely convenient for me to get to (even though it was raining today).
To get out of the rain, Laura and I had some Pasteis de Nata in my neighborhood bakery–I was awaiting something similar to Chinese Dan ta, but this was far more saccharin. It was indeed more like vanilla pudding in a pastery rather than an egg custard, so the sweetness was overpowering the richness of the custard and pastery, making it more like an american pudding donut than a eggy dessert. I'll have to try some more because these were not so exciting.
I have to start making plans/dreams for the weekend, but I have been so busy between work and taking care of everyday logistics that I haven't really gotten the chance to reflect or brainstorm what I want to see and do on the weekends at all. I also haven't gotten to reflect on how meaningful I find my work. It's so effortless to be enthralled with what I'm doing and with what I'm assigned–security trainings aside–that I'm not sure if this is my brain making me love this because I thought I would love it, or if I actually thoroughly enjoy the amazing combination of day-to-day tasks and longer and shorter specialized projects that all strive towards a higher purpose. I don't know. I'll have to keep reflecting, certainly.
Much love!