Today was a long day filled with activities–I started by taking a new route to the embassy and getting completely lost, but I did manage to get there at 8 for the meetup prior to the Kayaking trip. We drove on the bus from there for about an hour and a half, and so after a nap and some small talk, we were out on the Tagus (the river that flows past the Almourol castle and down to Lisbon). The water was pretty cold, but the exercise of kayaking made it feel comfortable.
We were so lucky that it was a truly beautiful day and the sun was shining. There were a lot of kayakers on the river, though. 🙂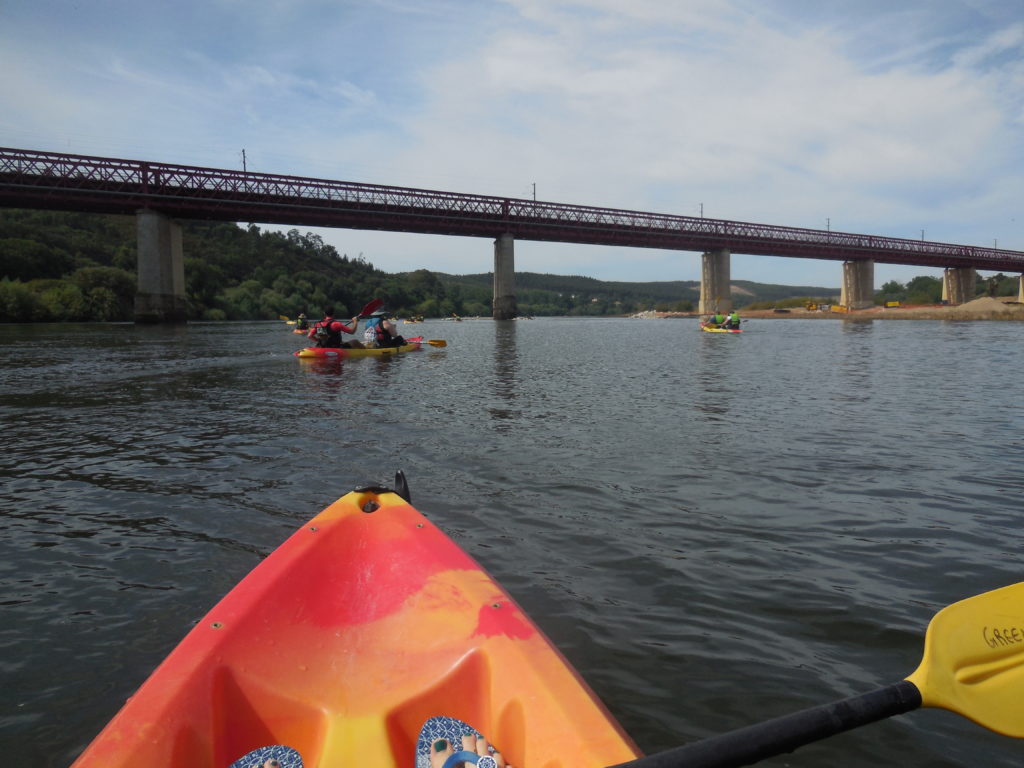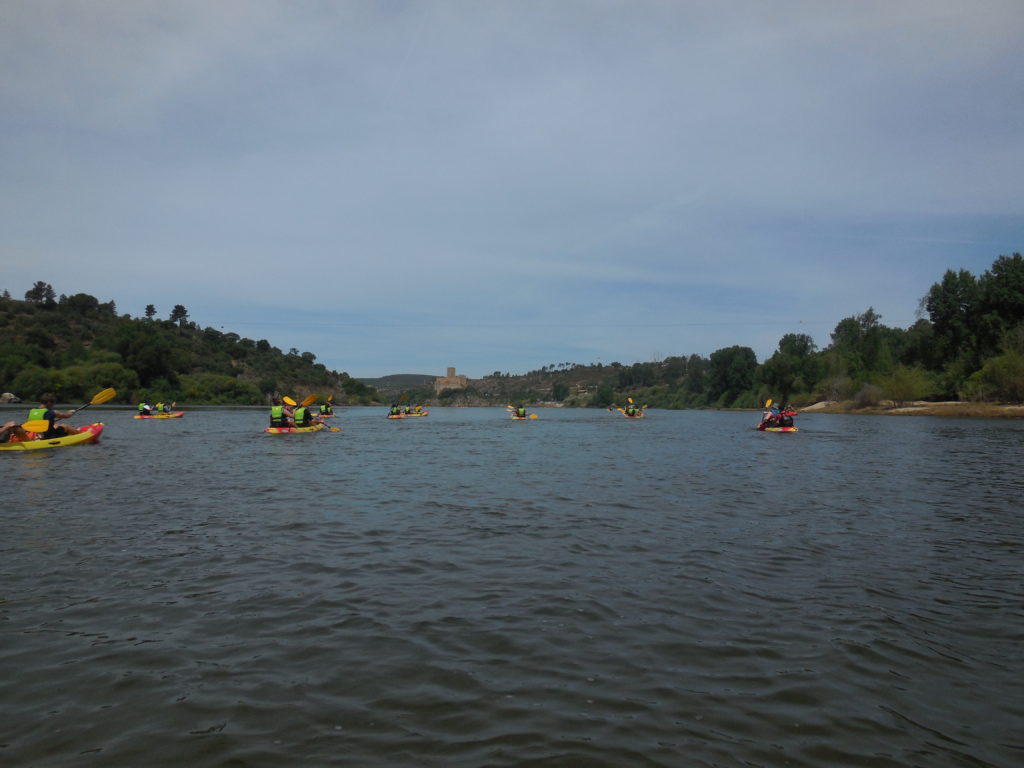 We kayaked past villages like these and then, after about an hour and a half to two hours of kayaking, we landed at the castle.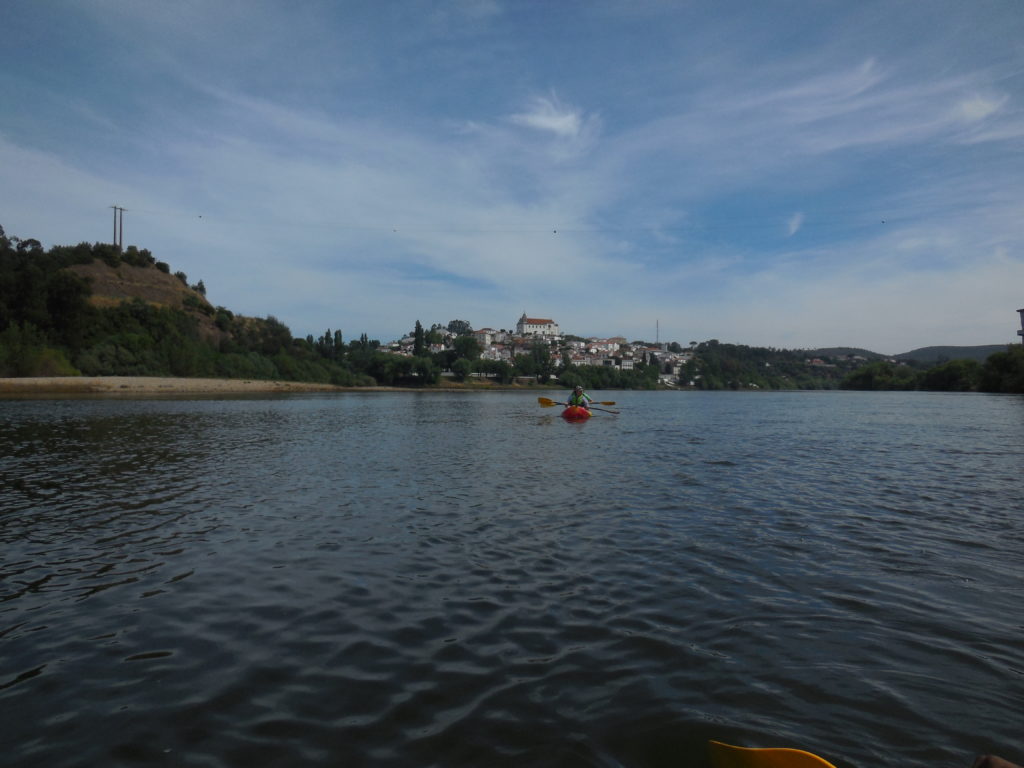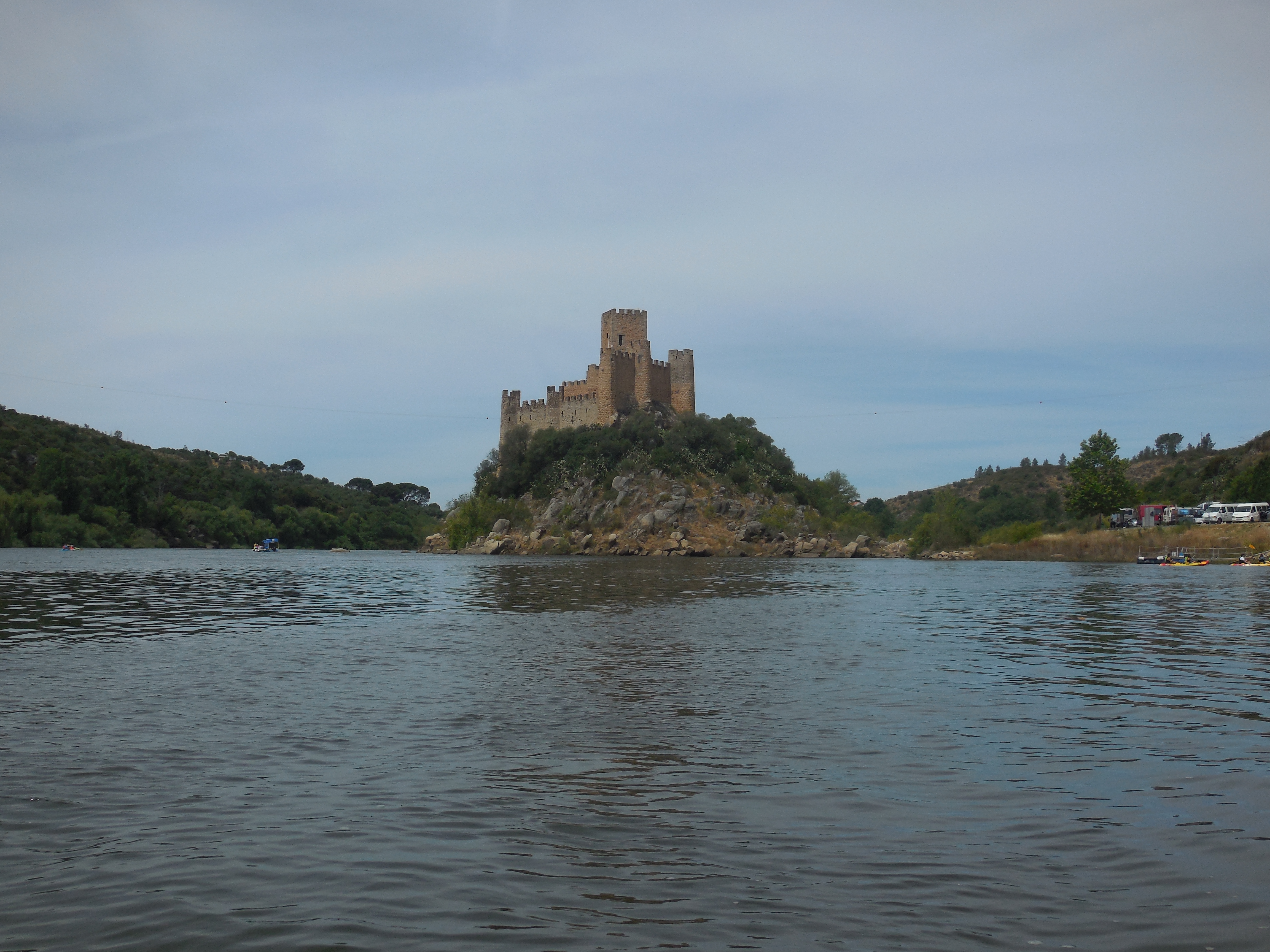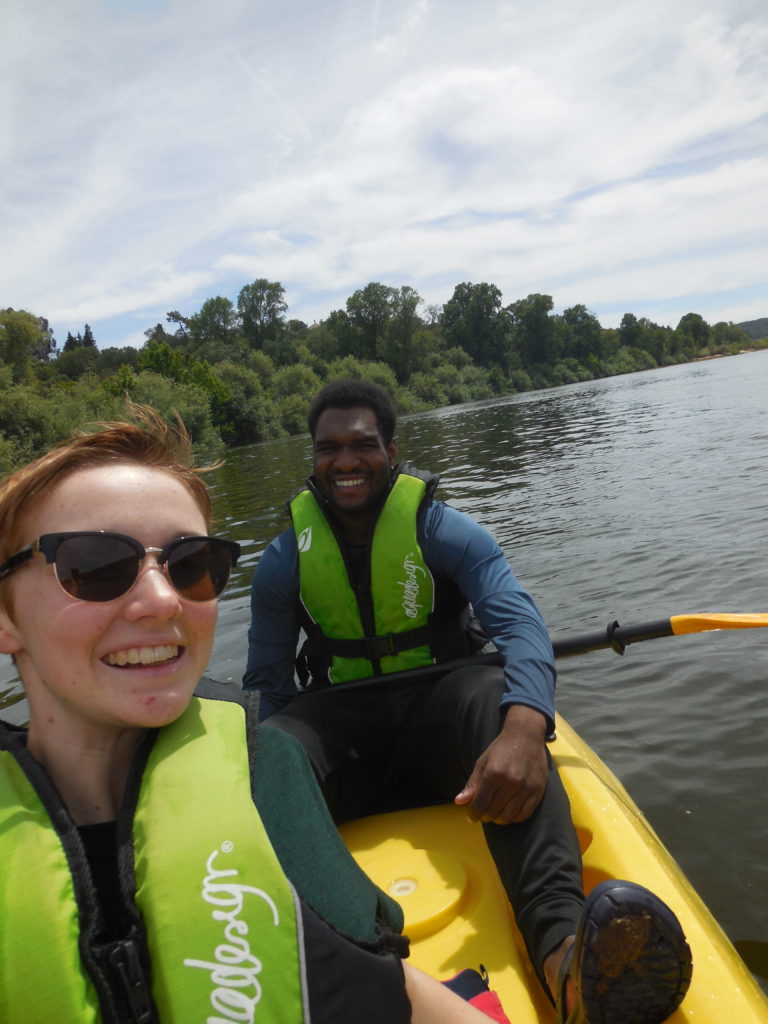 It's an awesome medieval castle, captured by the Portuguese nobility as they headed south to conquer Lisbon, and the center of many myths of knights and wizards and ladies. Ranked one of the most beautiful castles in Portugal, I must say–it's very cool.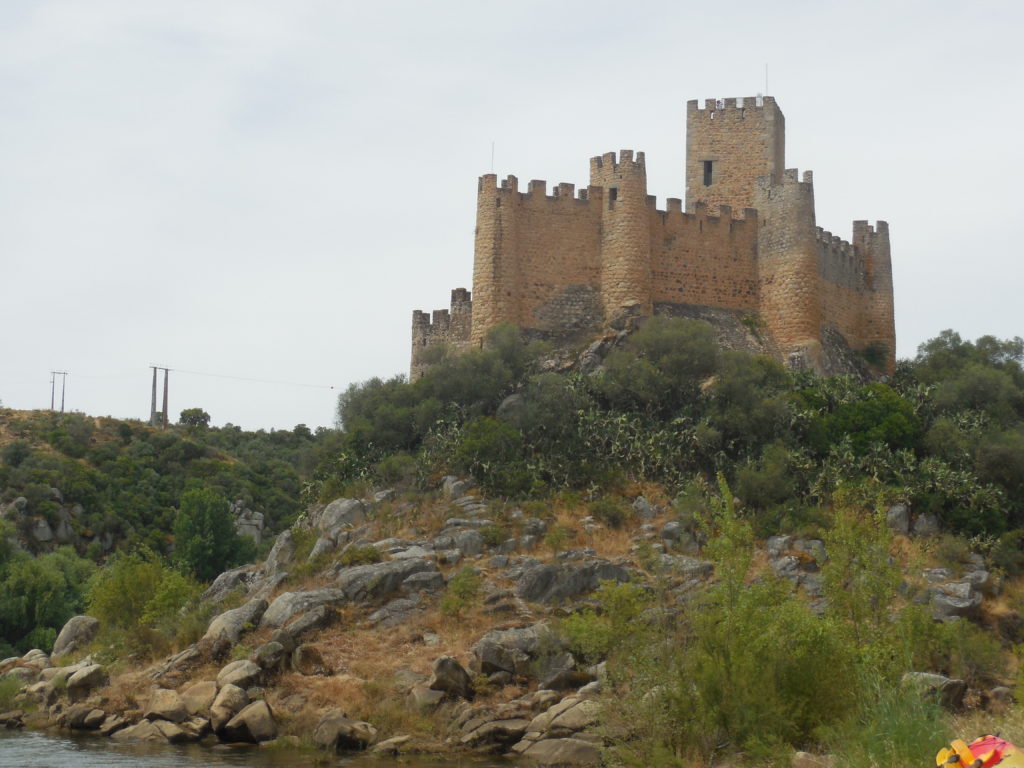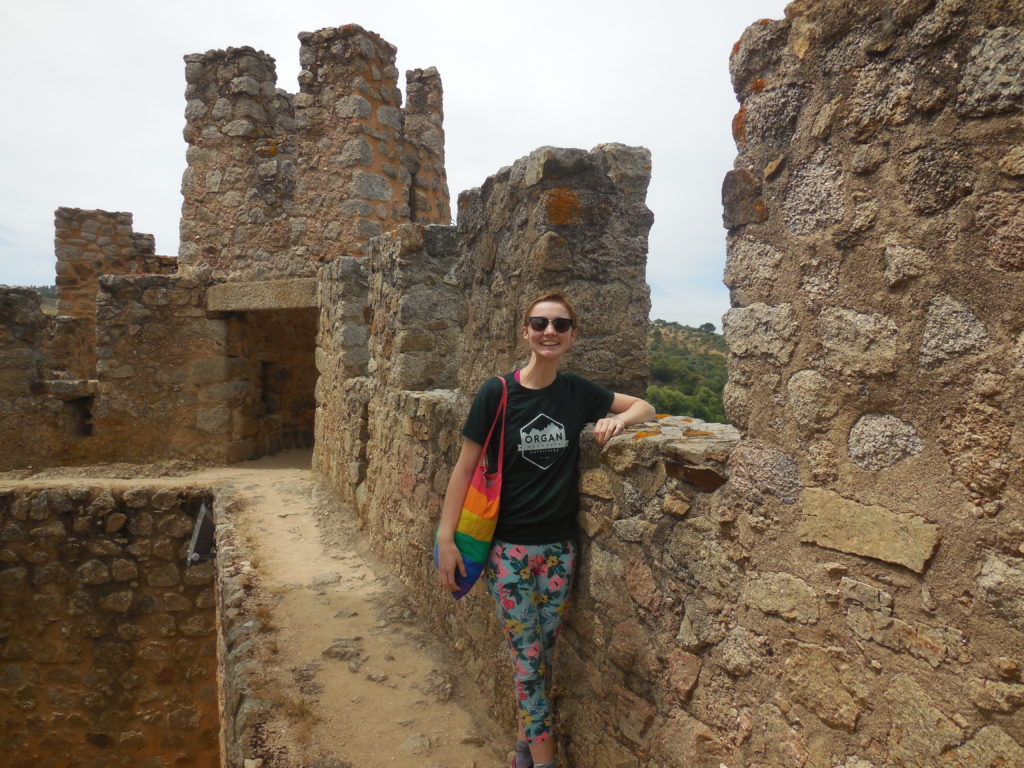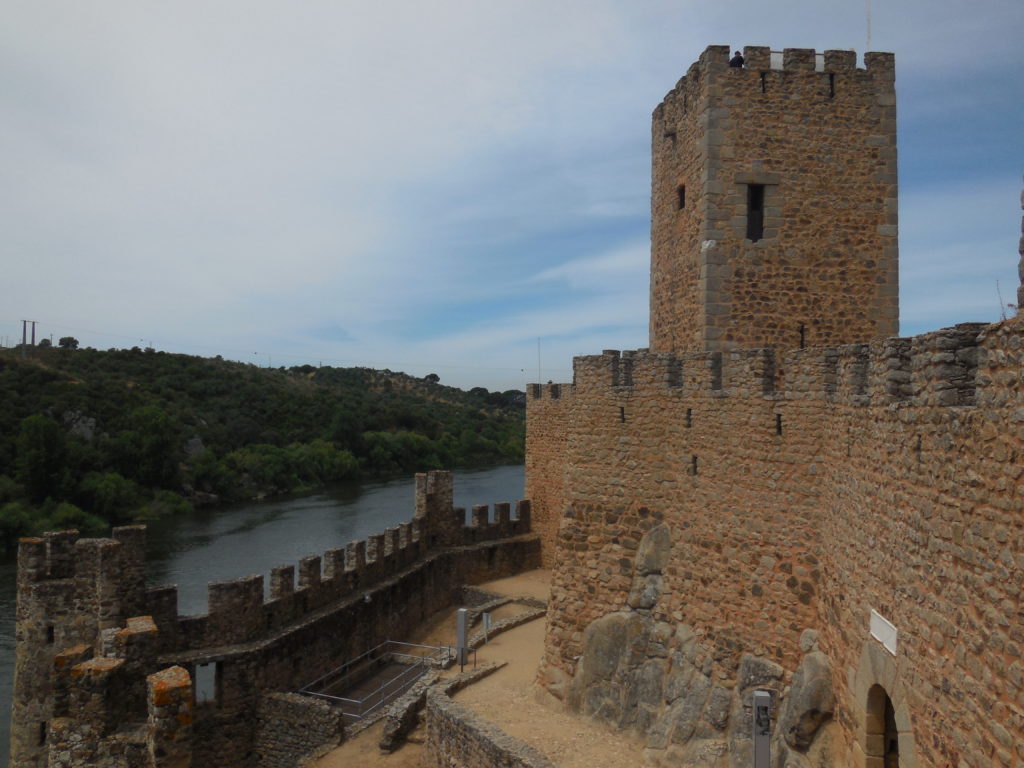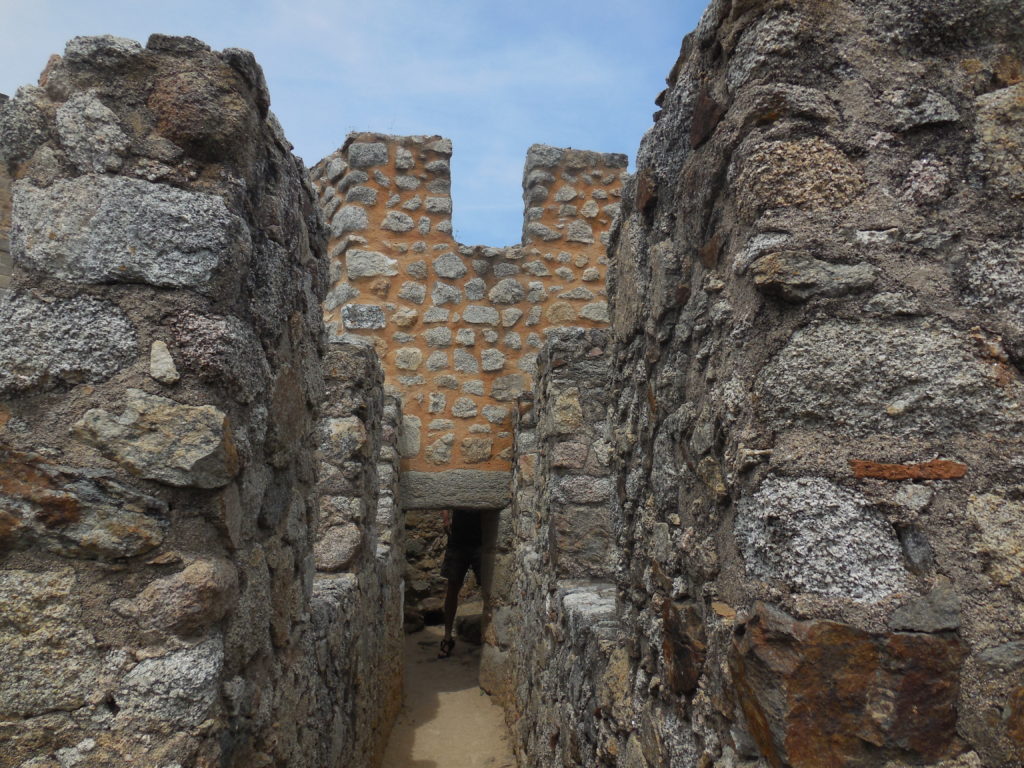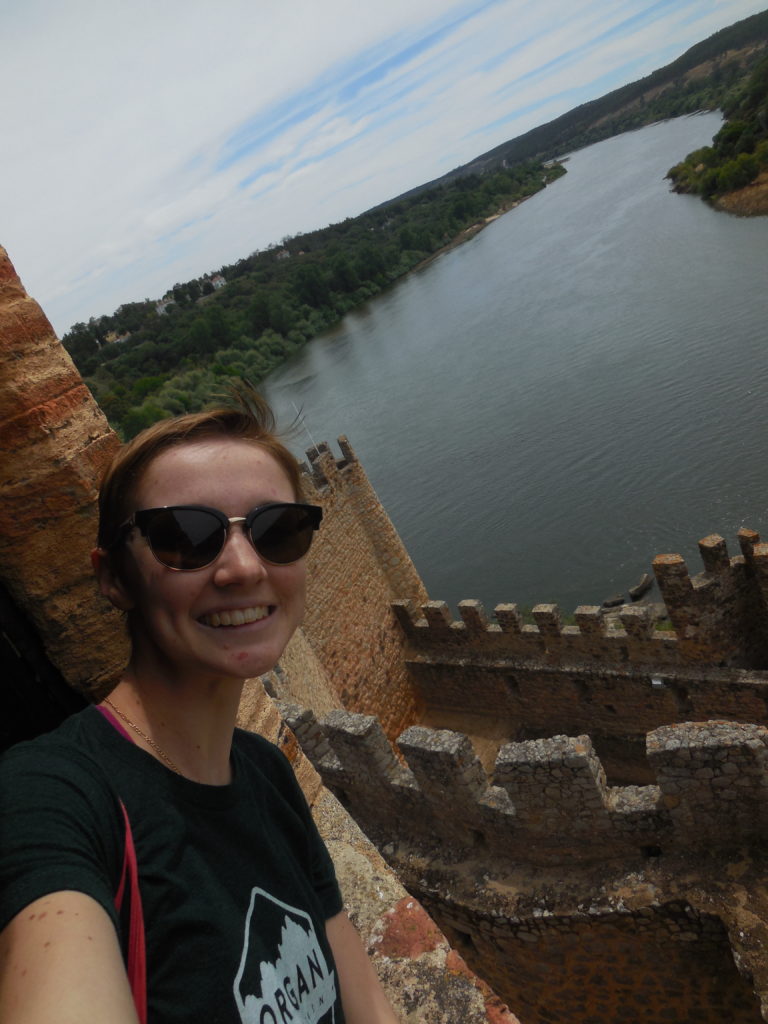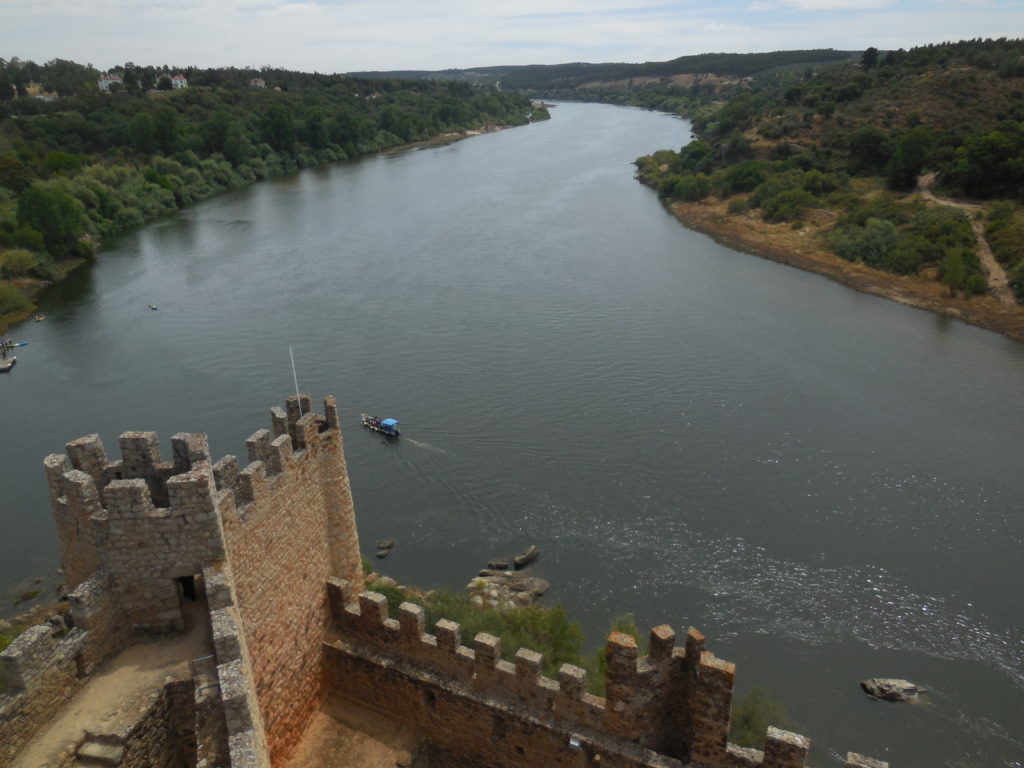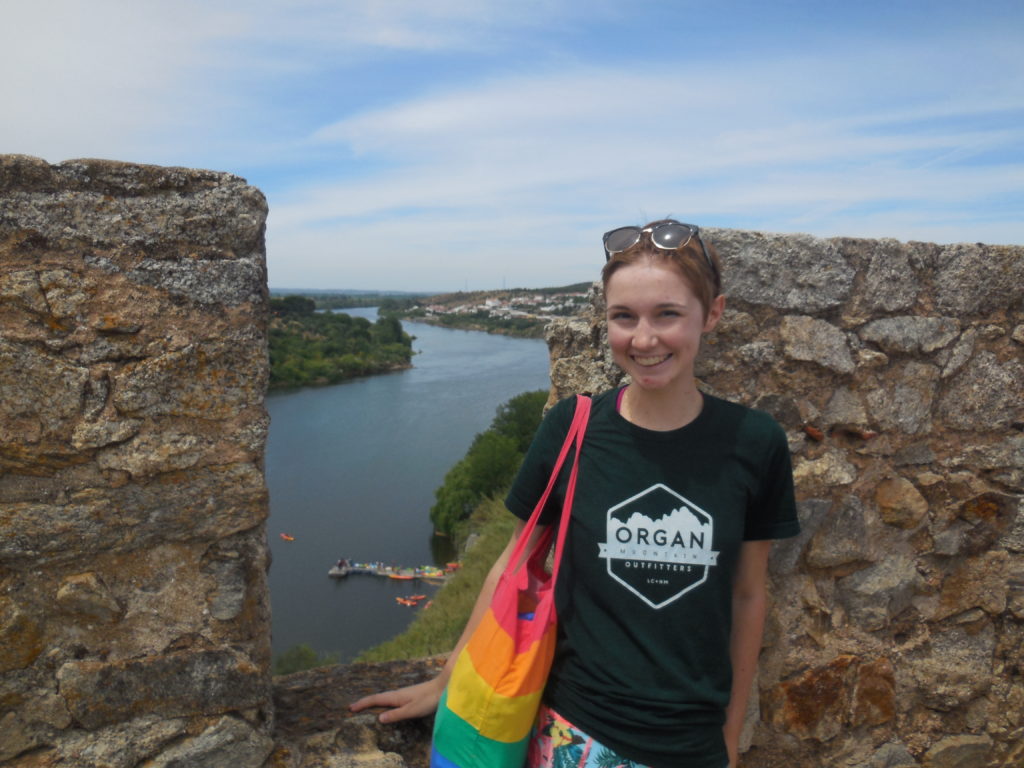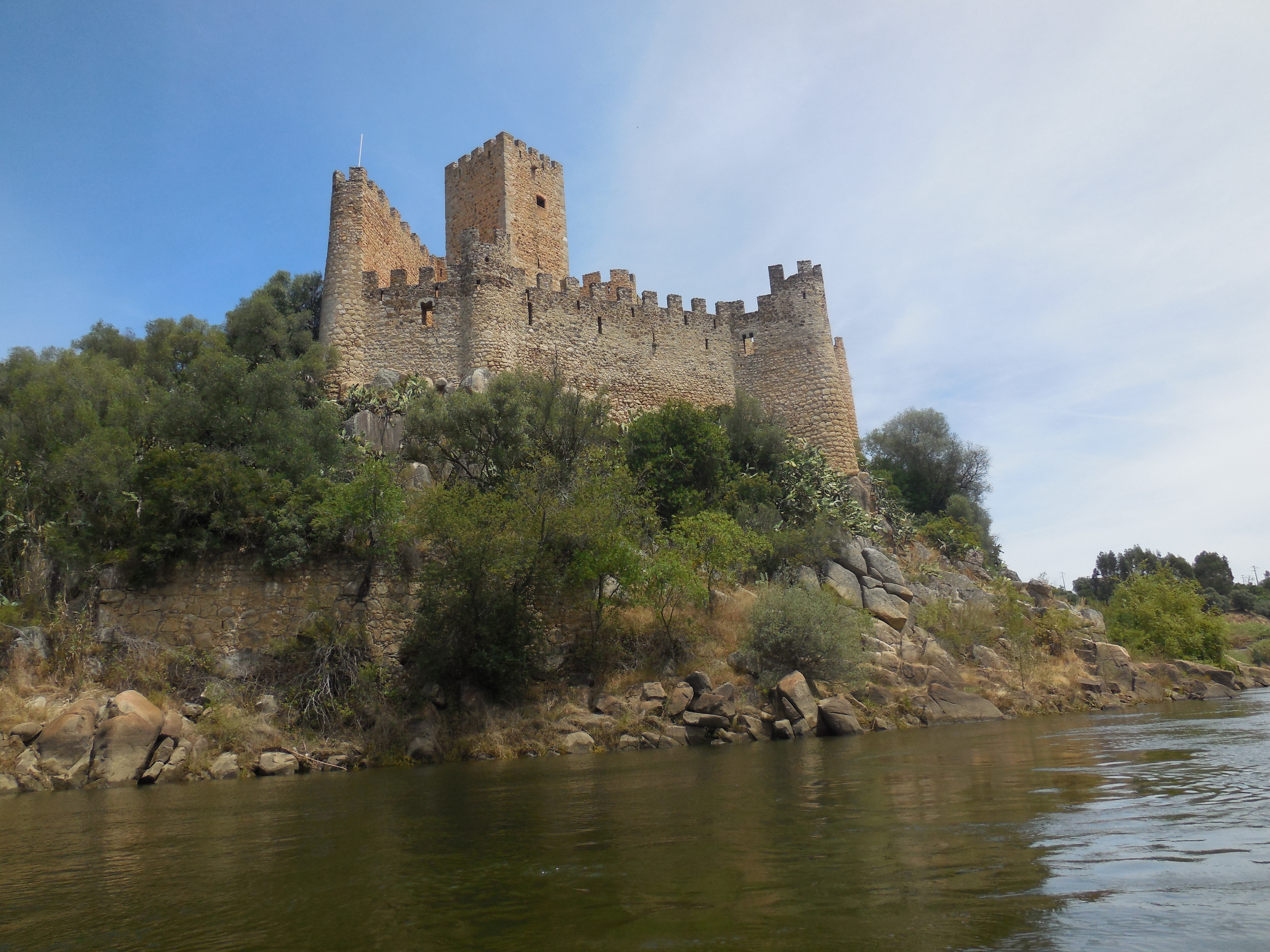 After traipsing around the castle, we went to lunch at a beautiful restaurant on the Tagus. Lunch included pork, potatoes, and a fun cabbage and bread and herbs mixture that reminded me a lot of Thanksgiving stuffing. There was also bread pudding for dessert.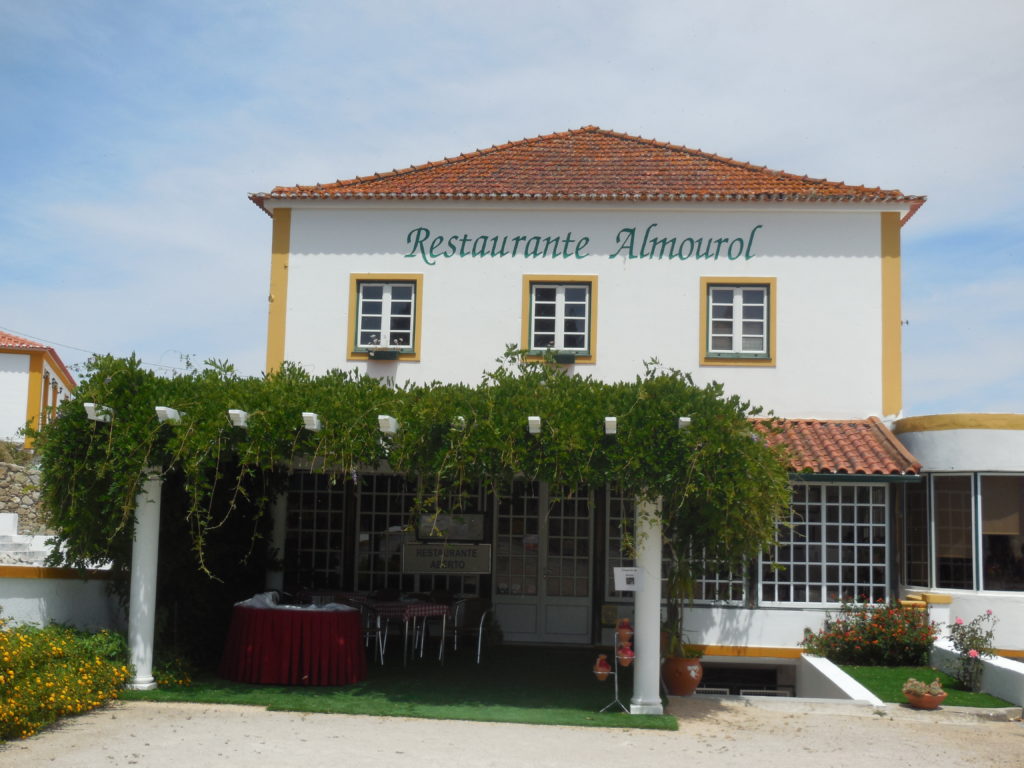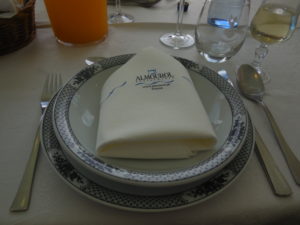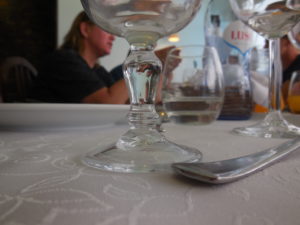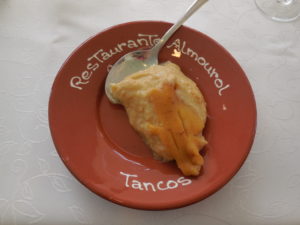 We got back to the embassy at around 4:30, and then I napped from 5 to 6:30. I then made my way to an annual outdoor sardine party hosted by one of my Portuguese colleagues at the embassy and feasted on grilled sardines, pork, olives (!) and melon until around midnight. It was fun to meet a bunch of people–here's a photo I took after it got dark.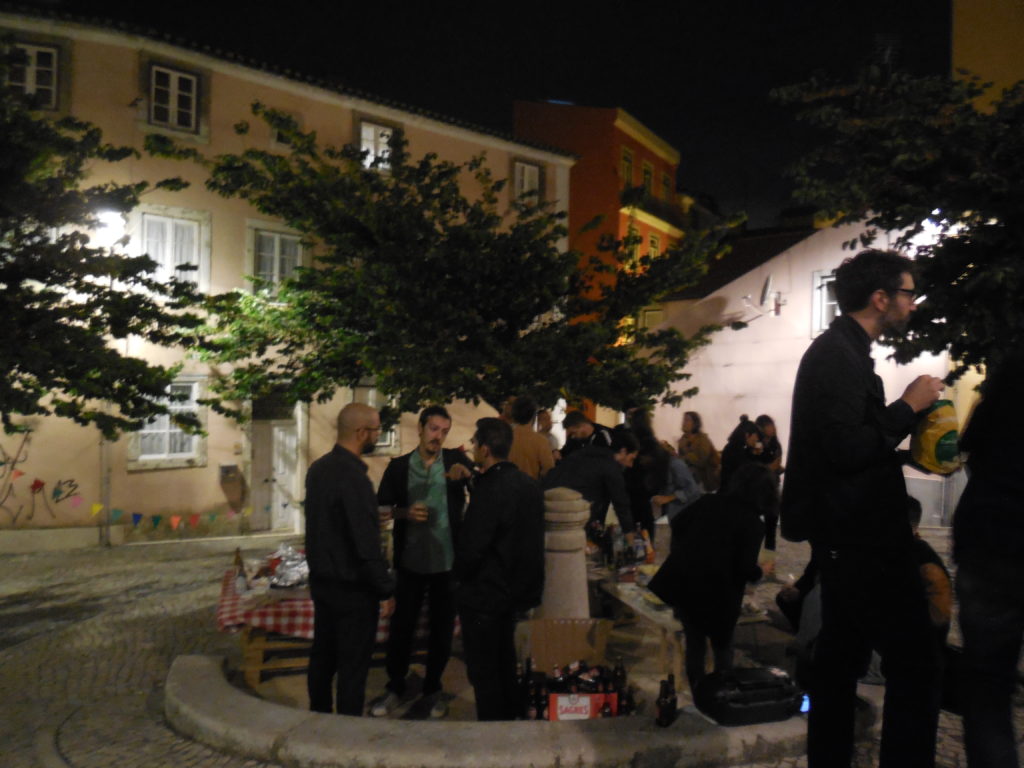 Then (when I really could have gone home and had a normal day on Sunday) we went to a Pride party that was going on on Praca do Commercio. It was loud and packed, but we met up with another intern from the embassy who is so fun to talk to that Laura and I proceeded to do so until around 2:30. He is Portuguese and knows more about the monarchy and revolution than anyone I've met, and he delights in sharing this passion, as well as his passion for soccer in Portugal, and discussing American Politics too. But yeah, it was late.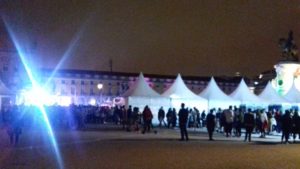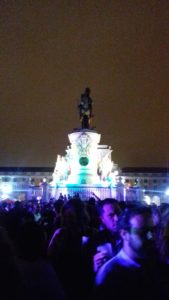 (the statue was lit up in rainbow colors but you can't really tell from this photo)
The good news is that Sunday is very rainy and not so good for any of these adventures and a much better day to spend reading and baking (which I'll write about later, haha).
Much love!