So today I spent the second day in Sintra with Brianna, which was awesome. I am also home, so here is a large photo collection from the camera's photos 🙂 It was  so amazing and beautiful and overwhelming. Today I feel like I encountered a lot more tourists, but that's okay. I feel like the two days gave me time to see everything I had hoped to see while still being relaxed (mostly) about it.
We started the day with breakfast at the hostel, which was wonderful. I really loved the host and the breakfast was very nice. Then Brianna went to Church and I went to a supermarket to secure provisions for a day of walking. Indeed, a day of walking it was! We met up at the Pena Palace, the beautiful disney-esque colorful palace with the "eclectic decorations", and then we explored the palace and the park (I wanted to hike up to the high cross, and we had lunch there). We then walked down to the moorish castle, enjoyed the views of Sintra and the palaces there, and then walked about a mile down to the train station, where we took a train back to Lisbon. It sounds so simple writing it out right now, but truly, everything about today was also extremely overwhelming and amazing but also at times confusing–I am bad at reading maps–and I was grateful to have a travel buddy.
Without further ado, here are some photos from this weekend in Sintra! (by some, I mean, a helluvalot)
Quinta de Regaleira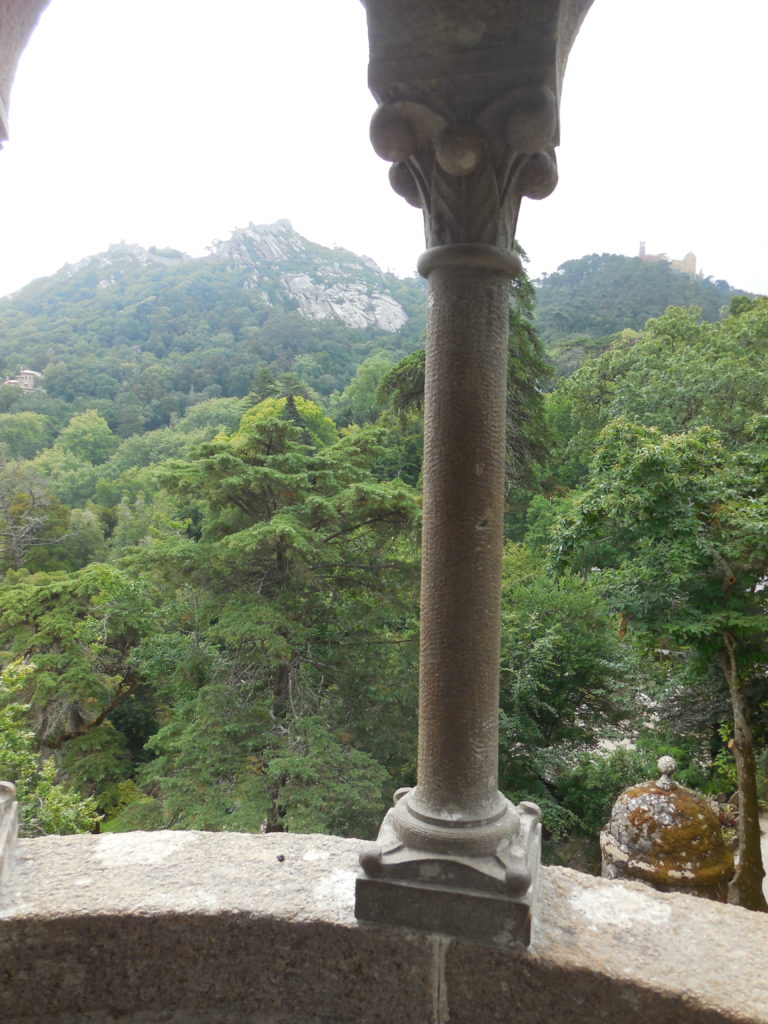 A column separates the two castles on the hill–the Moorish castle on the left and the Pena Palace on the right.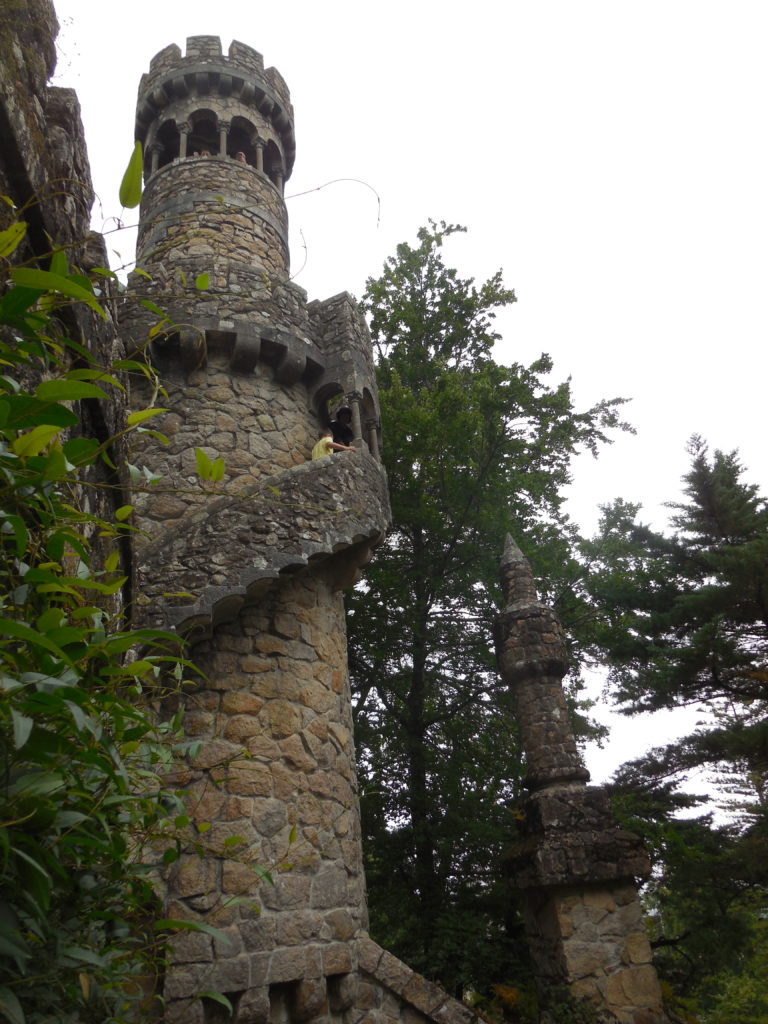 A spiral tower! (did we climb it too? of course)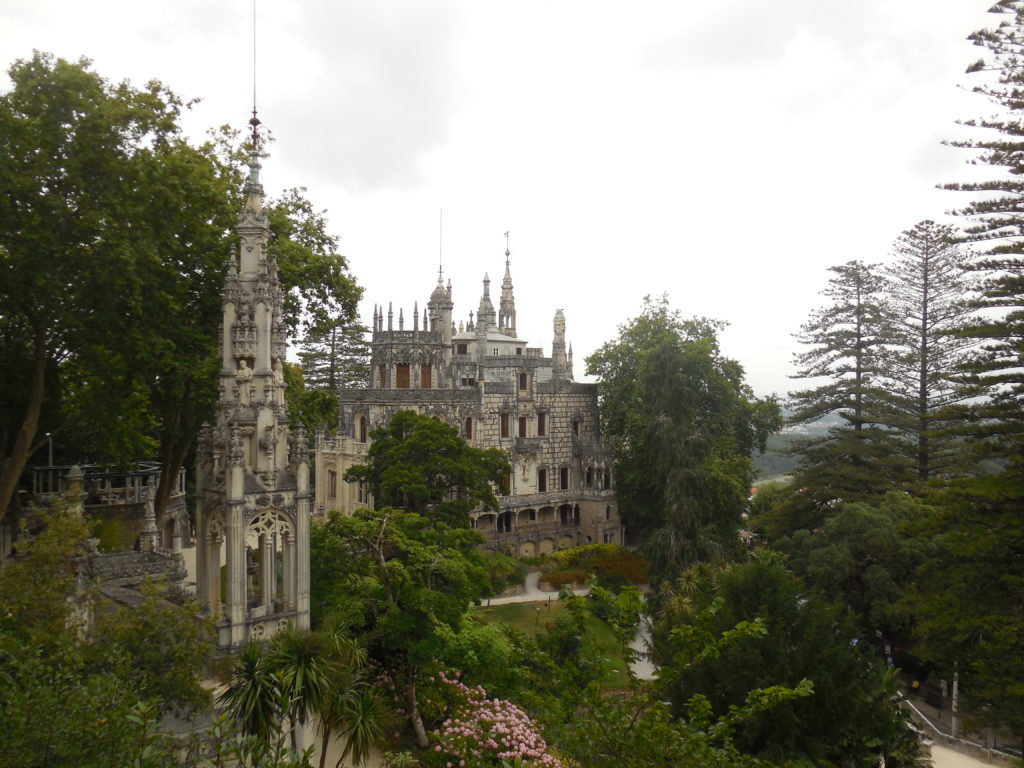 The Regaliera mansion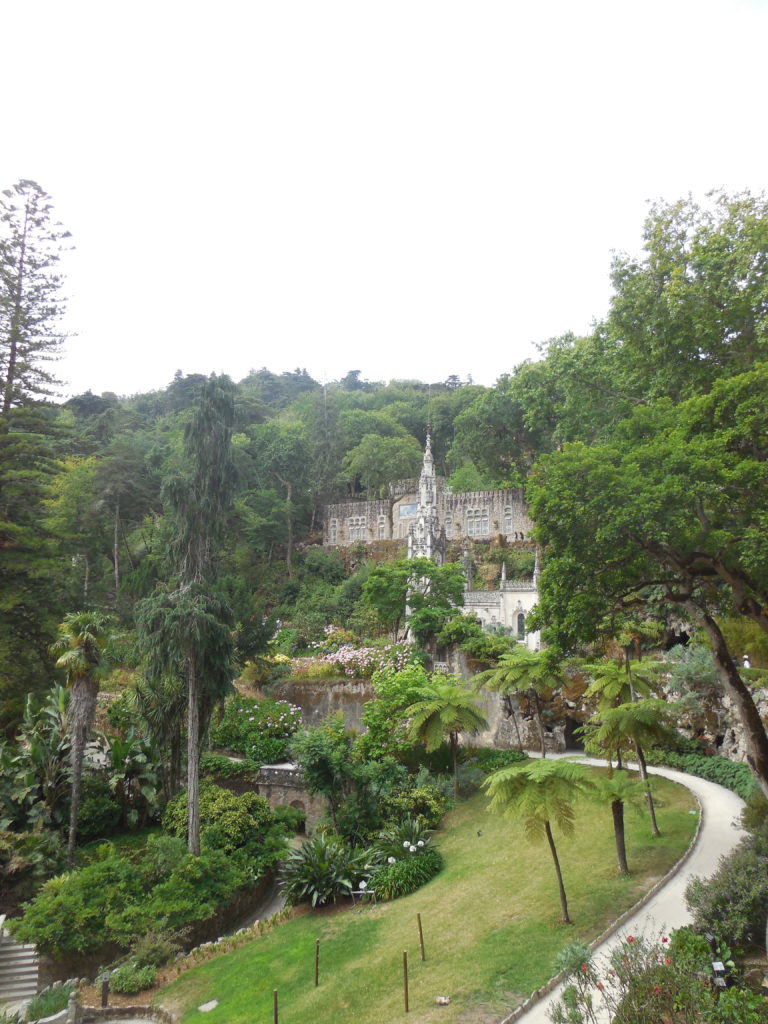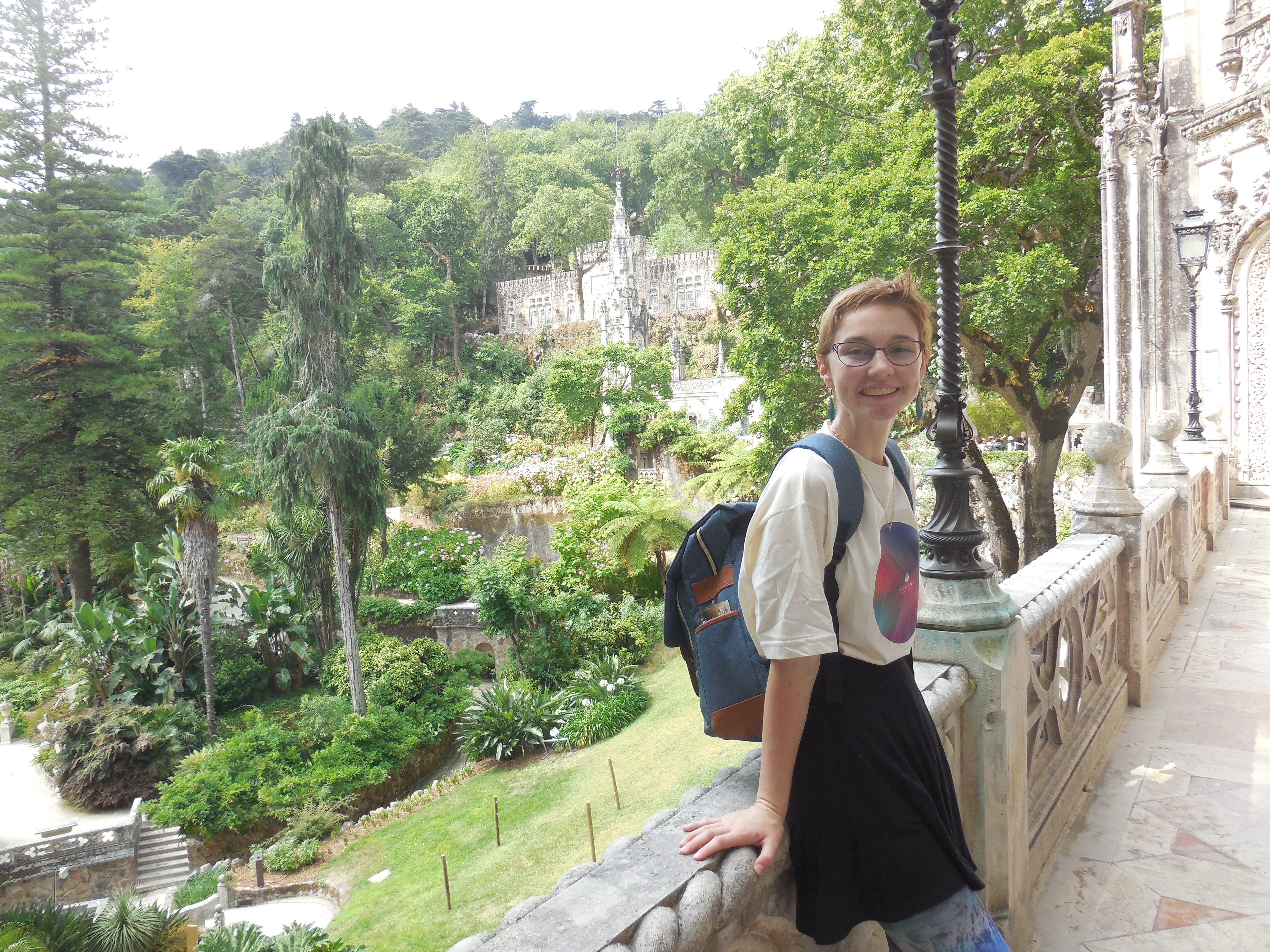 The grounds were absolutely beautiful and massive–it reminded me of Park Sansoucci in Germany, but so much more chaotic and winding. At one point there were 90 grandchildren living here, apparently.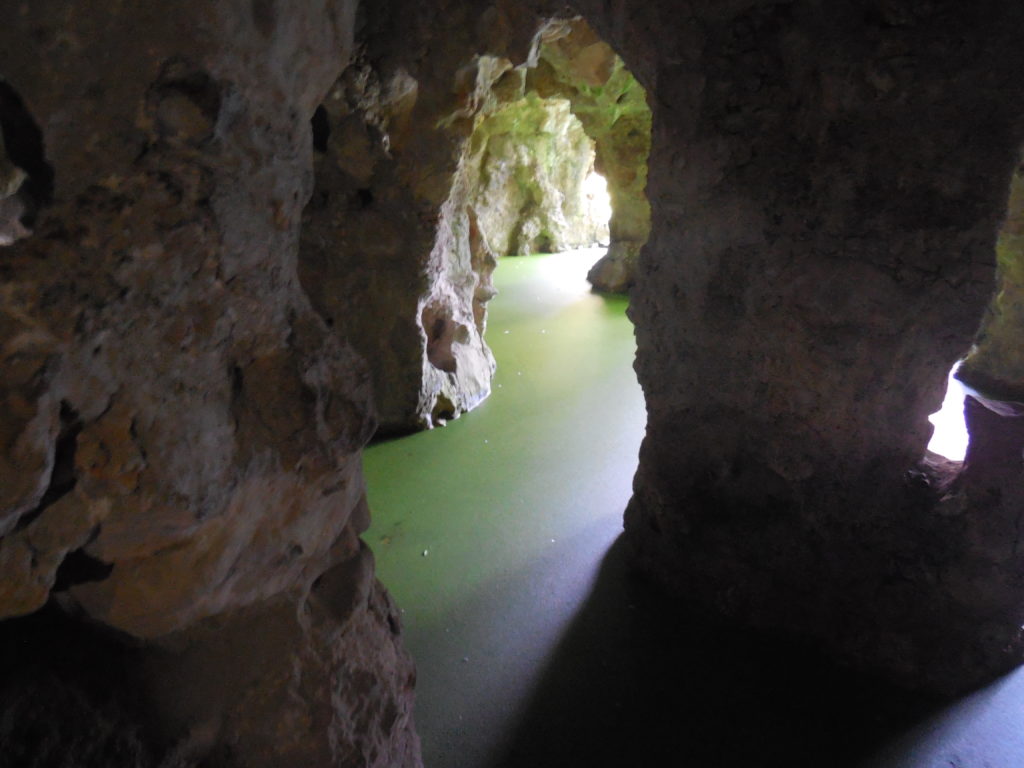 Caves and lakes that reminded me somewhat of something from Peter Pan, I don't know why. But it was really dark so Brianna and I quickly made an exit from these caves.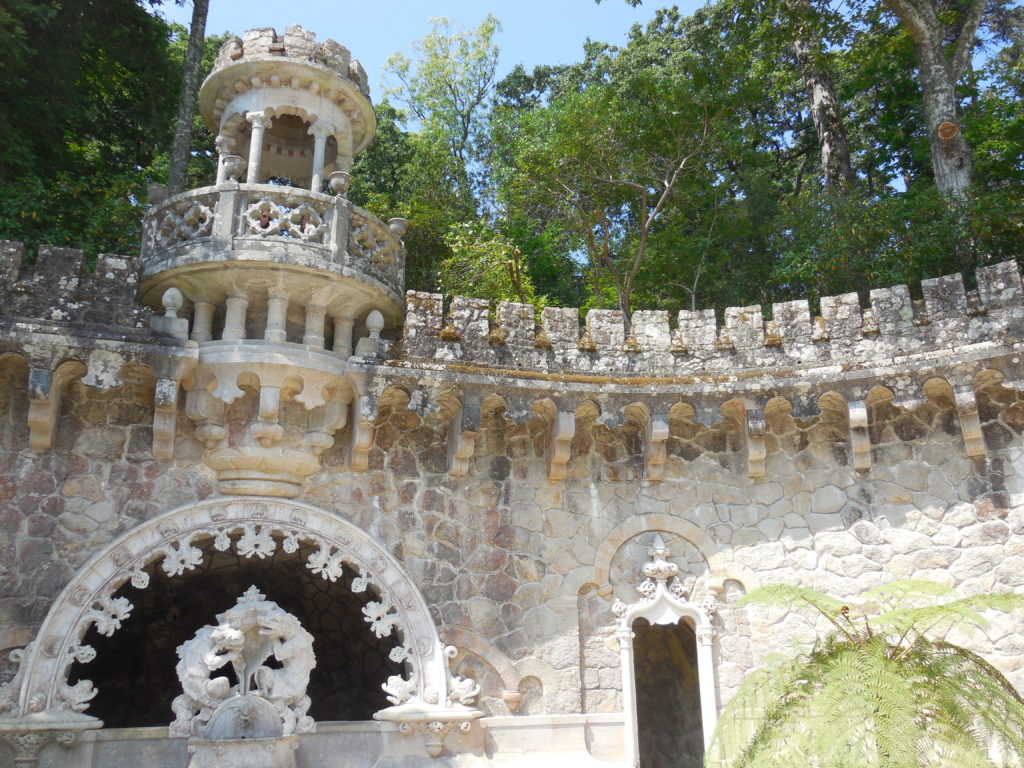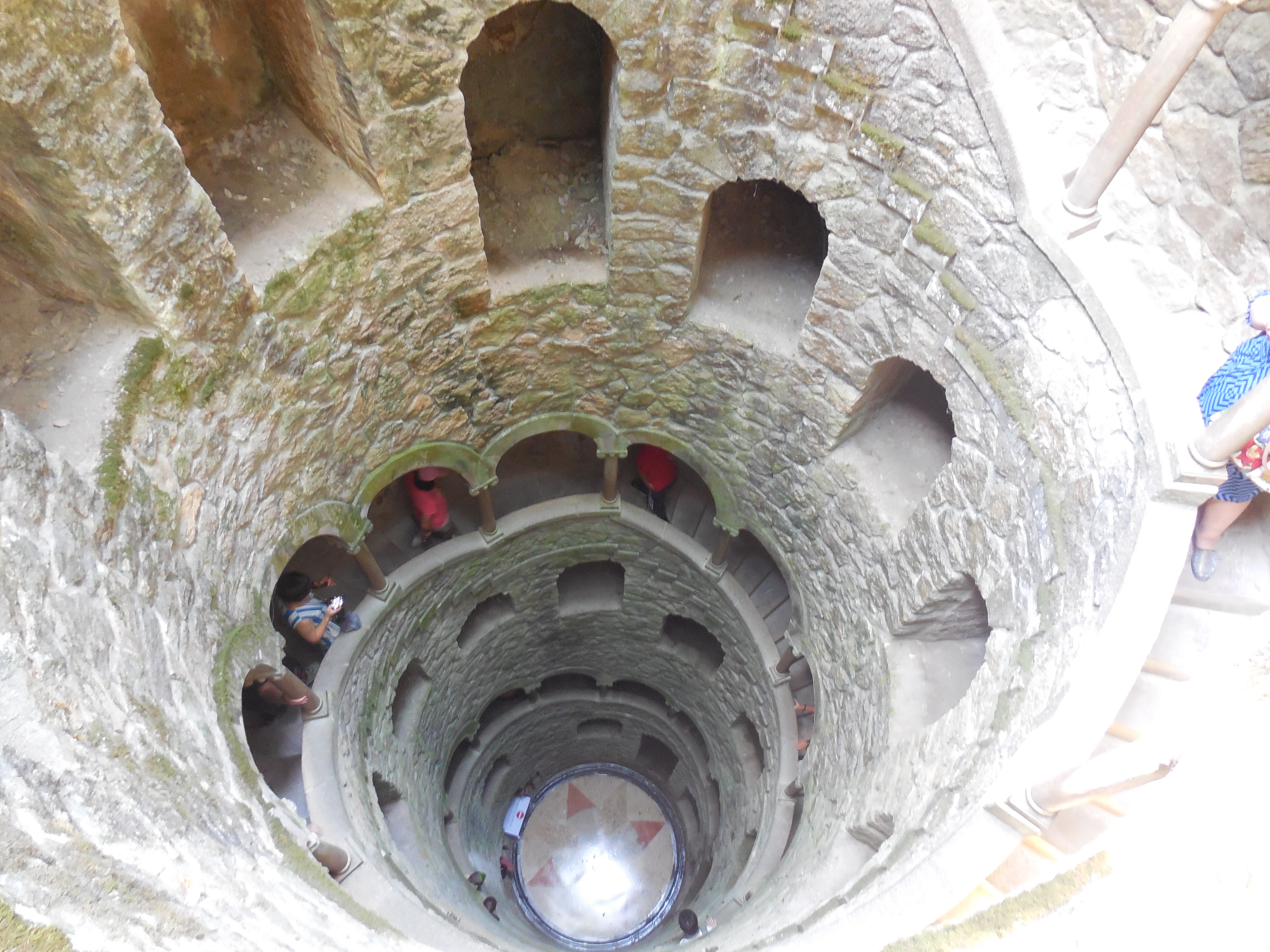 The well! it was a spiral all the way down to the bottom, where there were a bunch of caves to explore as well! It was so, so amazing. It felt like one big adventure world. Quinta de Regaleira is definitely one of the coolest places I've ever been to.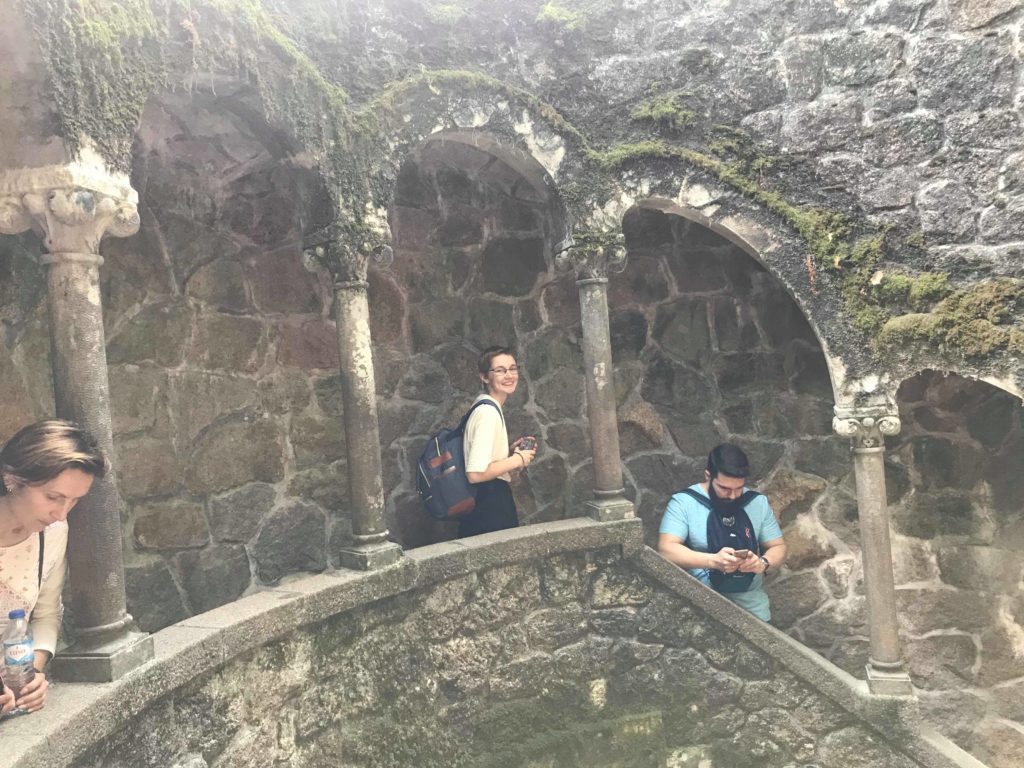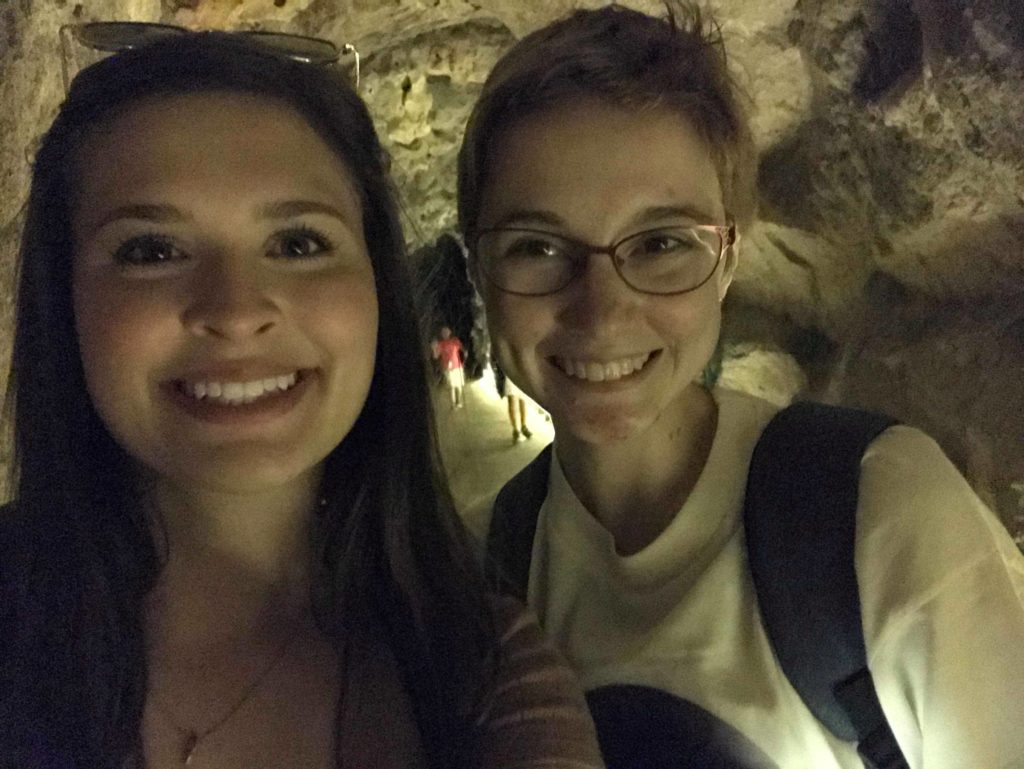 National Palace of Sintra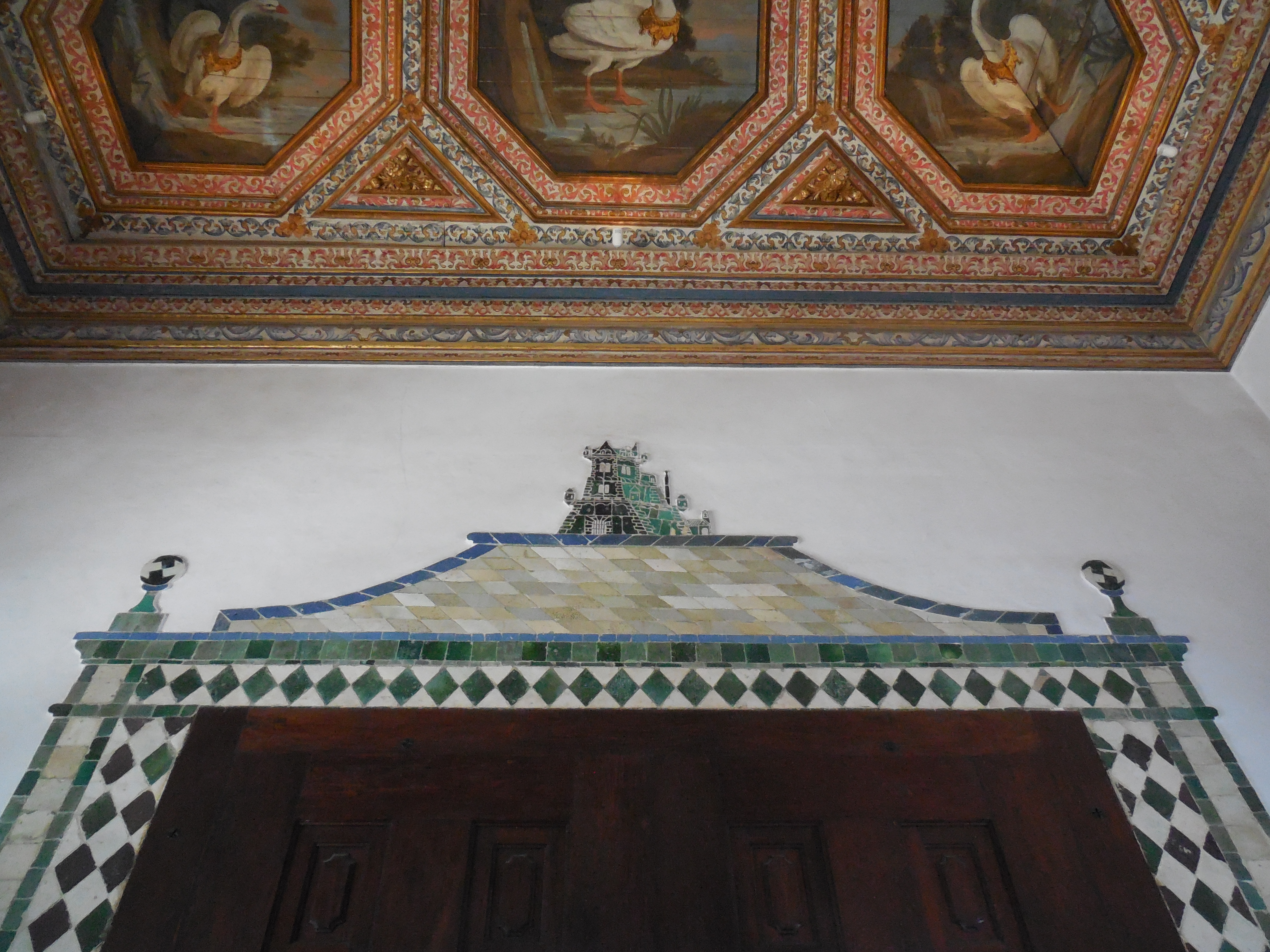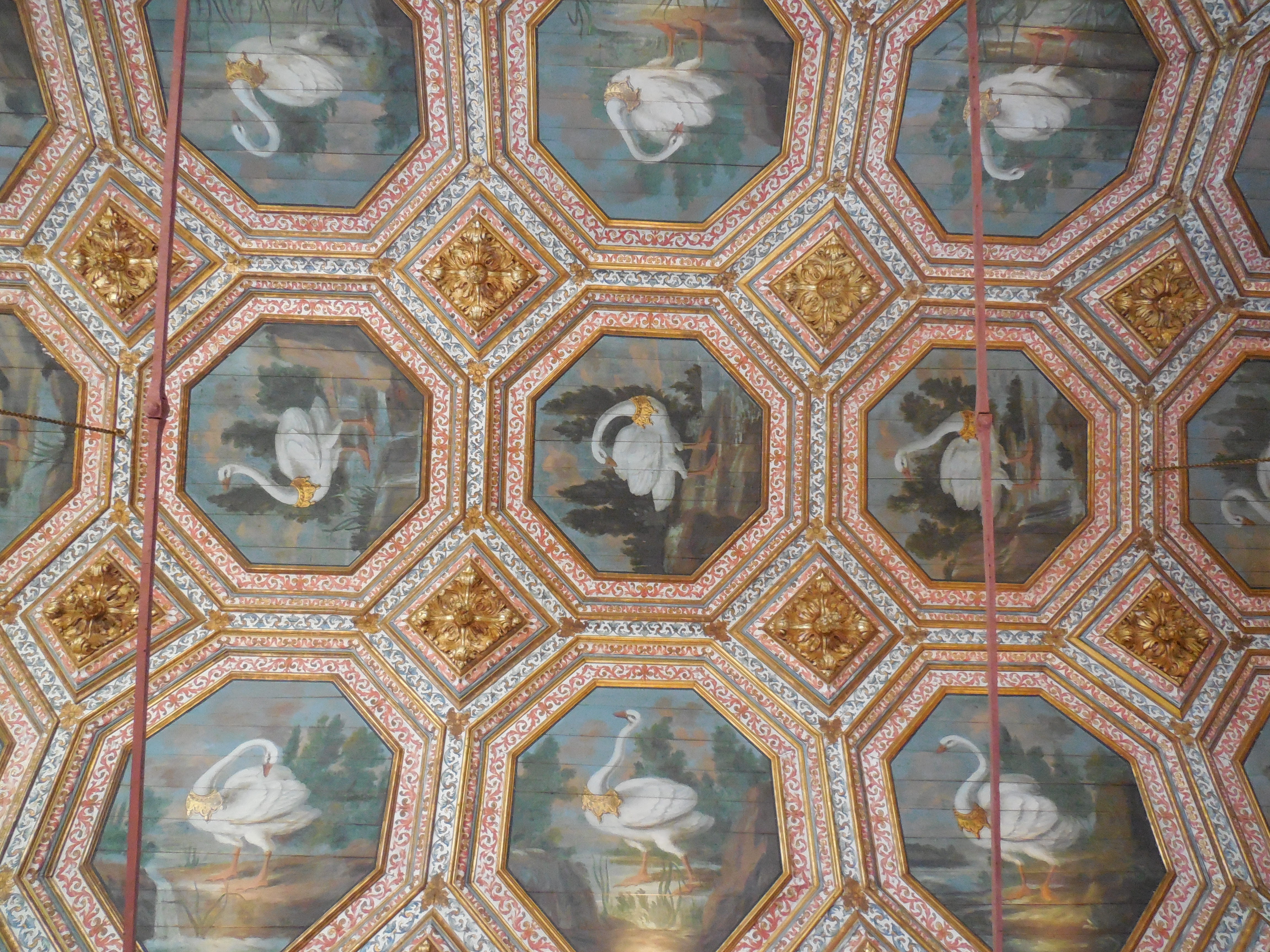 "Portu-Geese" said Brianna.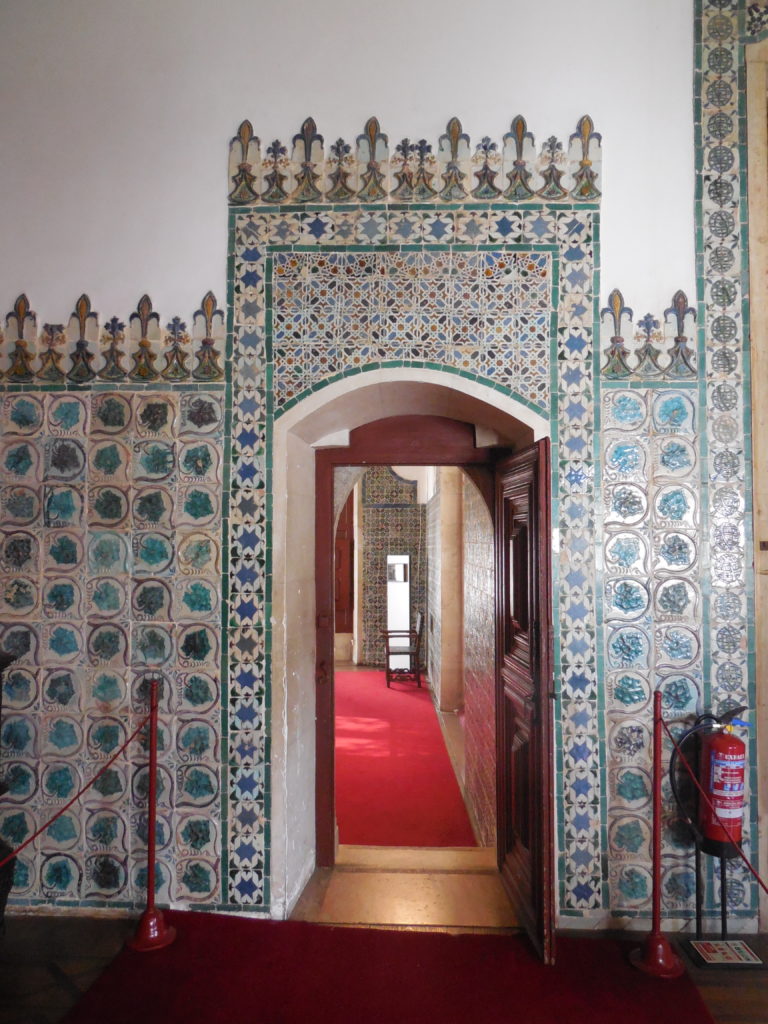 Tiles! everywhere! Sorry Molly! 😉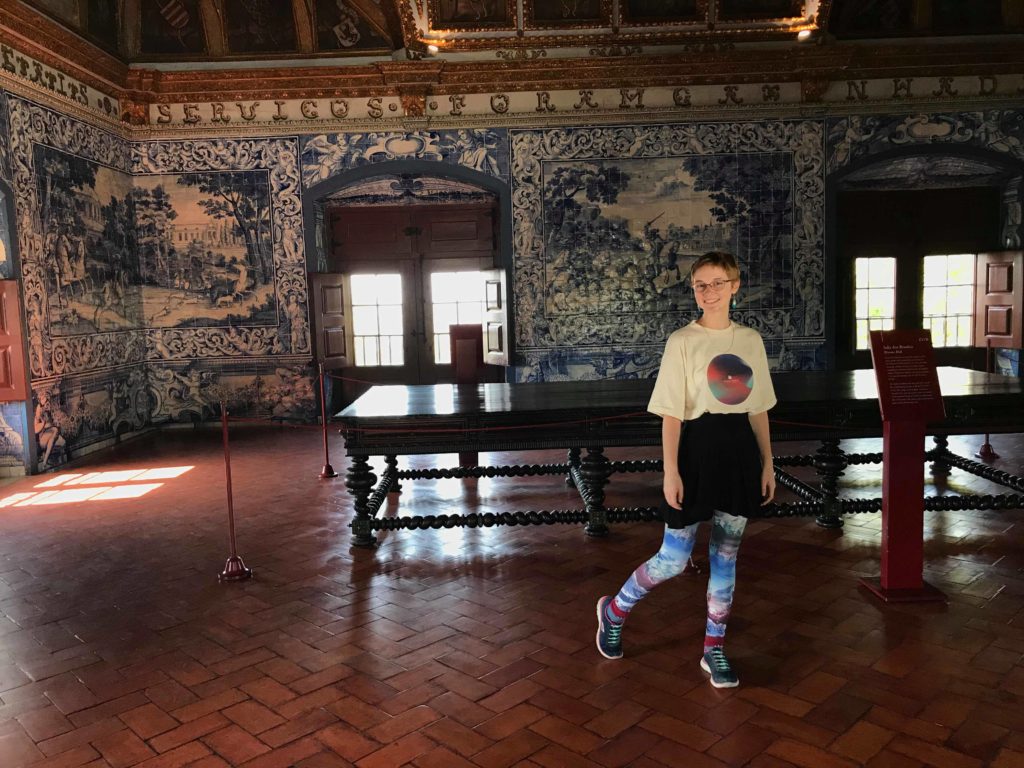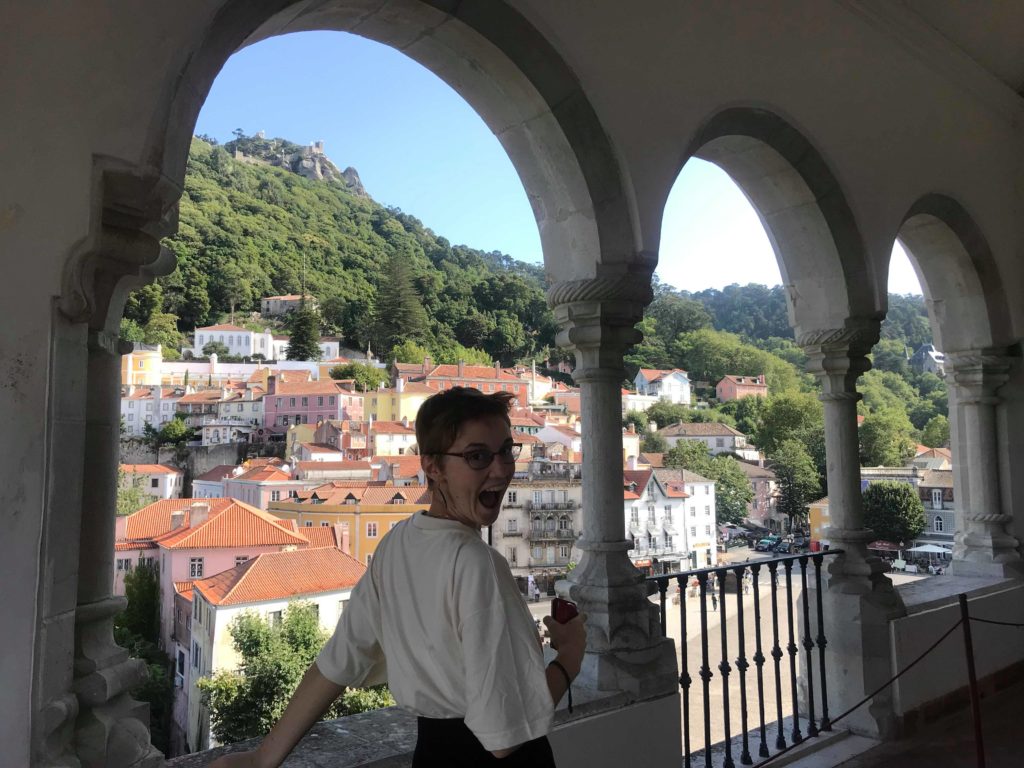 me, still high energy because there is a  literal fairy tale village in front of me!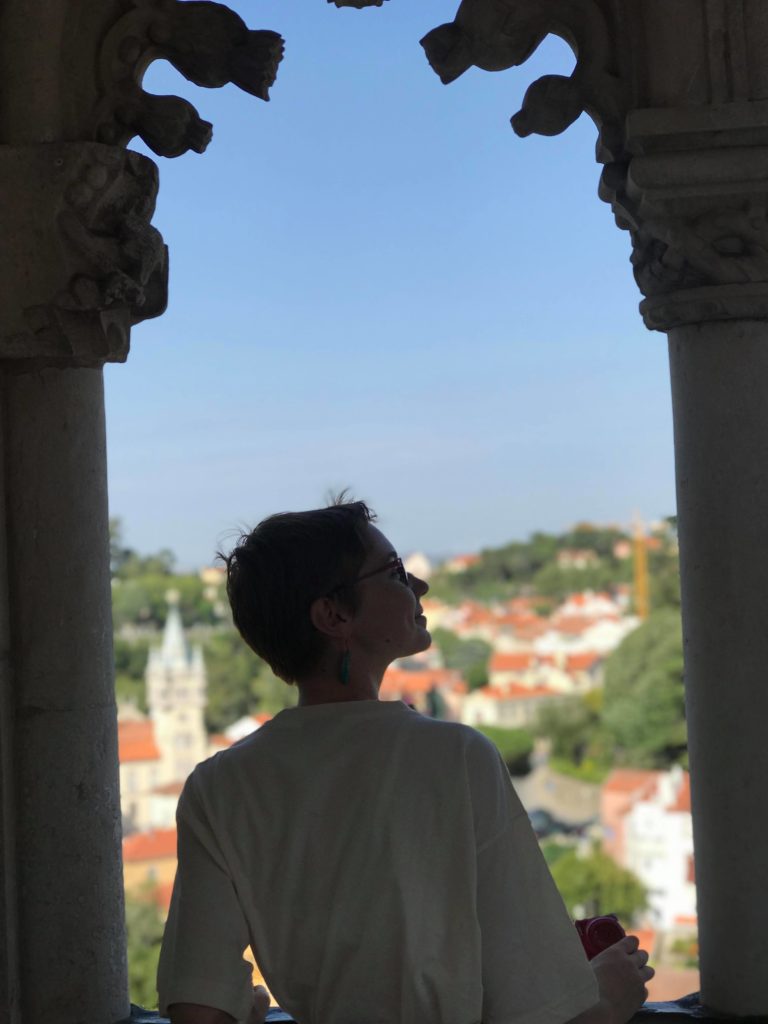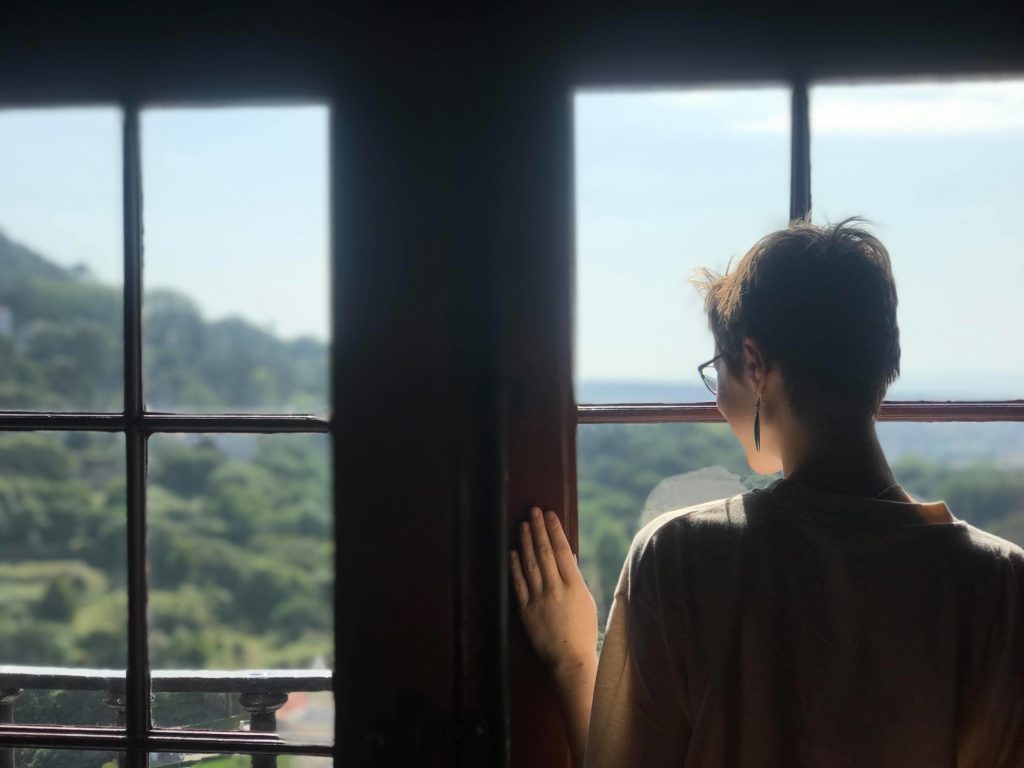 Brianna was a real artist in capturing photos that made it look like I had quiet moments 😉 I might have… at some point… but mostly I was never able to see enough of the world around.
Other Sintra Sites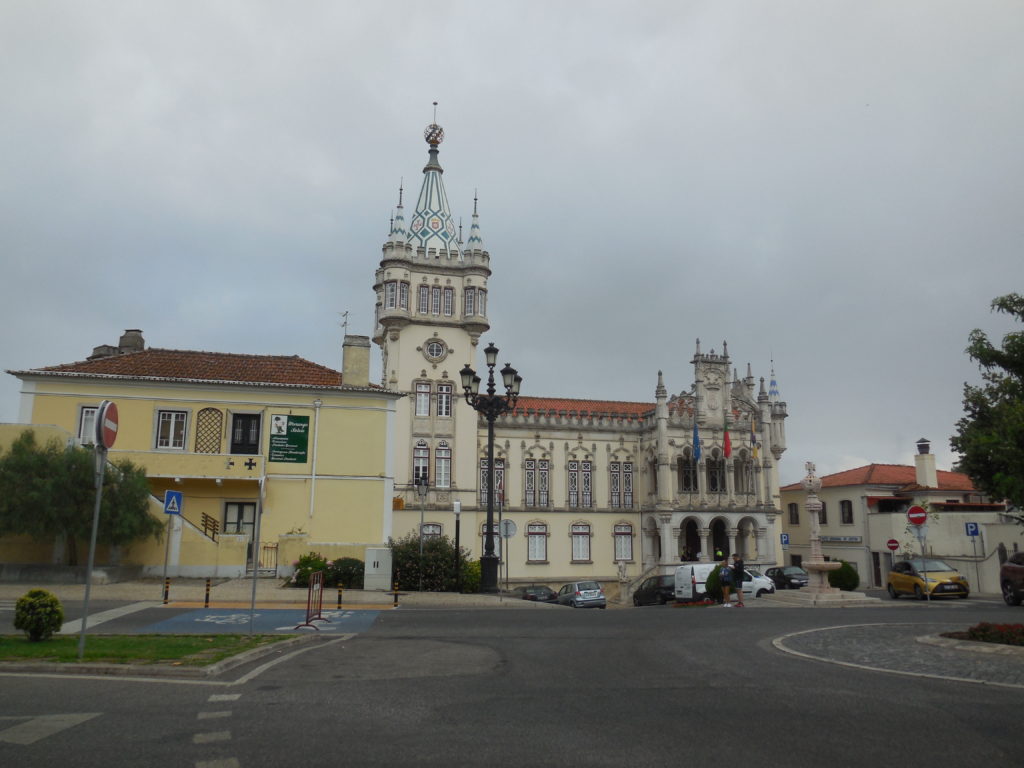 Parliament building!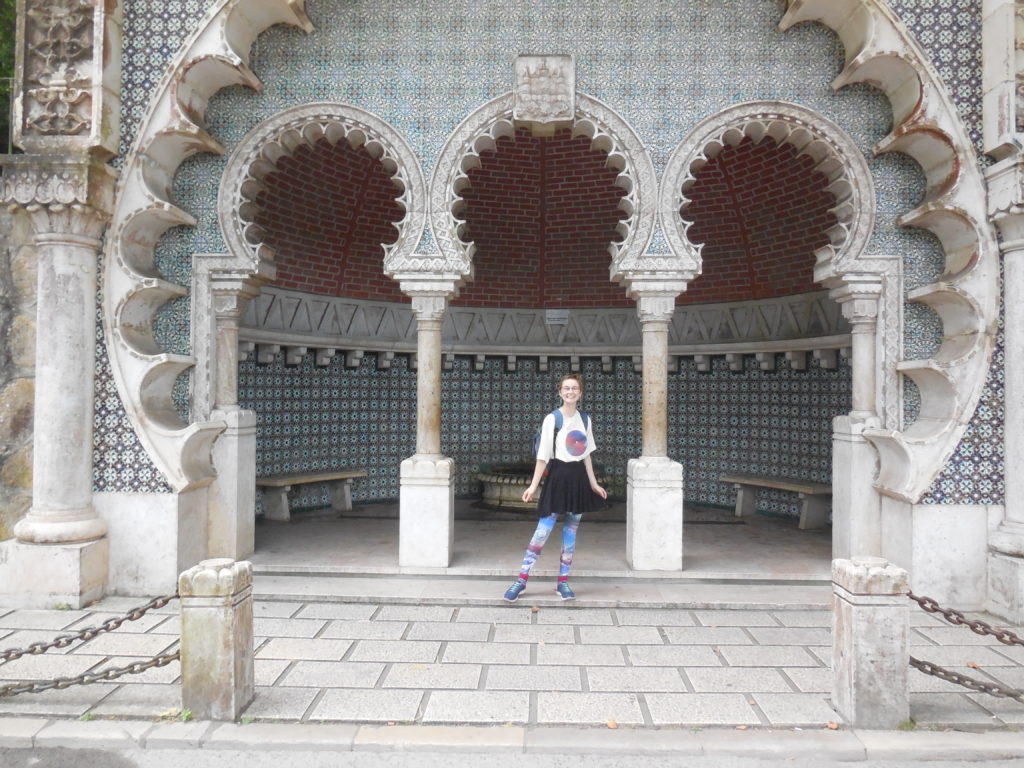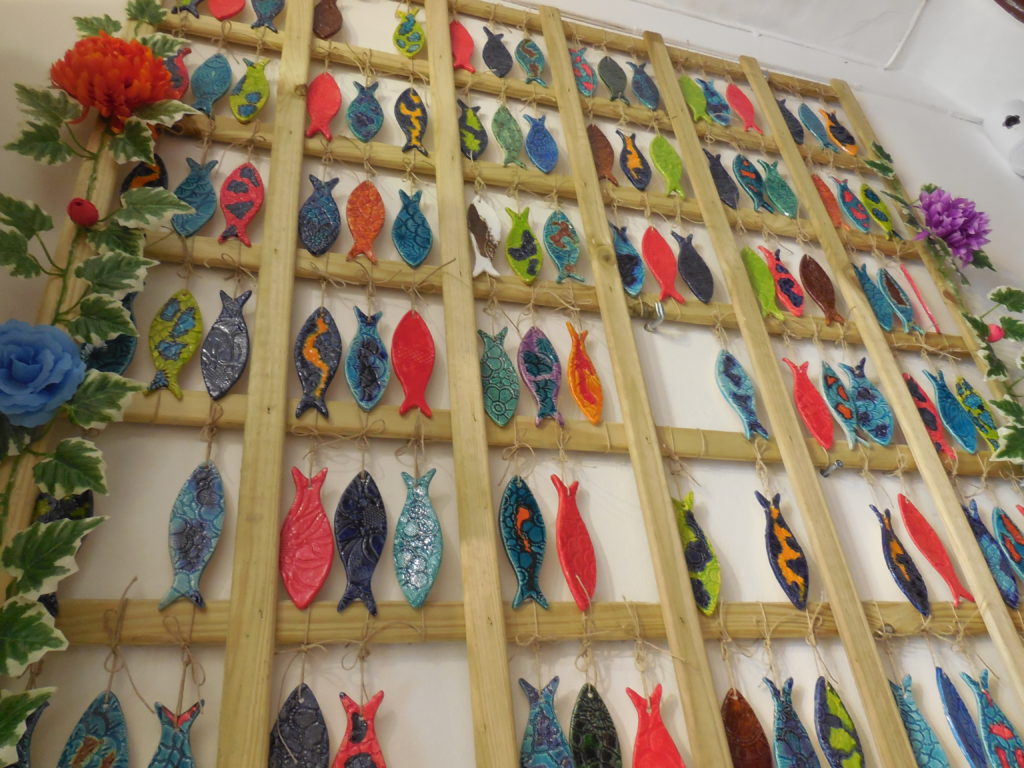 ceramic sardines!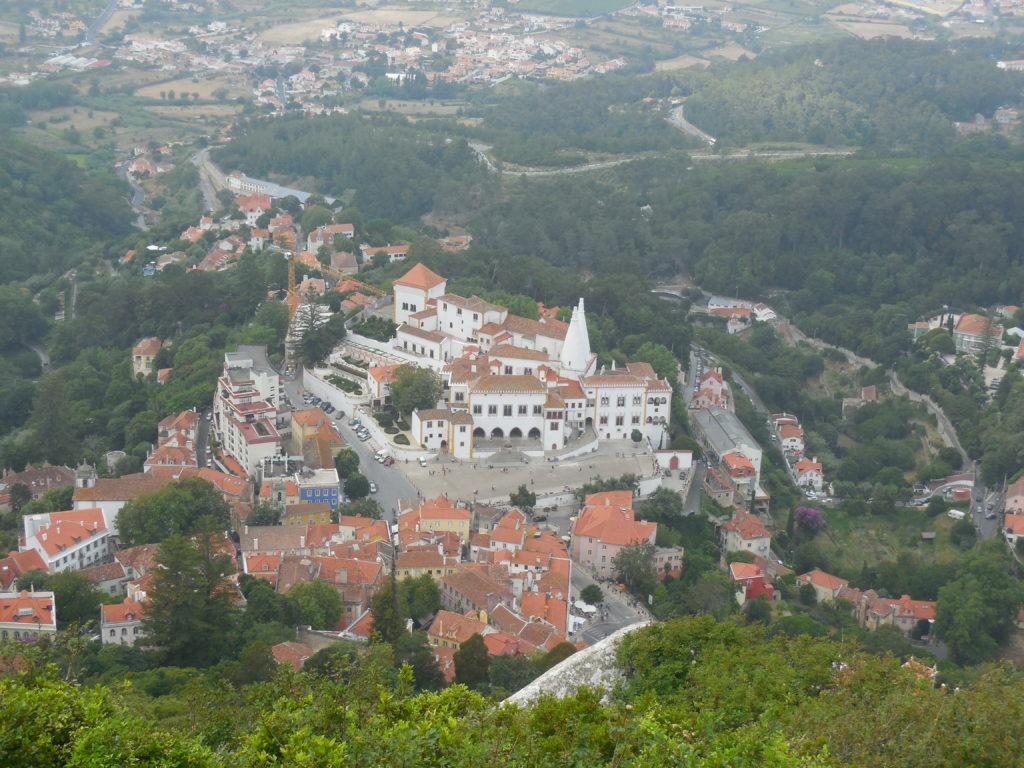 The view of the national palace (with the two white chimneys for the Kitchen) from the top of the Moorish castle. That's Sintra's Historic center!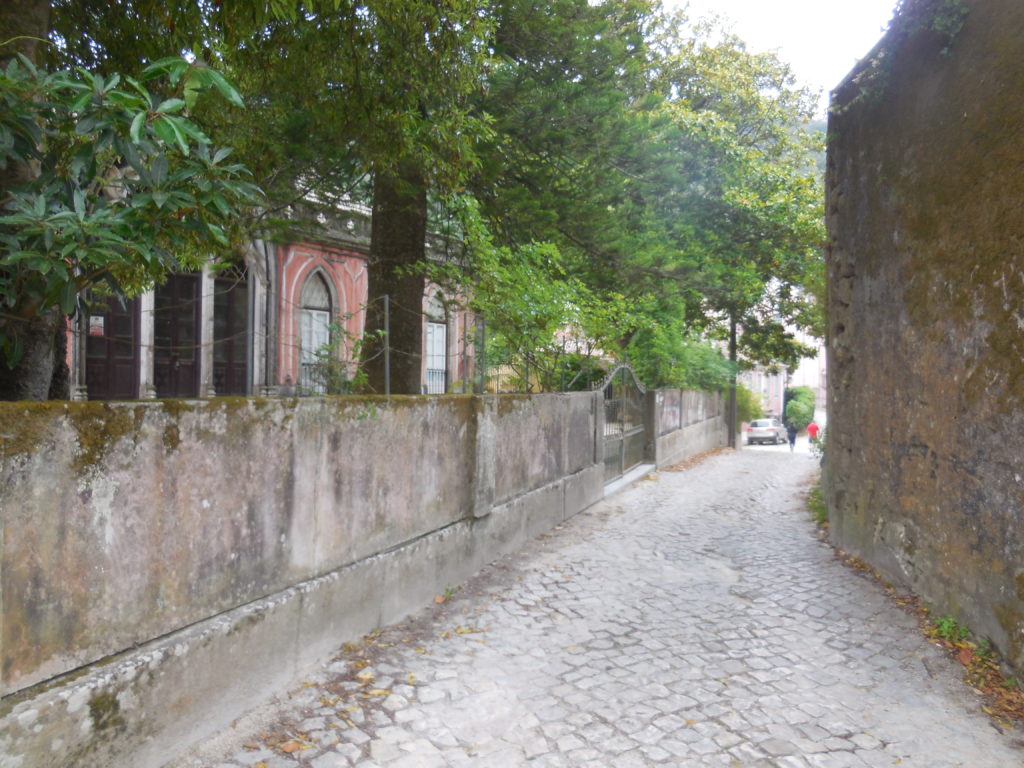 The street! down the mountain we went!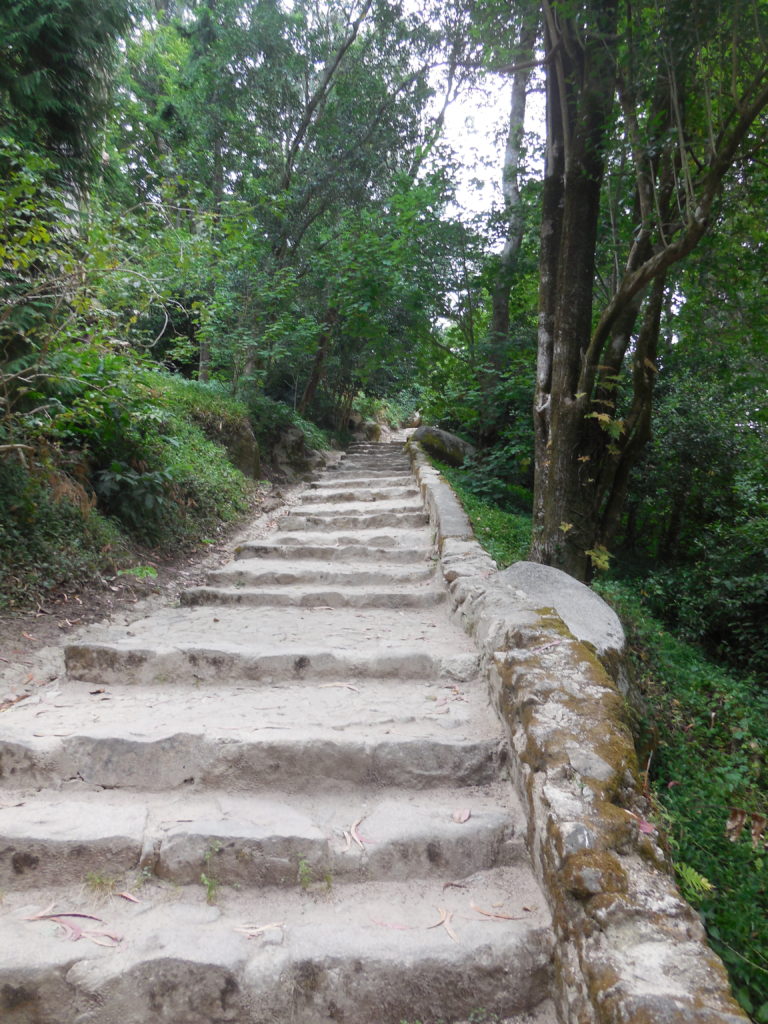 Palace of Monserrat
This palace was built to have Indian and Islamic style influences, and it was so beautiful! We made it in just in time, so there was hardly anyone there… whoops.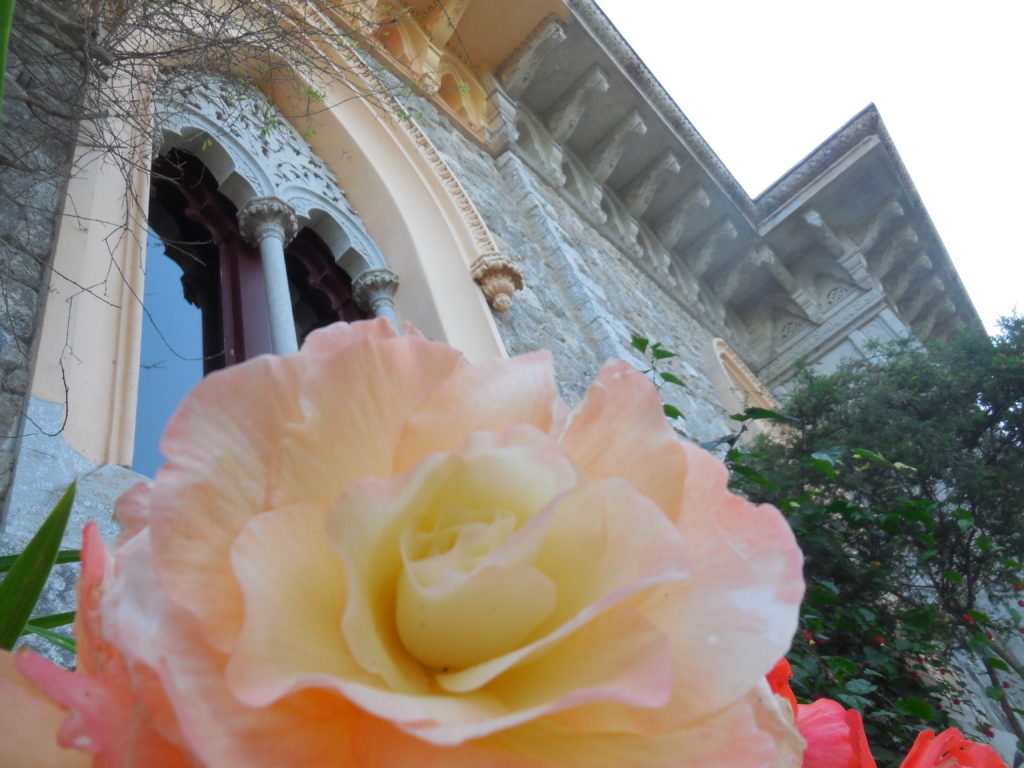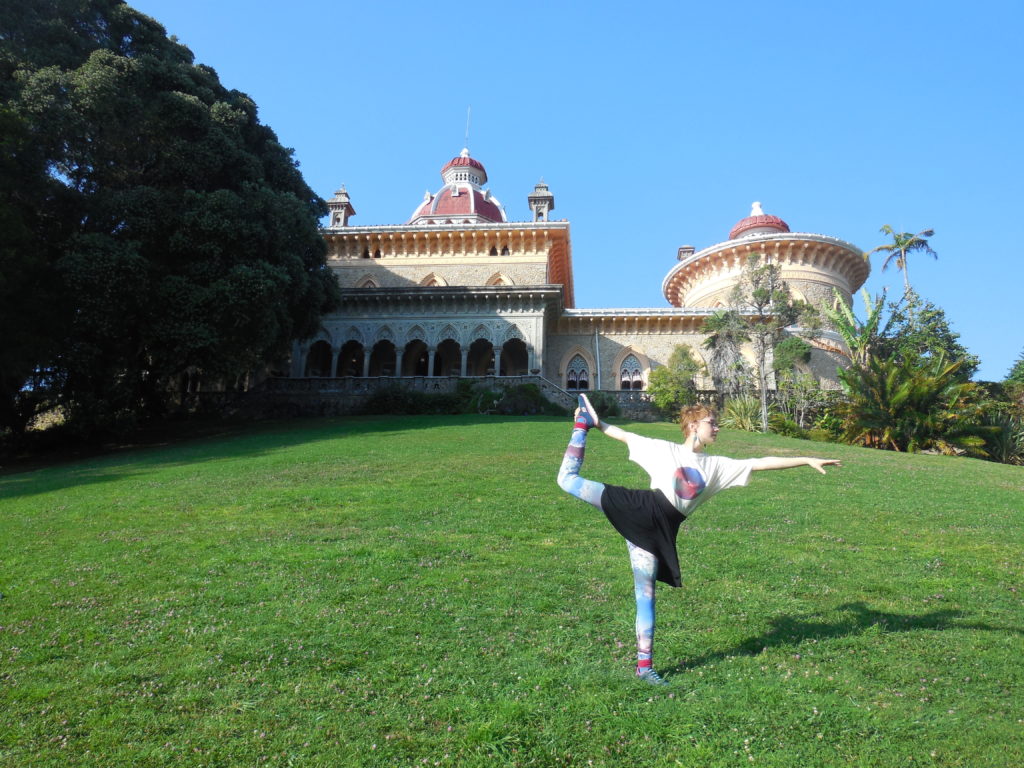 Very acceptable Yoga in the Park 😉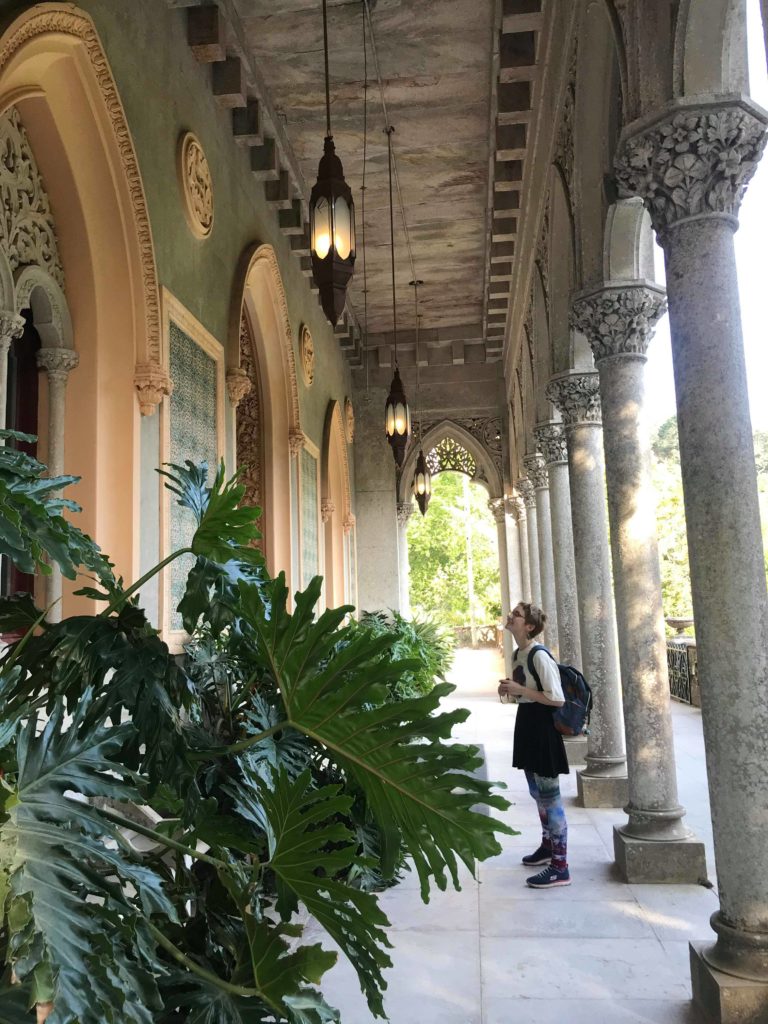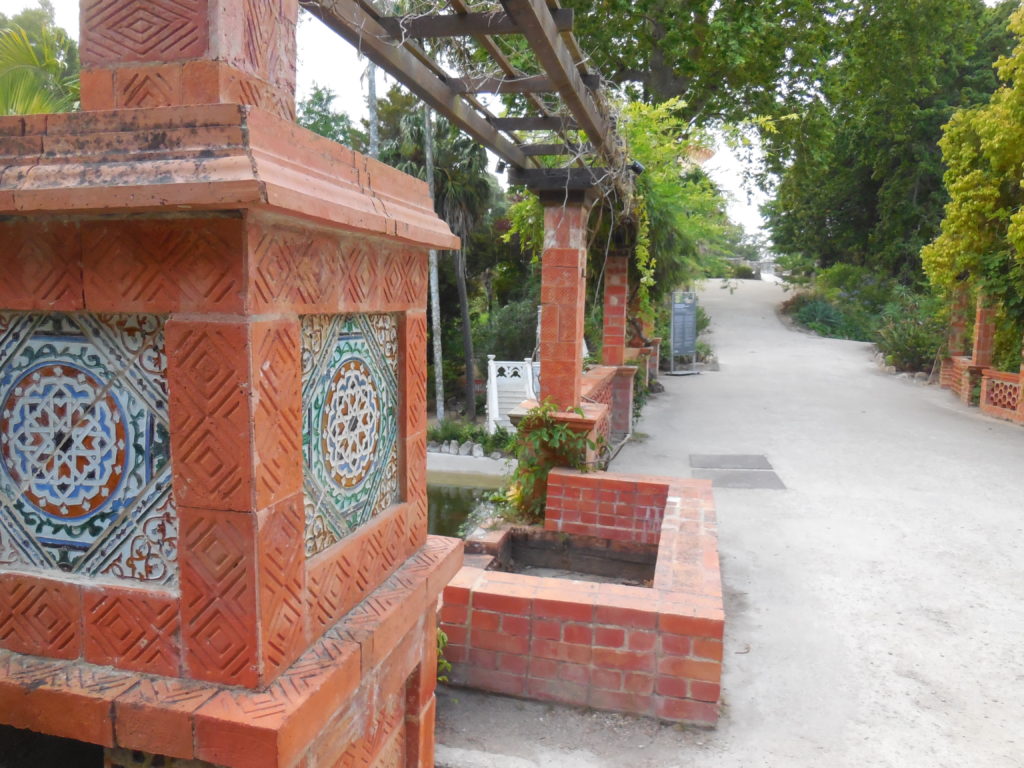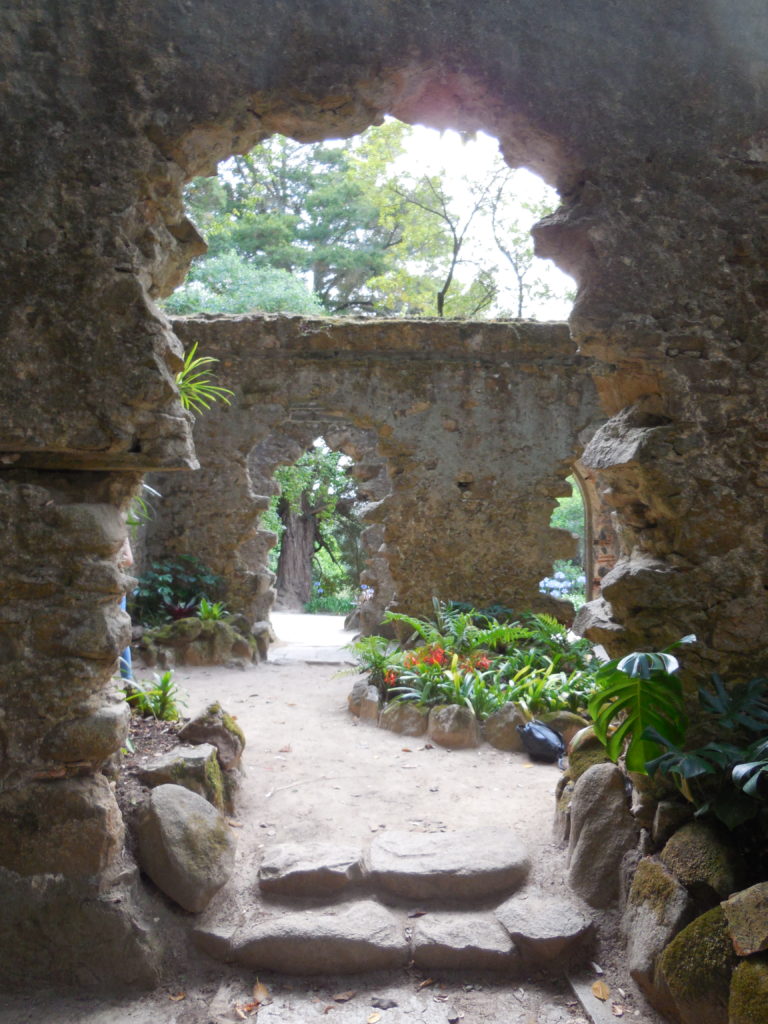 The Ruins in the Monserrat park were a little eery near the closing time… but still very beautiful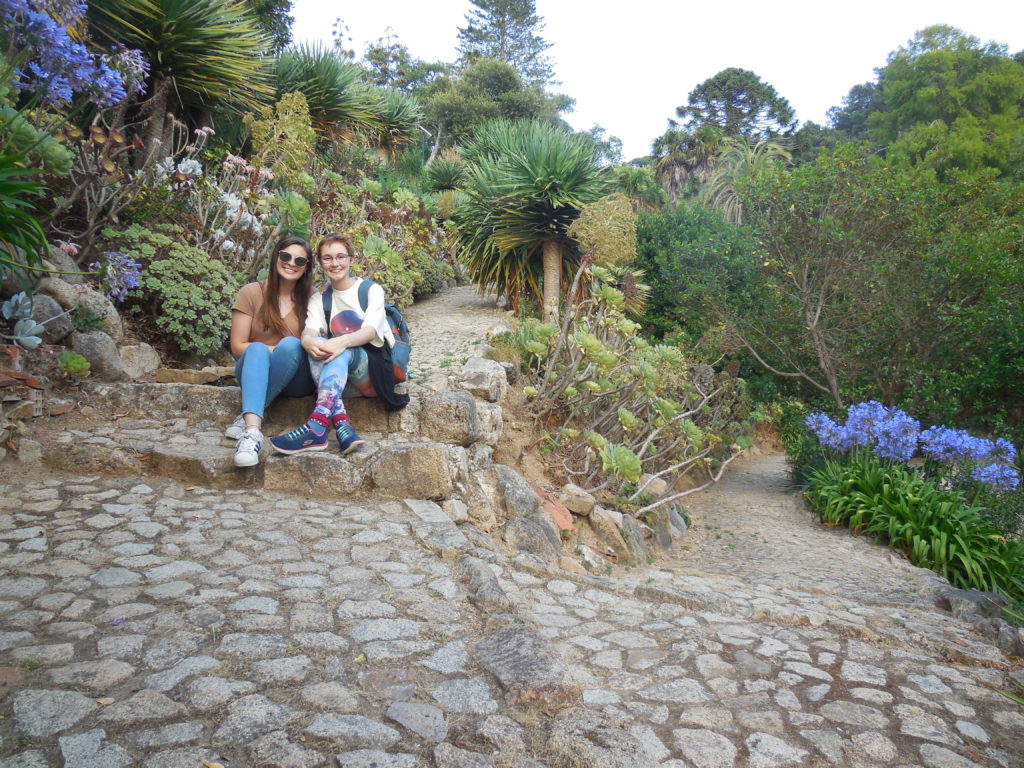 The magic of a self timer–and this is the "Mexican Garden" in the park 🙂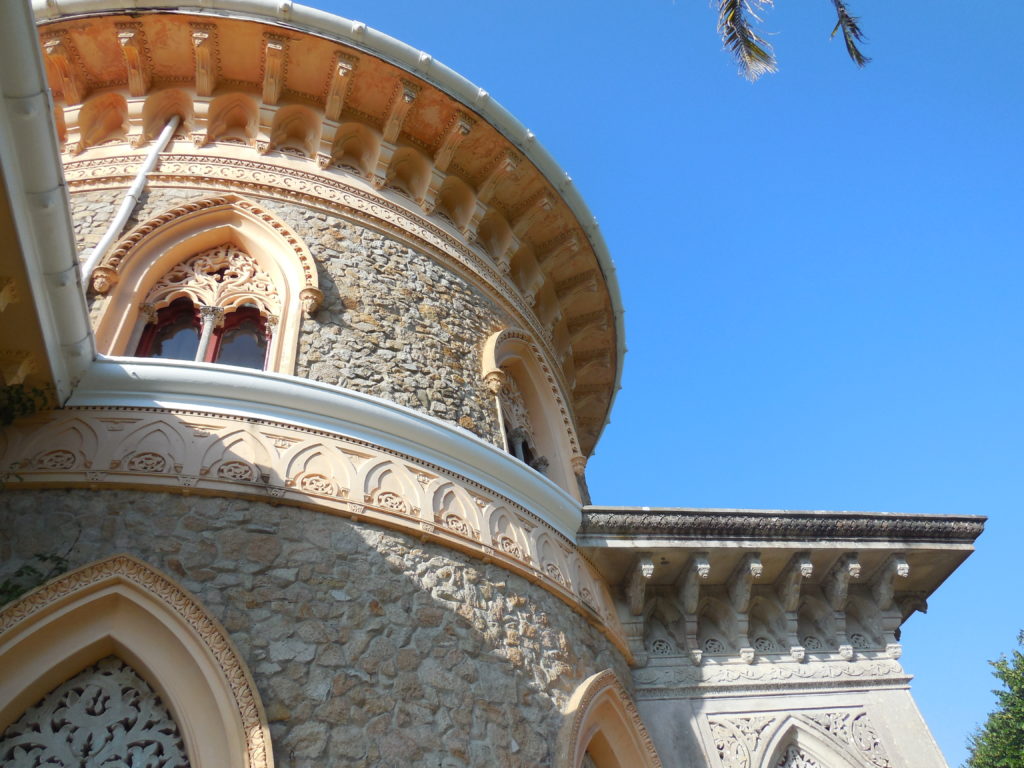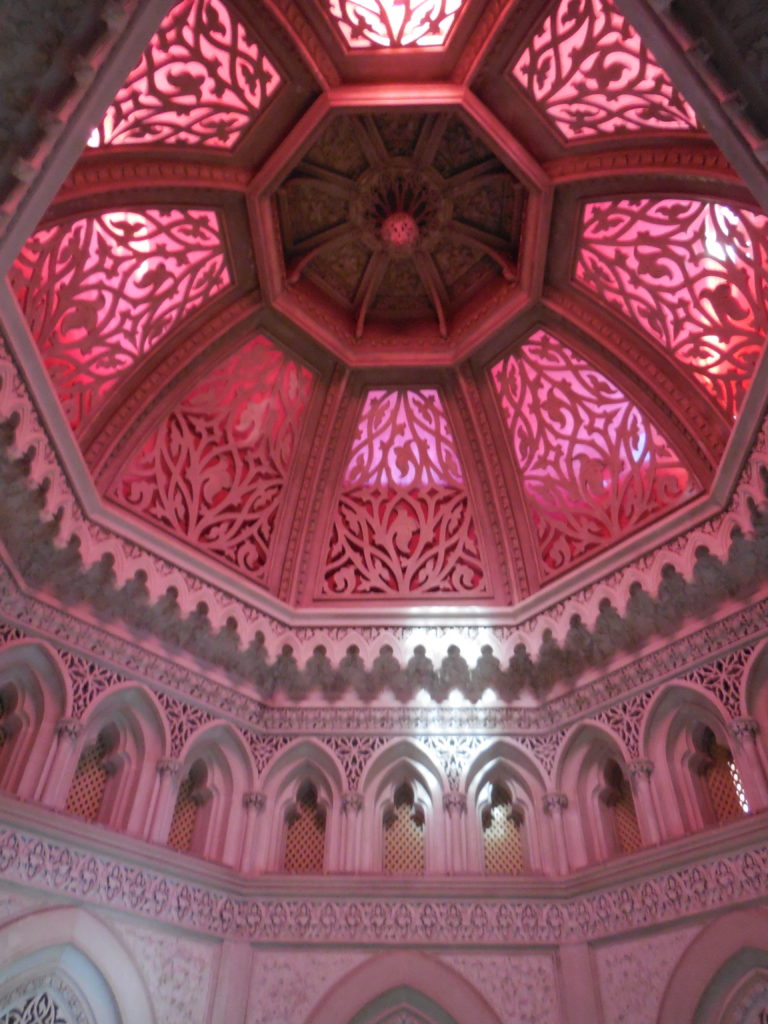 The red dome tints the indoors pink, too! 🙂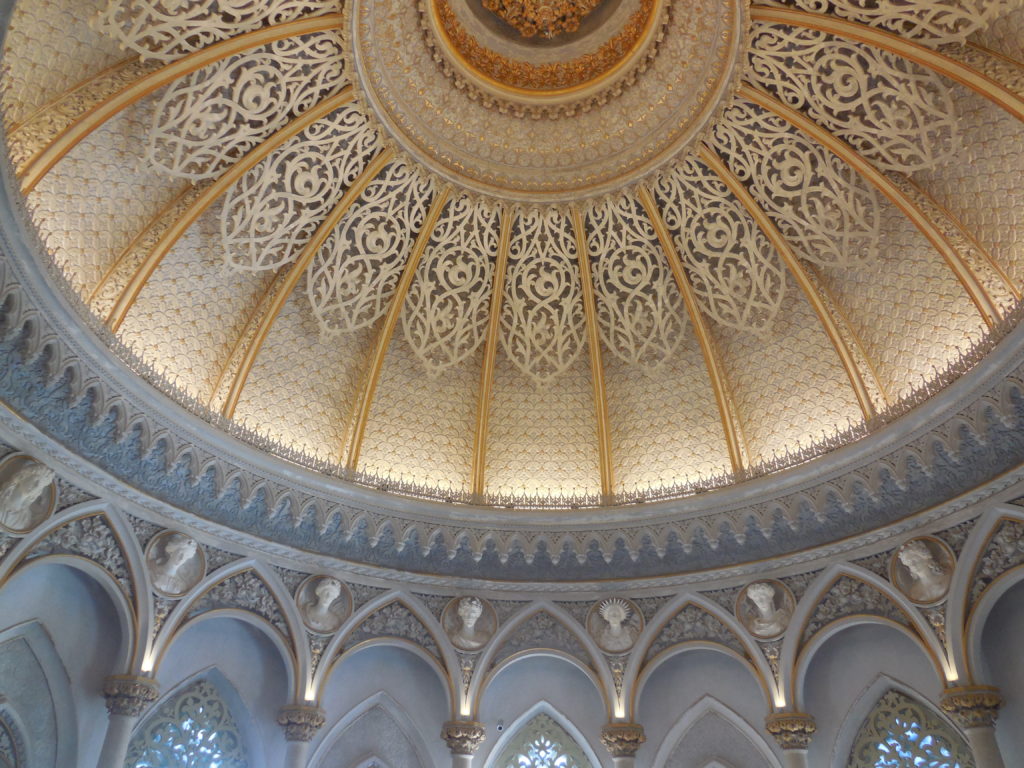 I don't even know how to describe this splendor and opulence.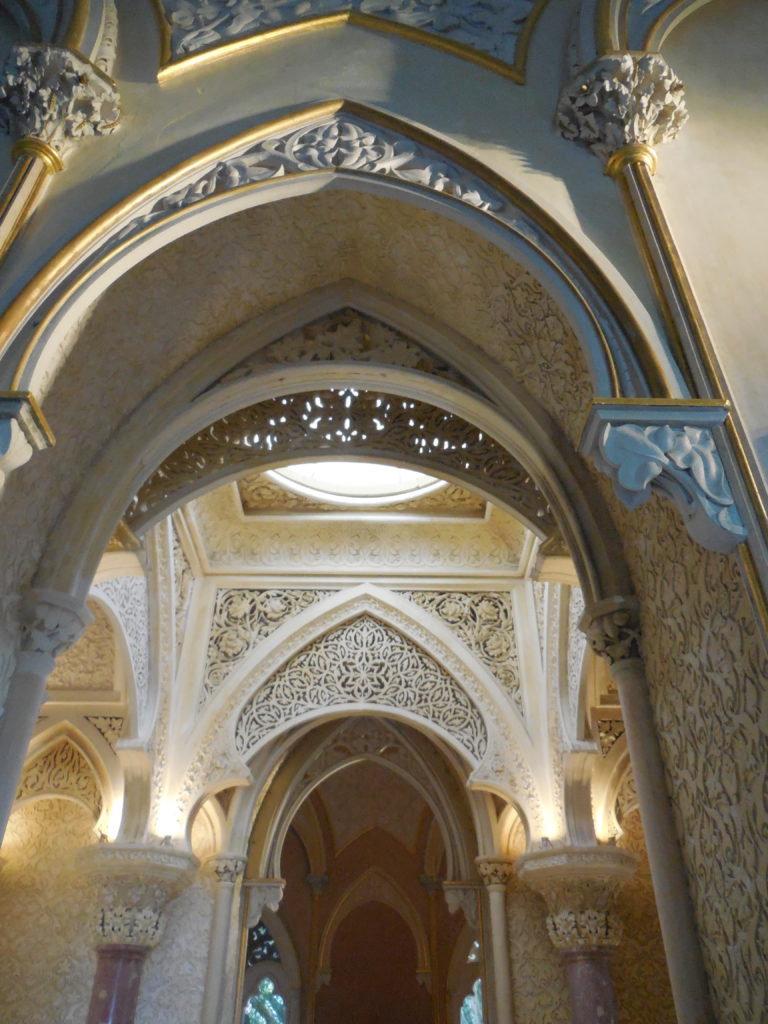 Hand carved wooden archways! it took over 1000 people to build this palace because of all the craftswork that was required for this intricate detail.
Pena Palace and Park 
I know. I know. photo overload.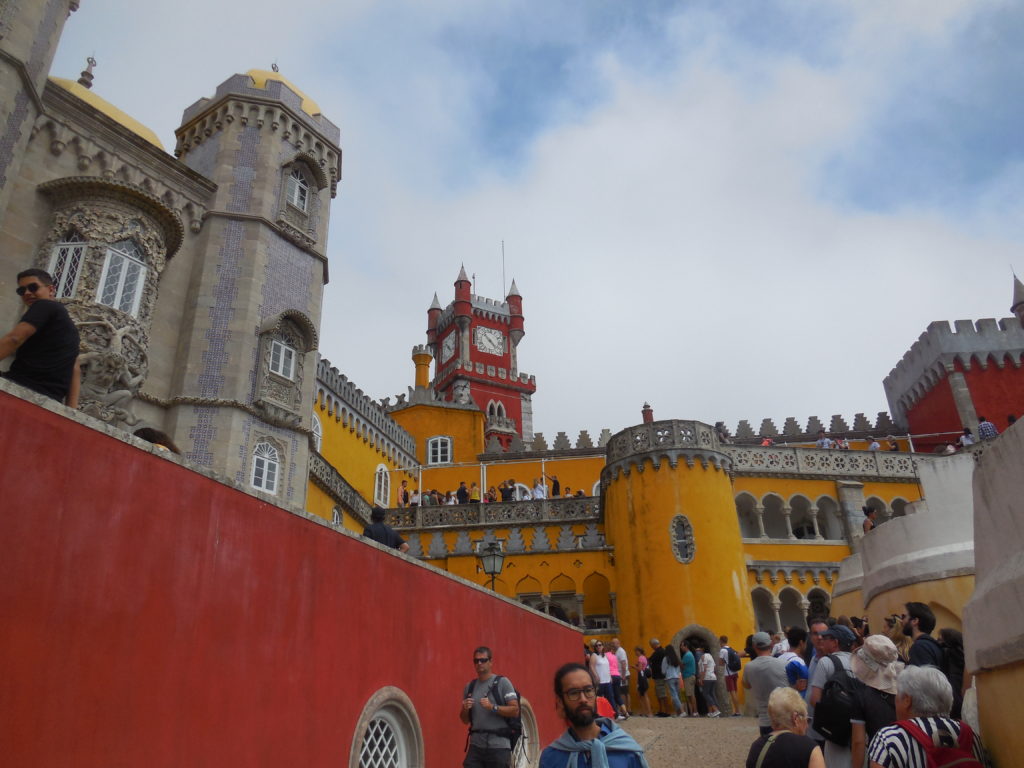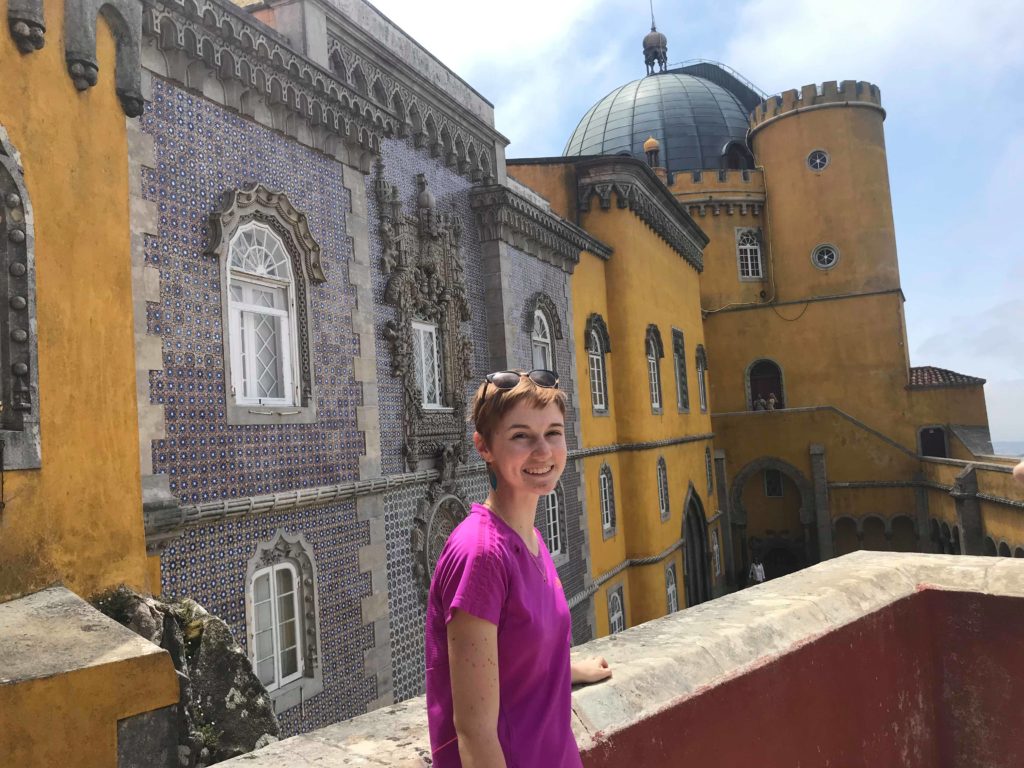 Many thanks to Brianna for taking so many lovely photos of me!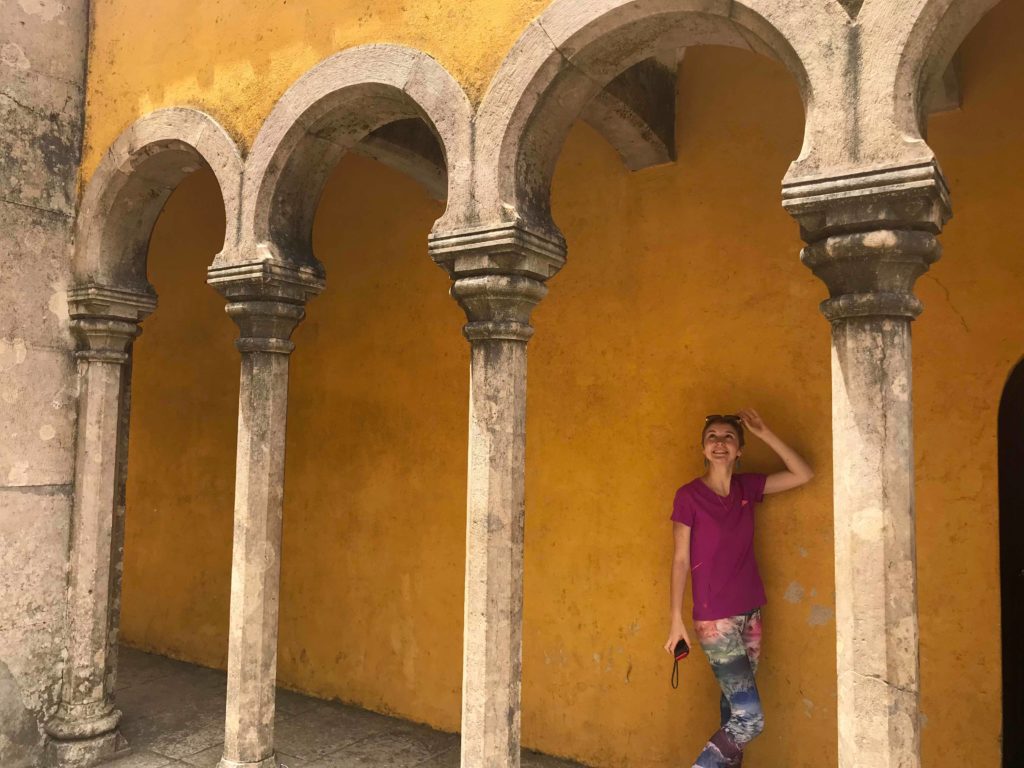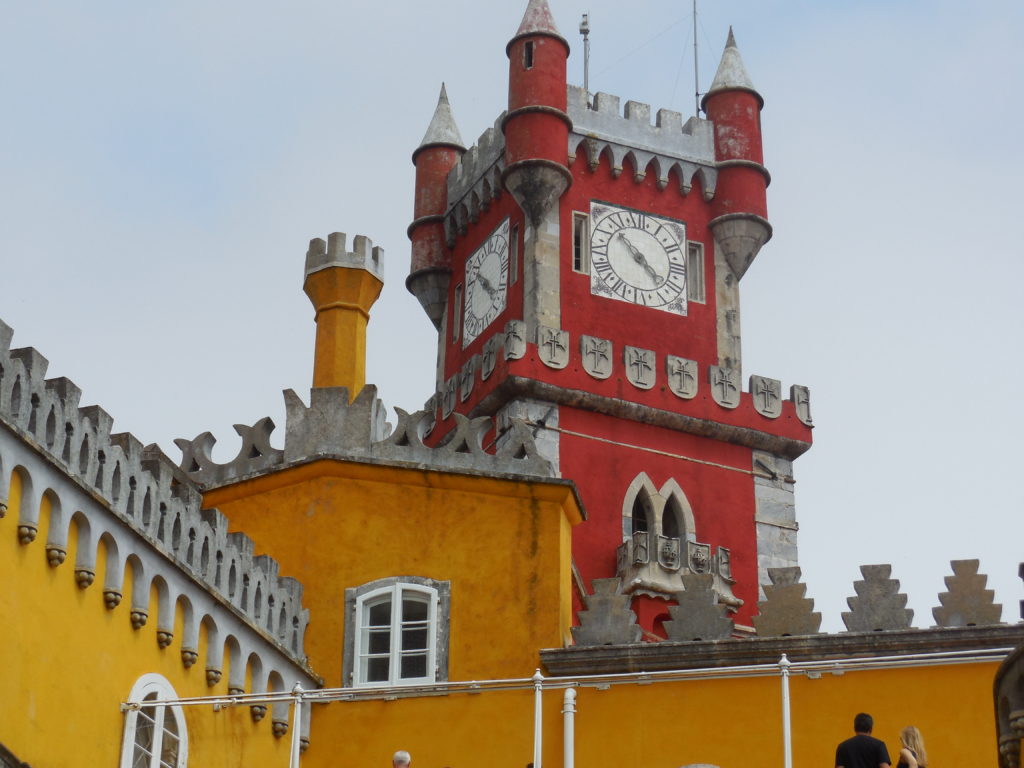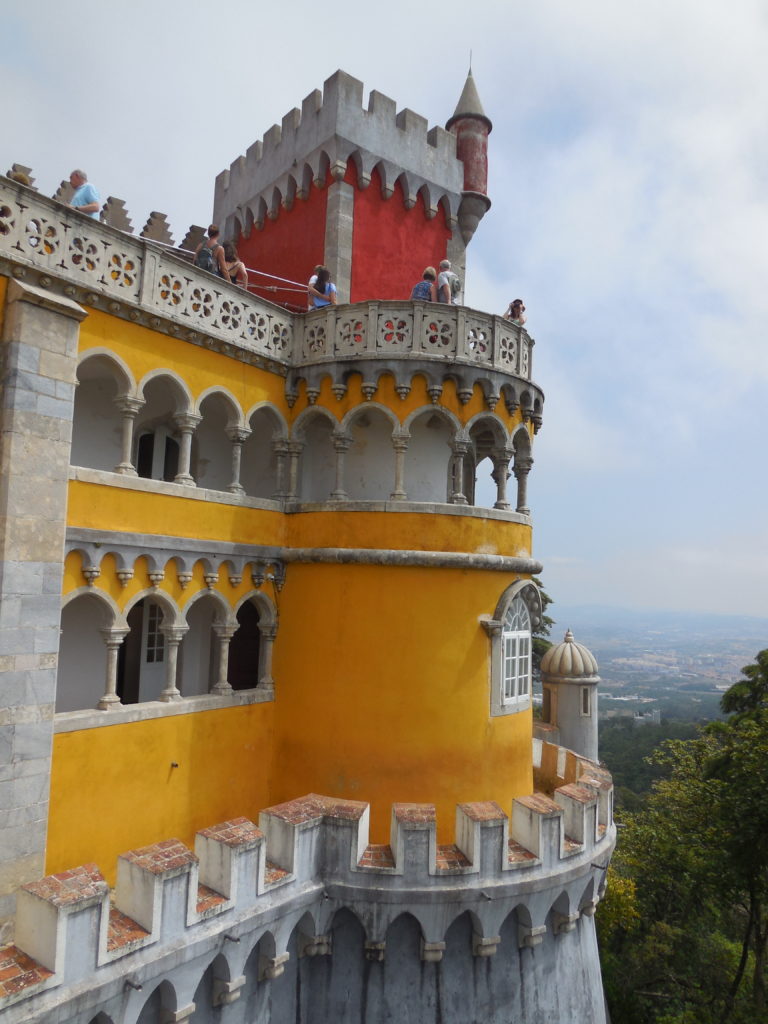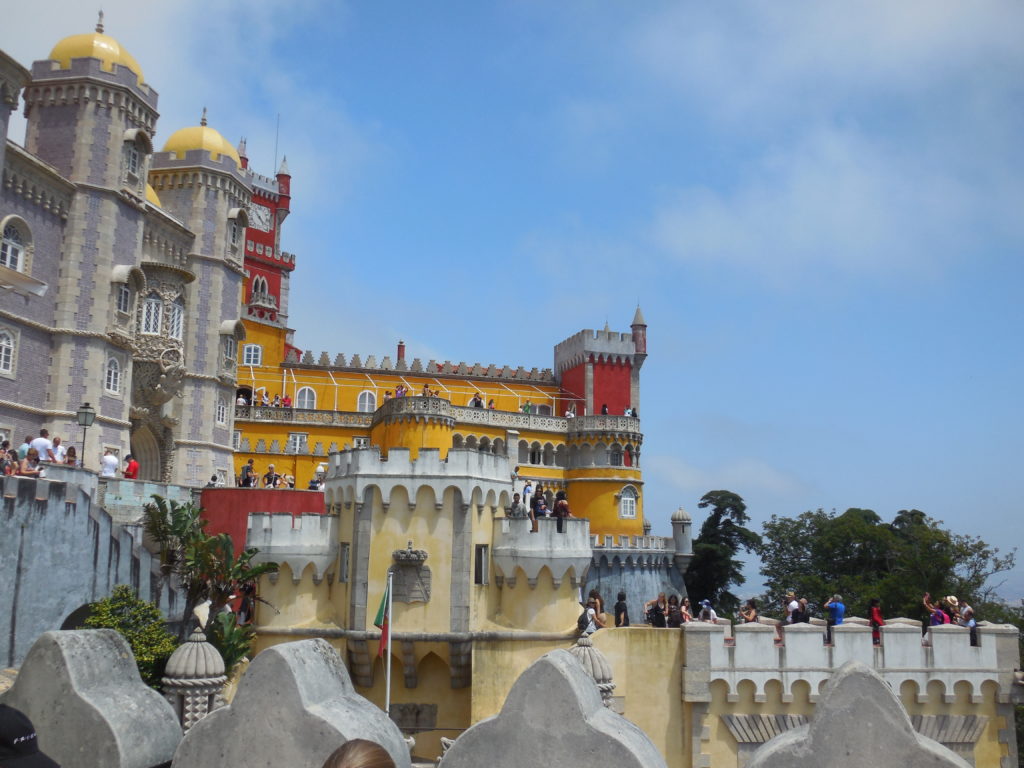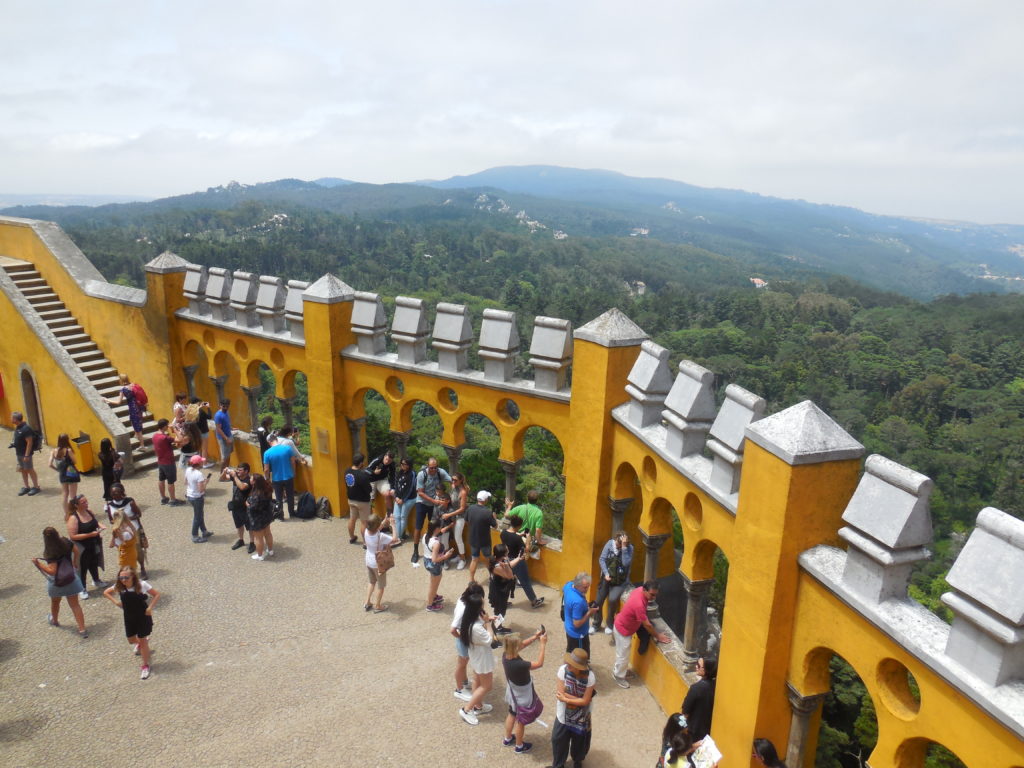 Everyone (us included) wanted a photo at this courtyard of arches. it was funny to be a part of the chaotic queue. I must admit, it did try my patience somewhat, but it was funny to watch the people afterwards.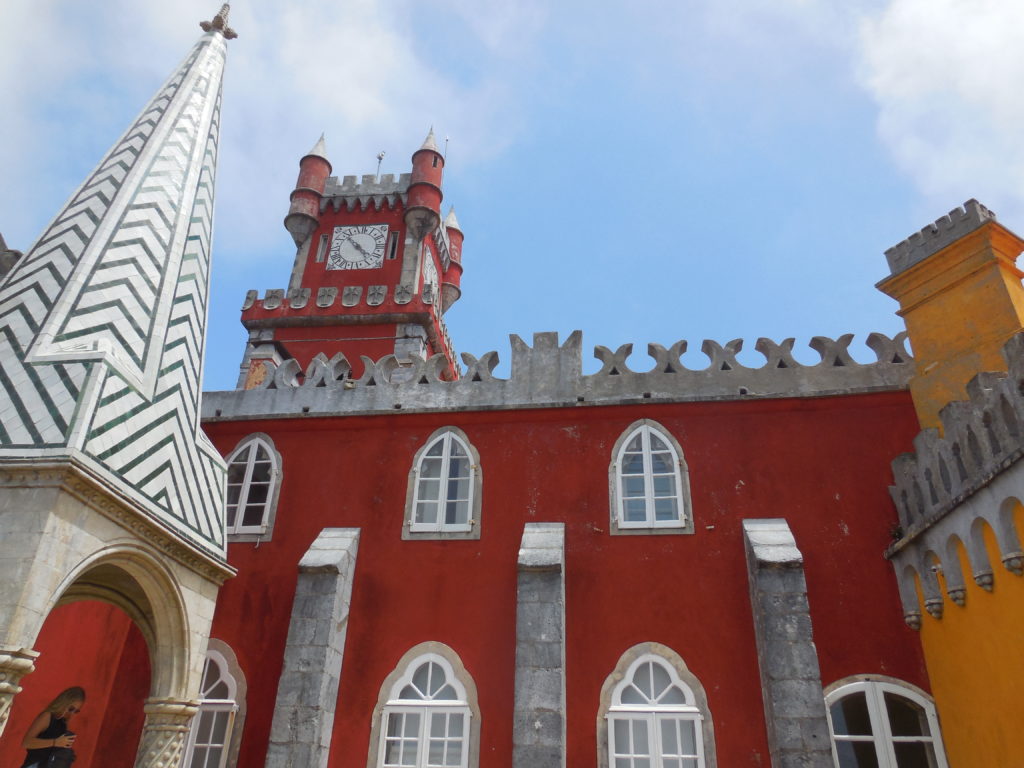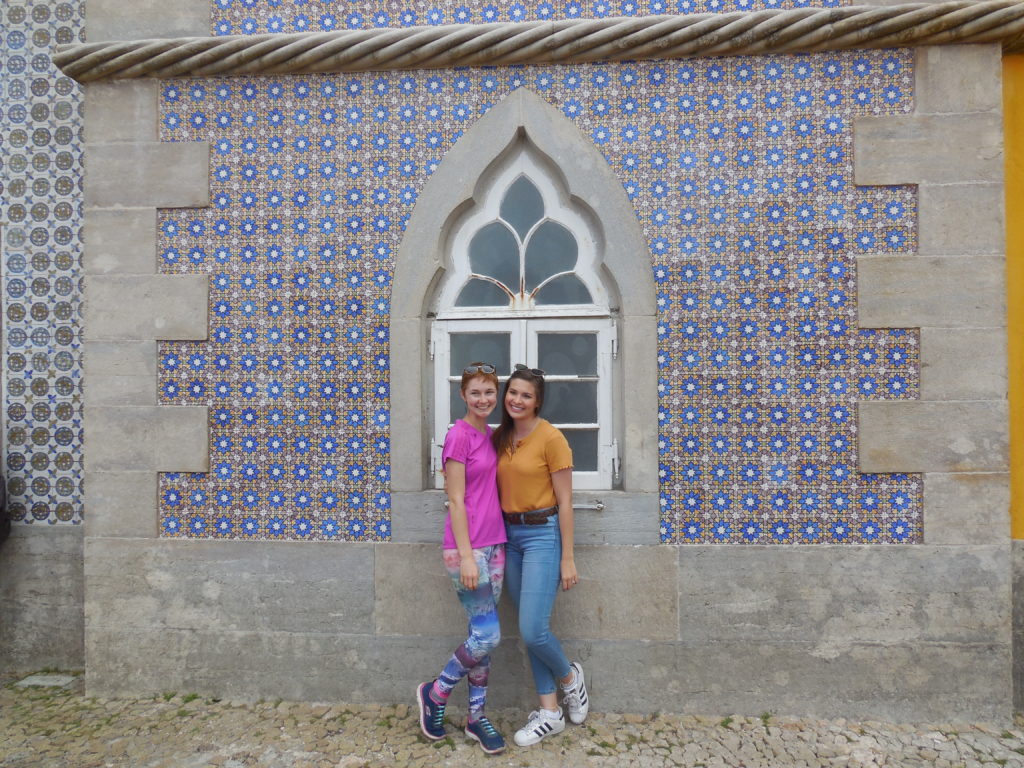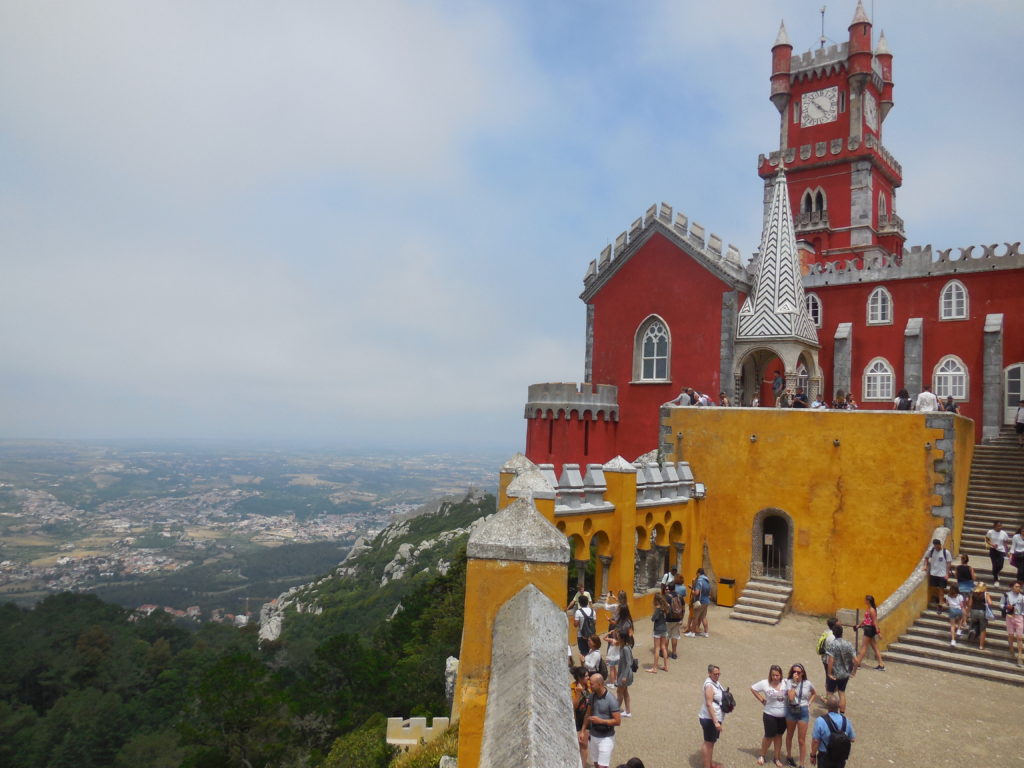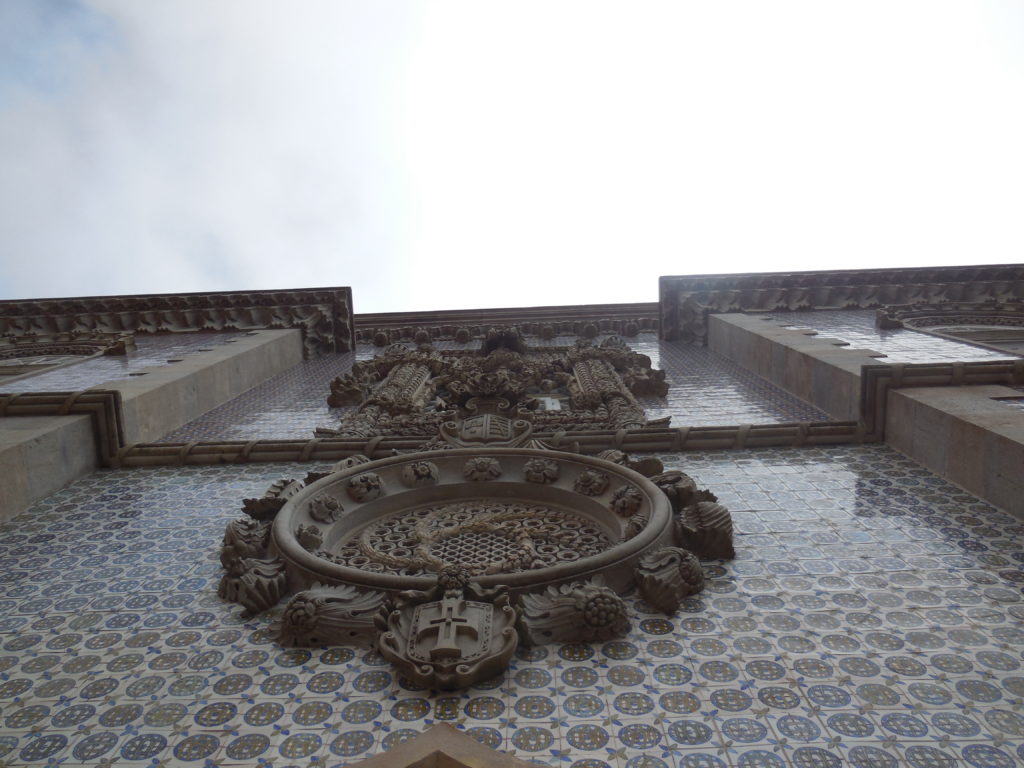 Tile details….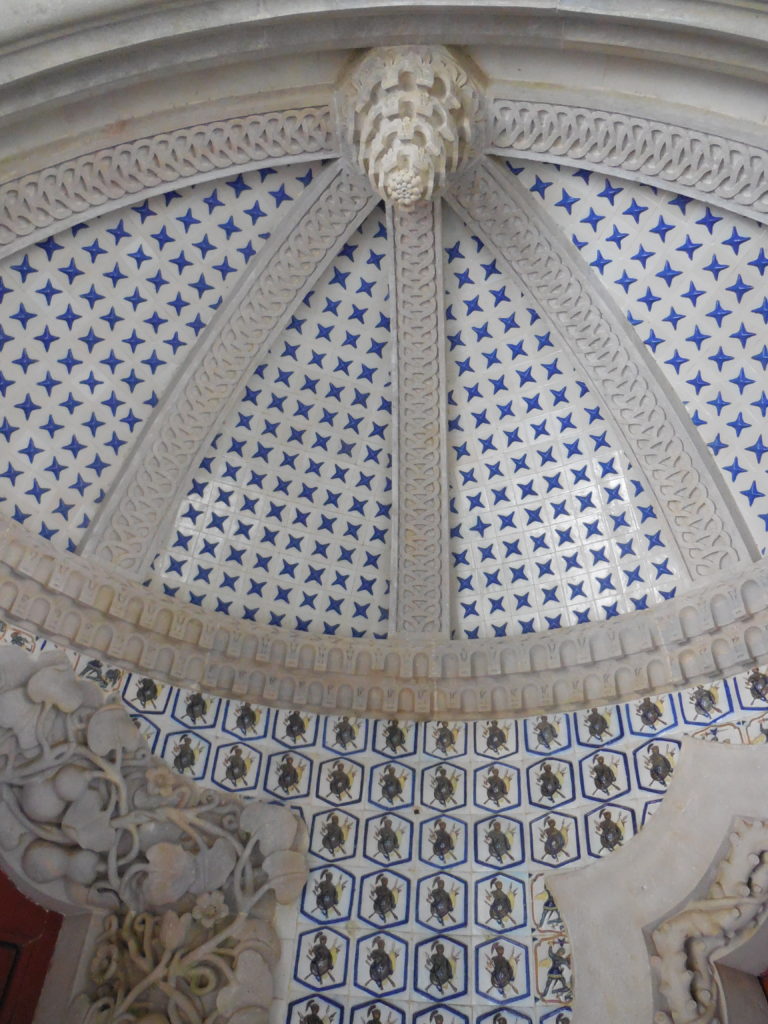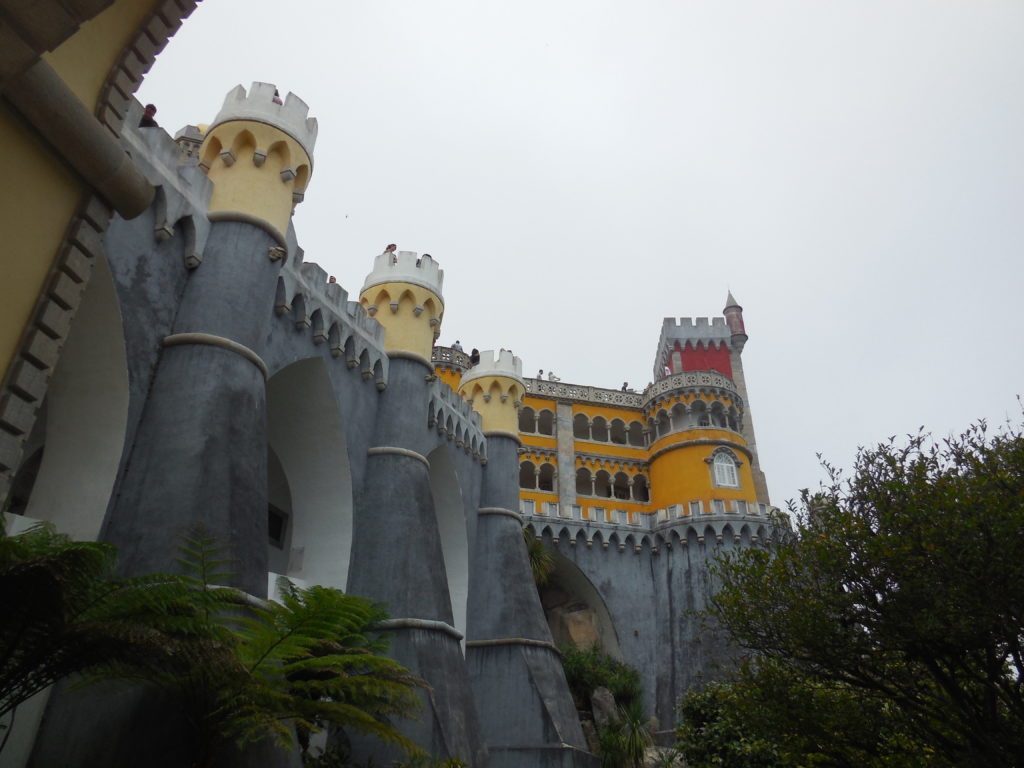 My Uber driver said it was "Disneyland for adults", but that he only went in the winter because the prices were way lower and there were far fewer people…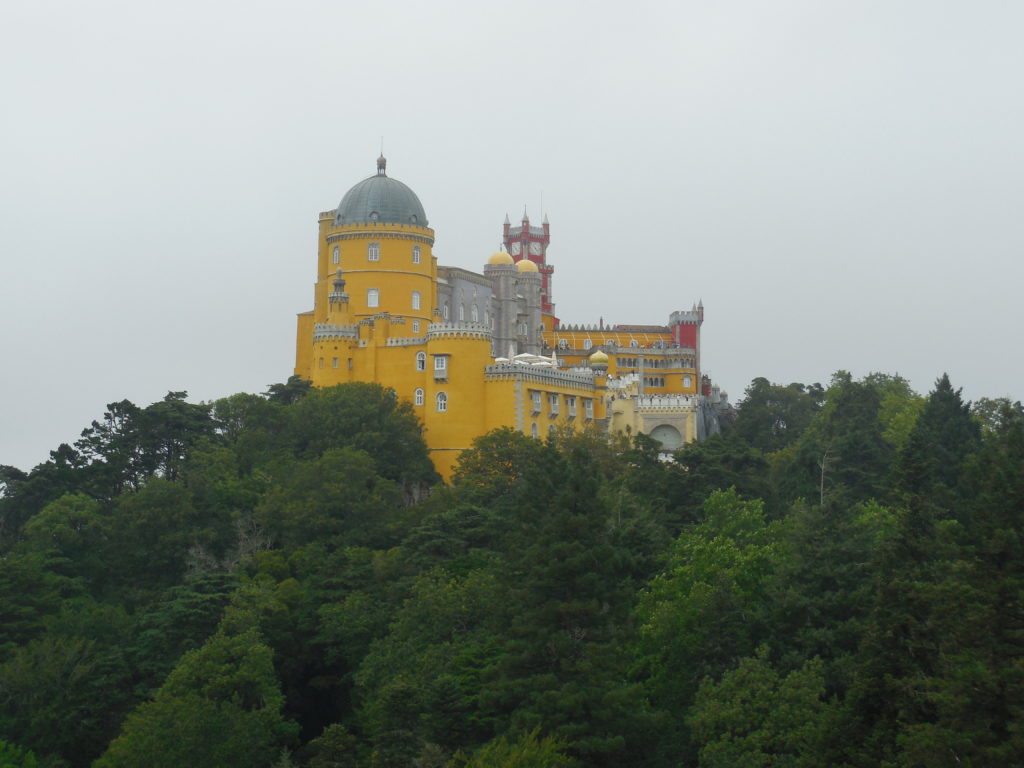 I managed to convince Brianna to hike to a lookout point (it took some effort, but we got here!) and it was awesome.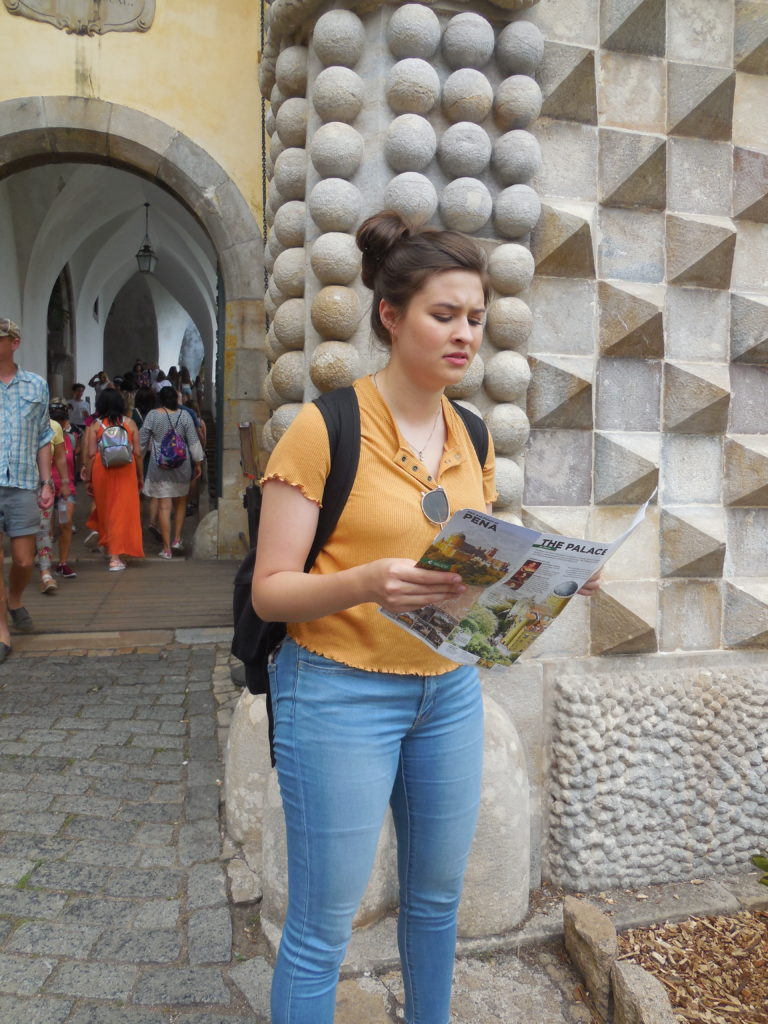 However, due to the size of the park, it did take some effort to navigate to this point 😉 good thing there were two people completely unused to using maps or navigating in general as well as my fantastic sense of orientation to guide us places.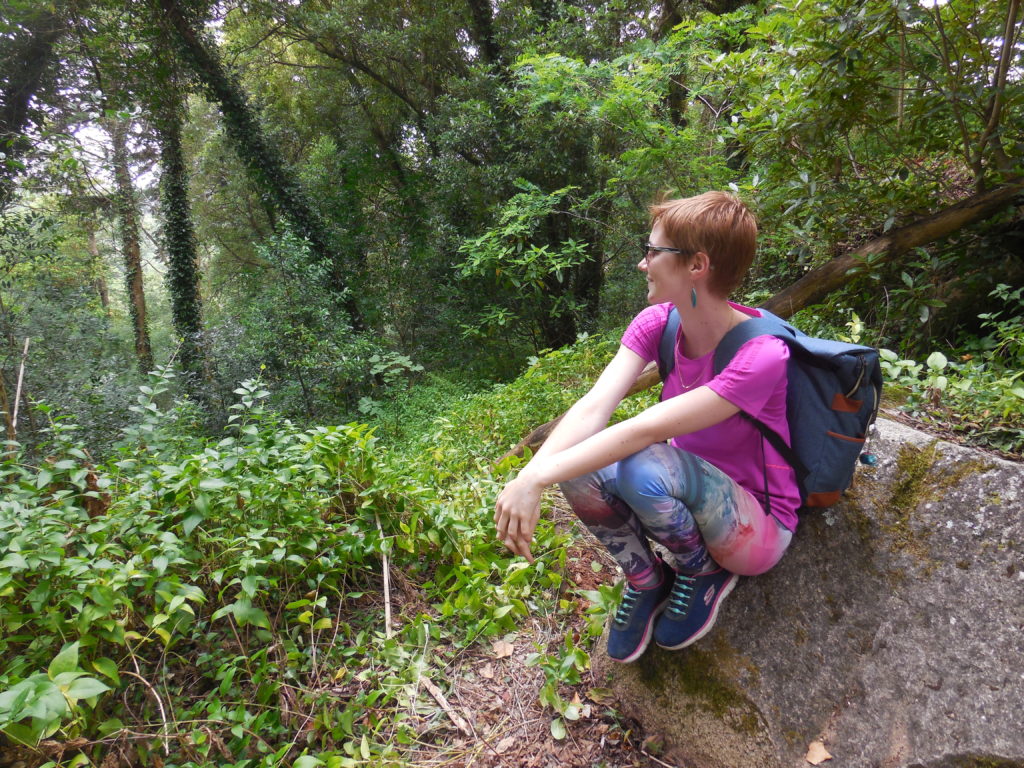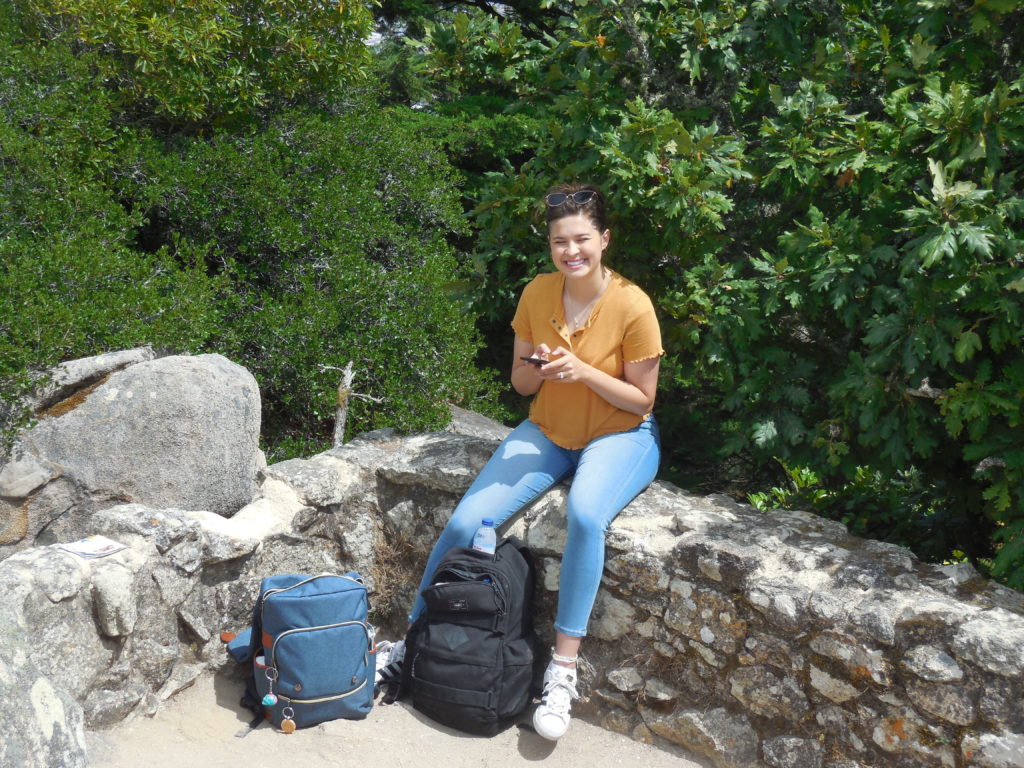 our lunch spot… with the view of the high cross replica!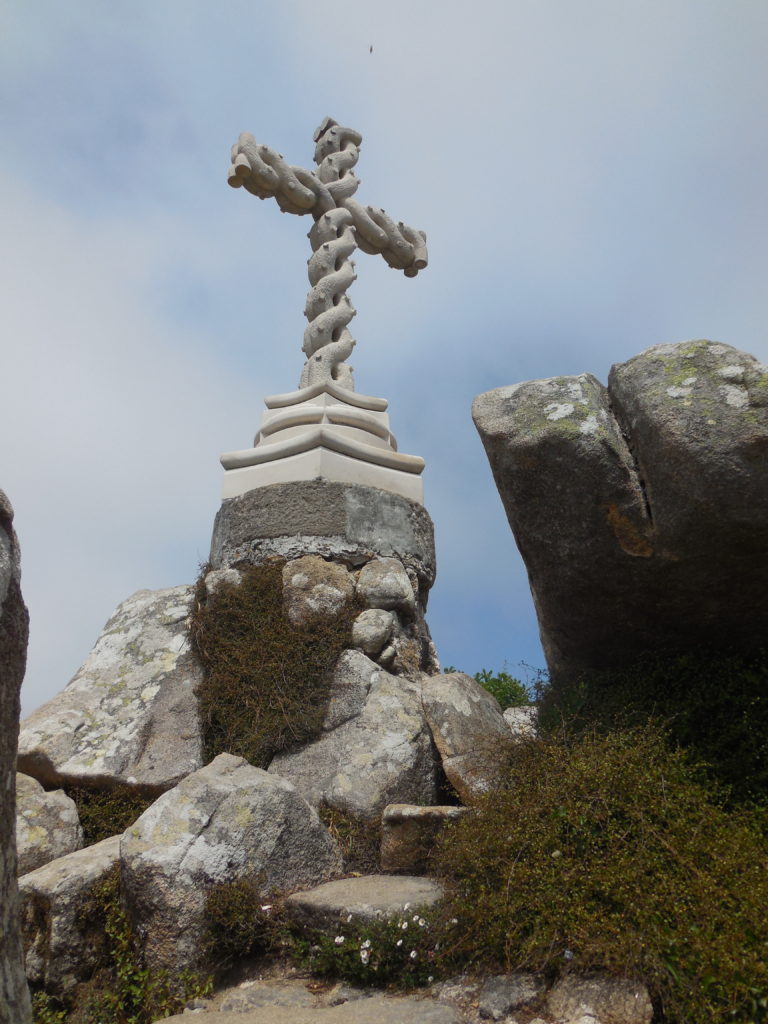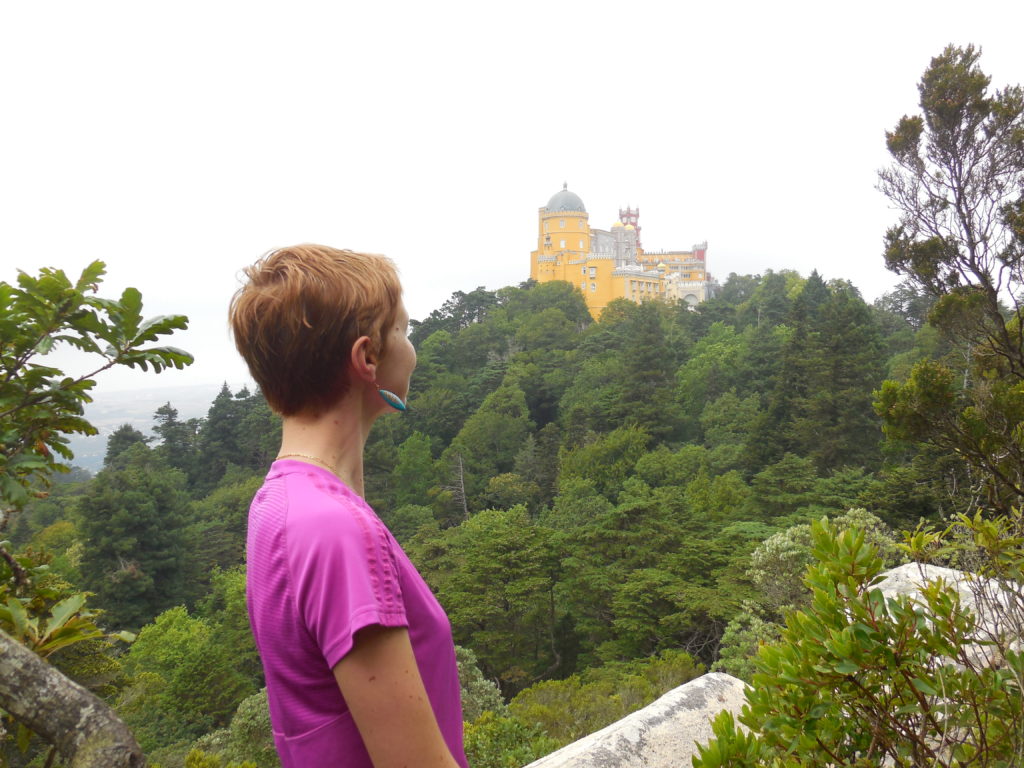 Pena Palace is truly a sight to behold. It's overwhelming inside and can be really really crowded. But from this distance… it's just a beautiful colorful castle.
Moorish Castle photos 
Just a quick hike down from Pena is this castle–it had a glorious view and was marvelous to walk along the castle walls. The flags are all the previous flags of the kingdom of portugal…all the way from the blue cross to what it is today.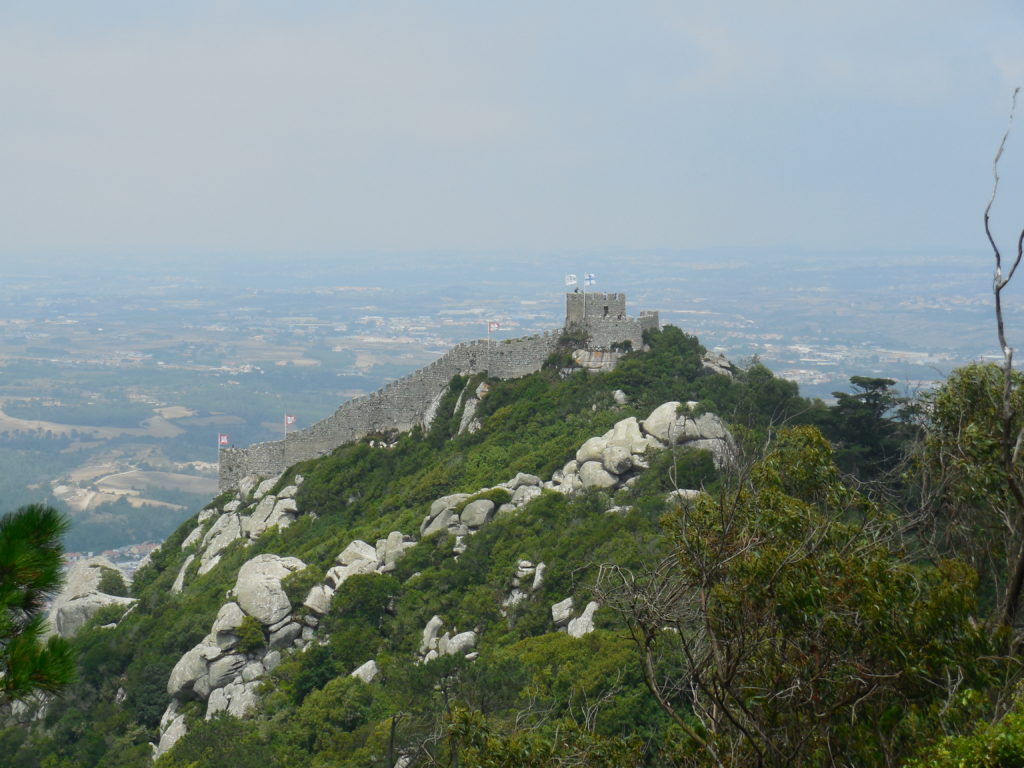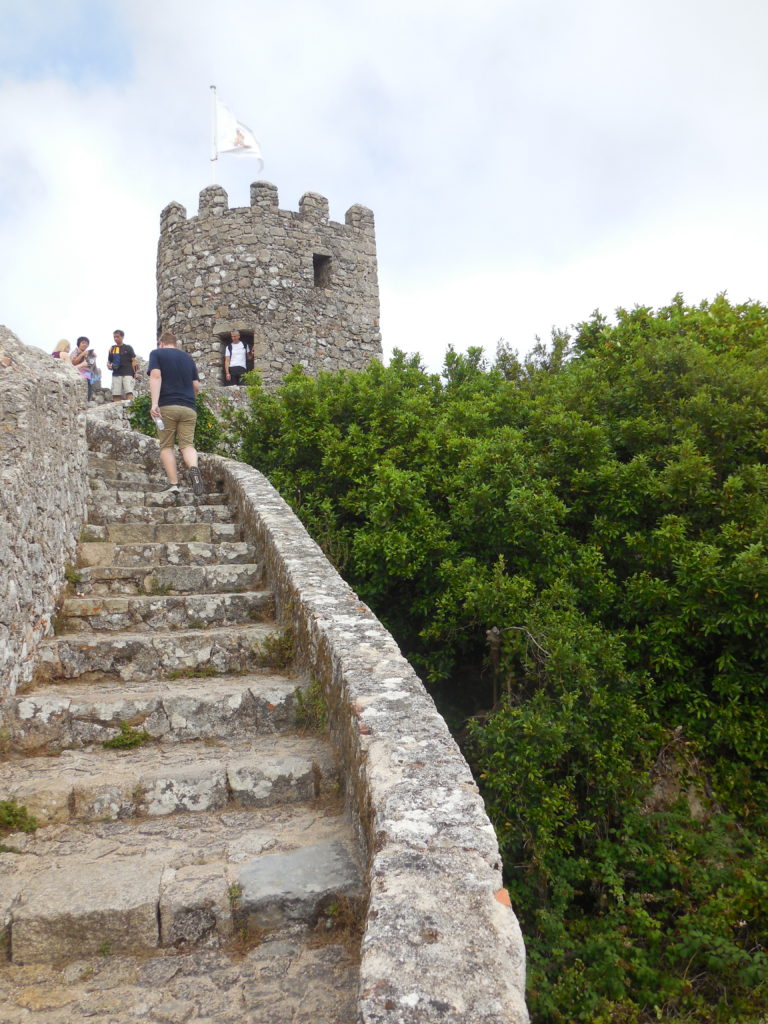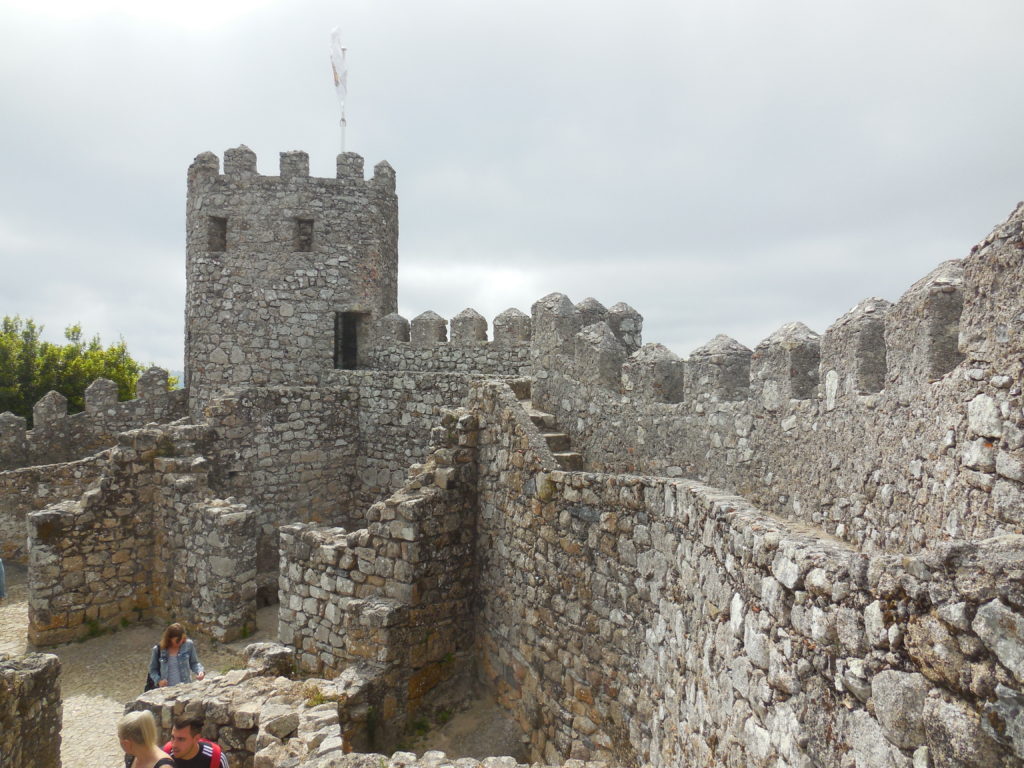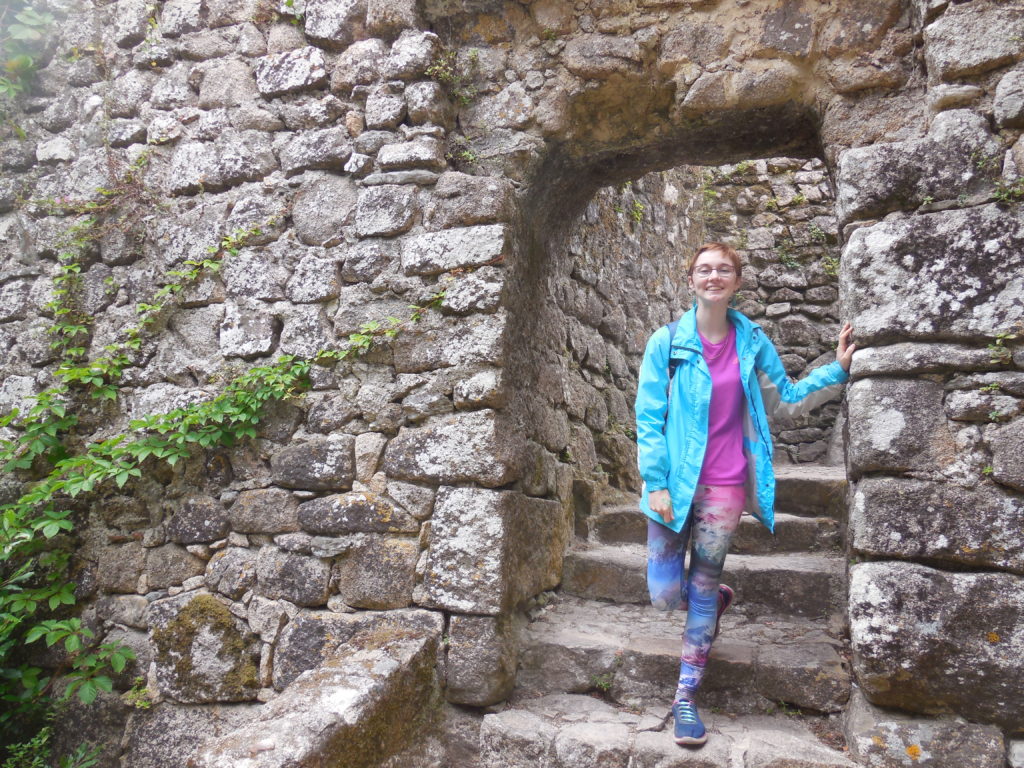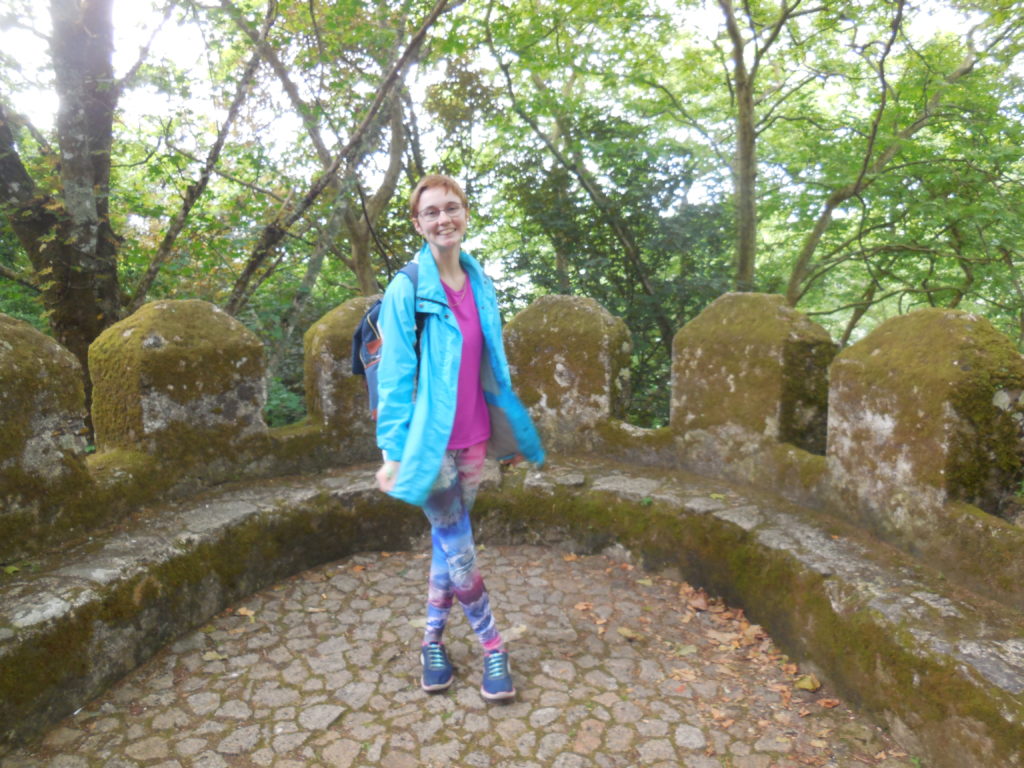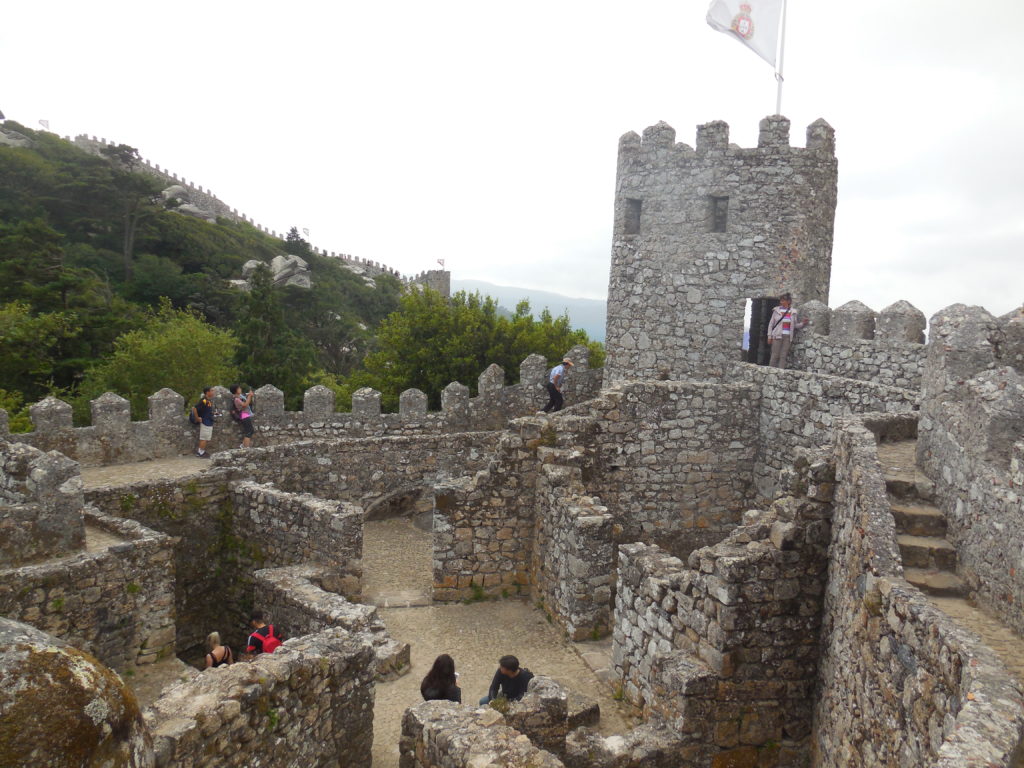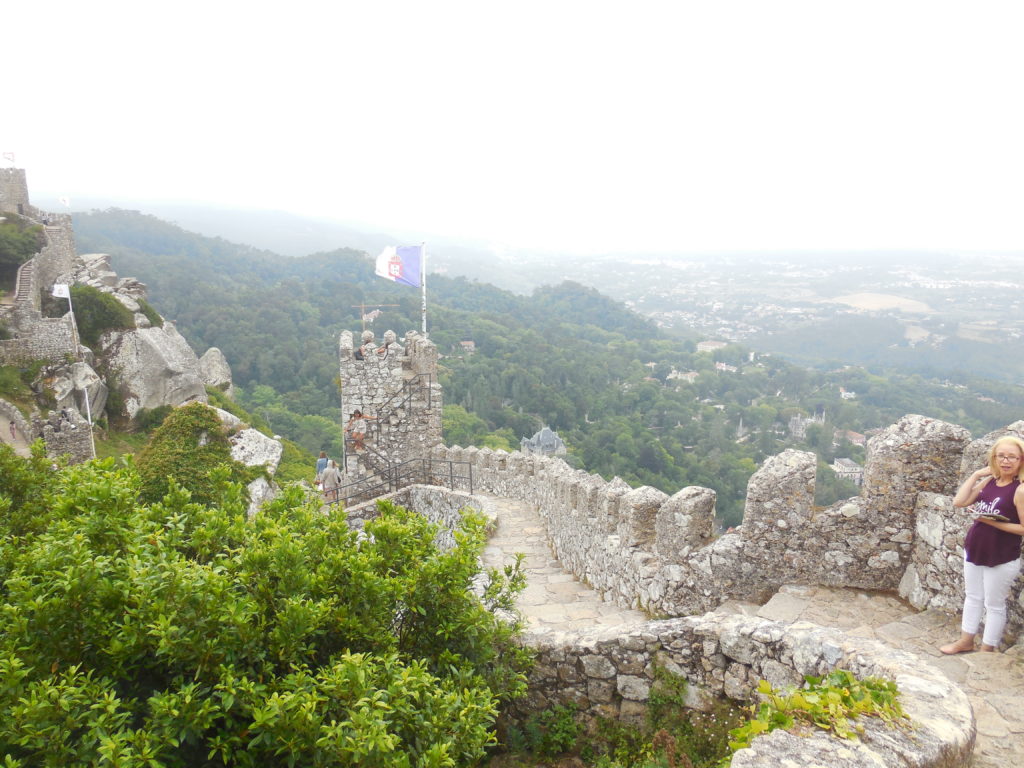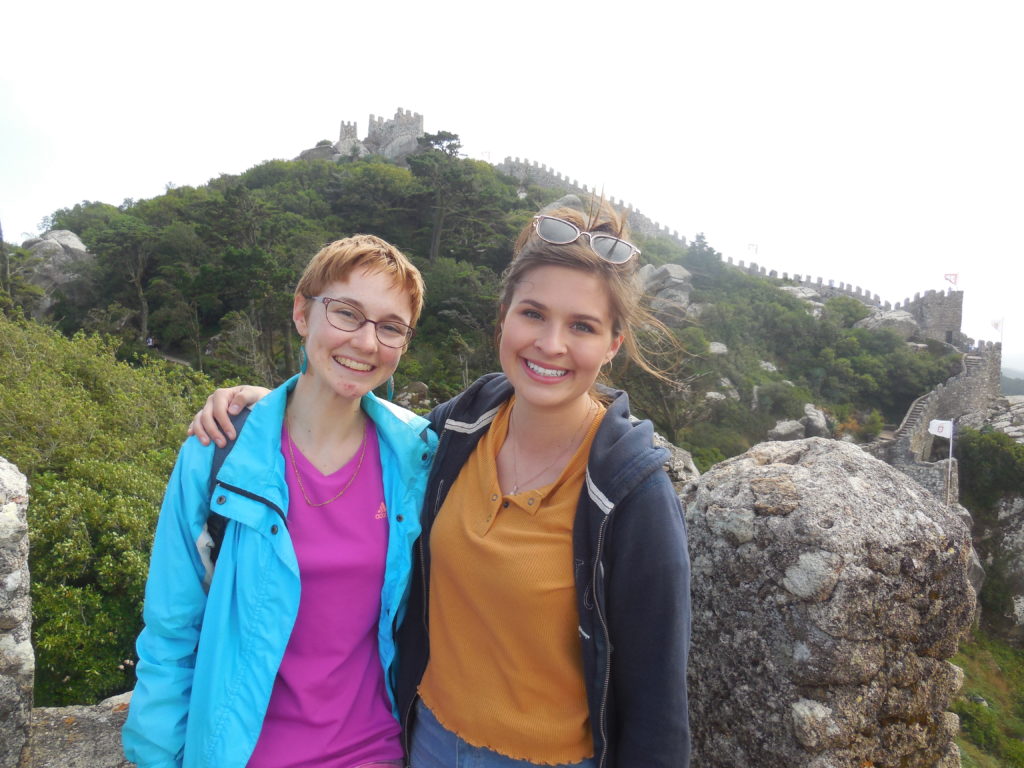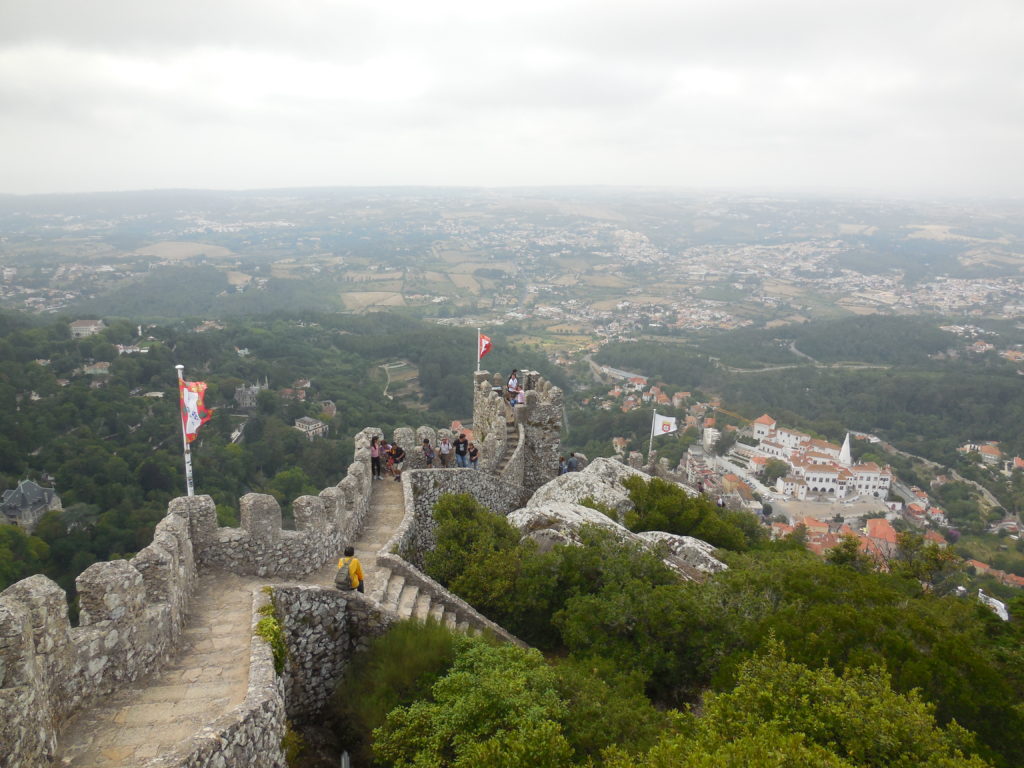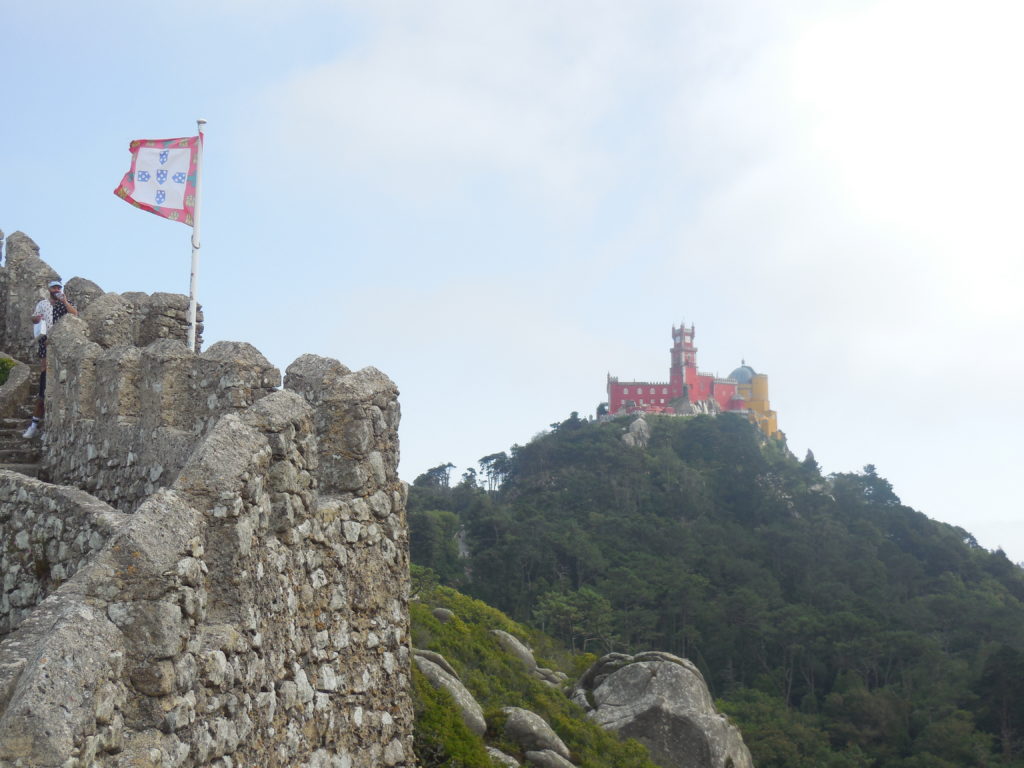 The view of the Pena Palace from the moorish castle. We got views from as many angles as we could on sunday–hills on two sides!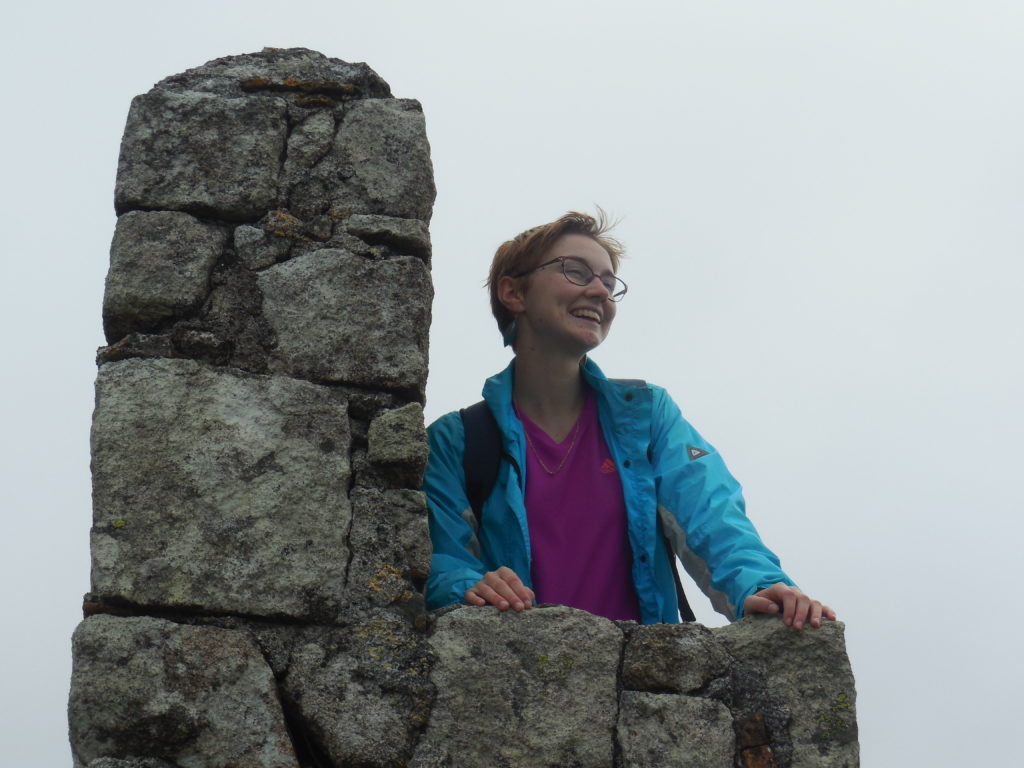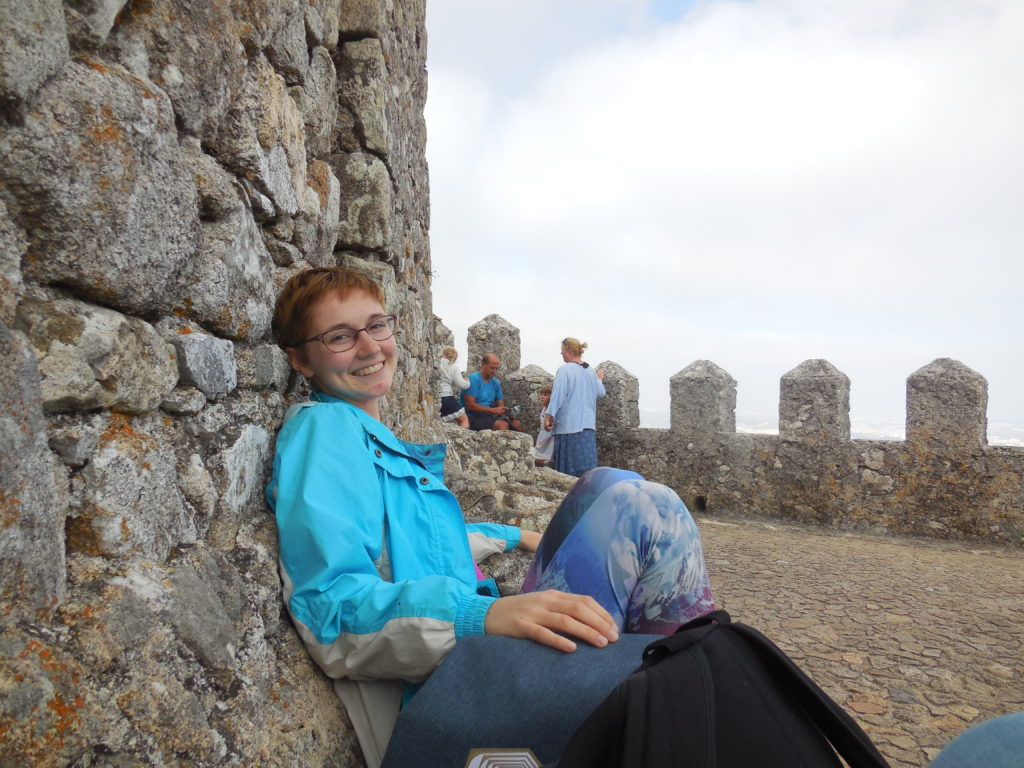 a long day of walking and a walk down to the city still ahead of me… my feet were feeling it! but it was so amazing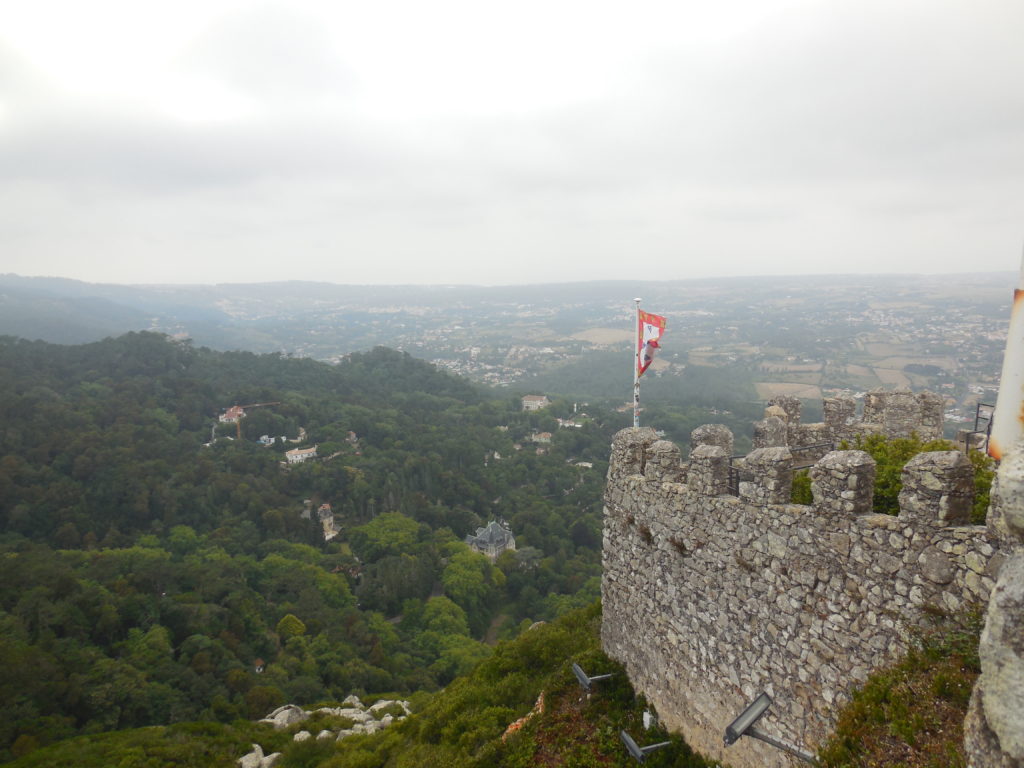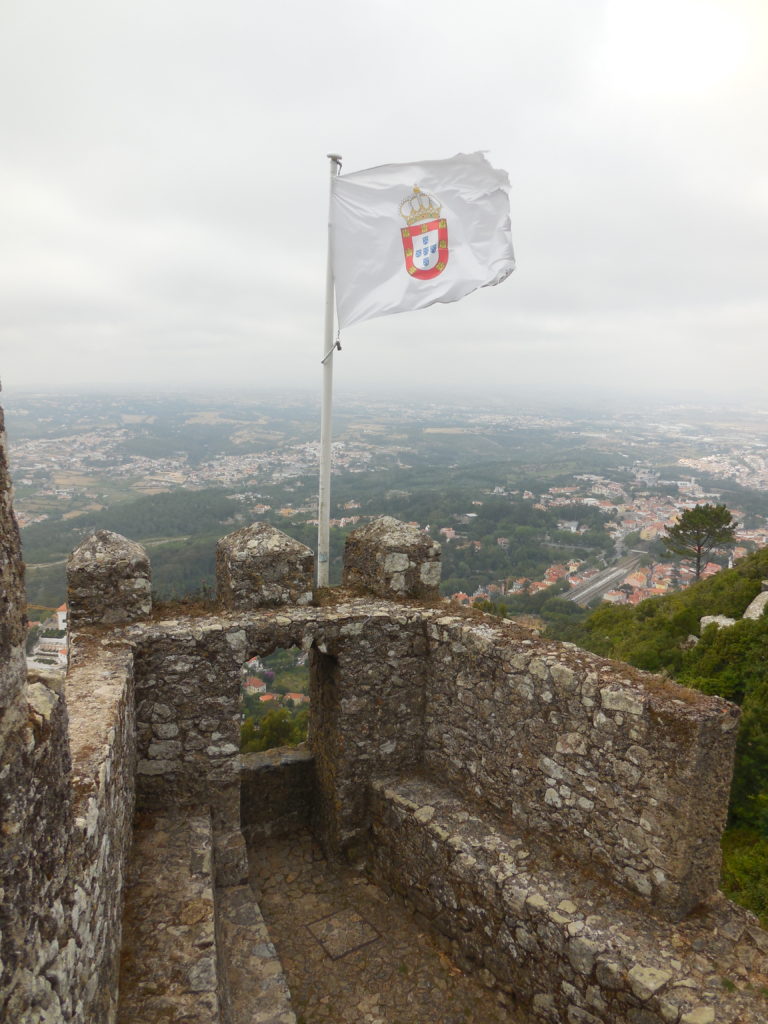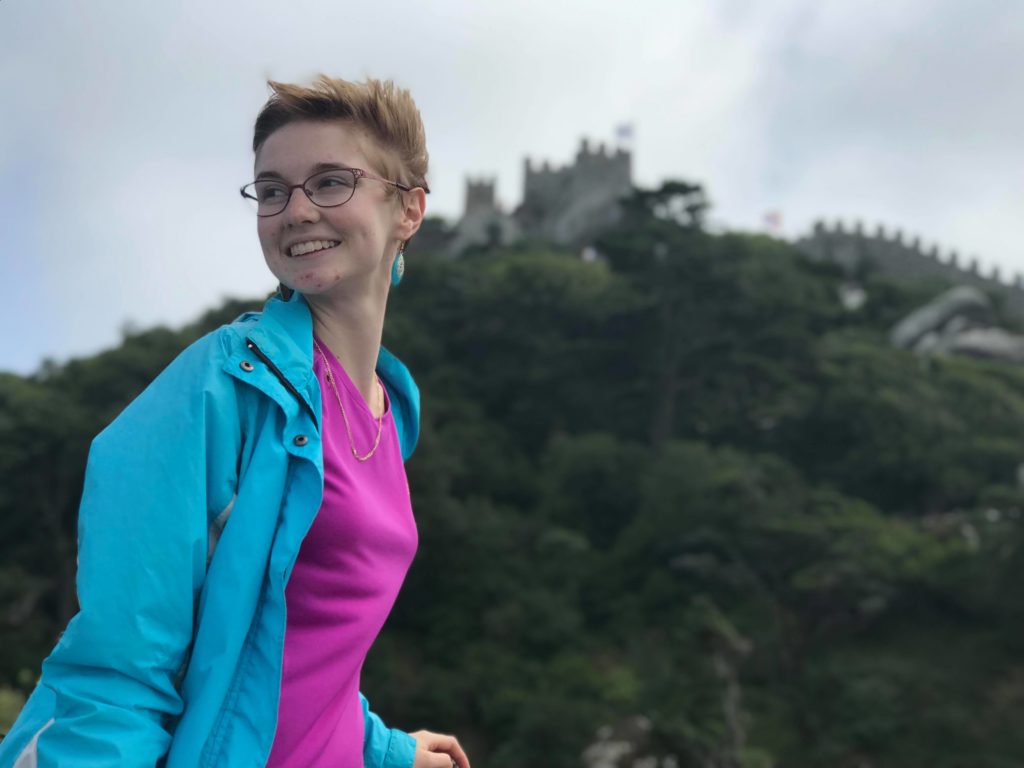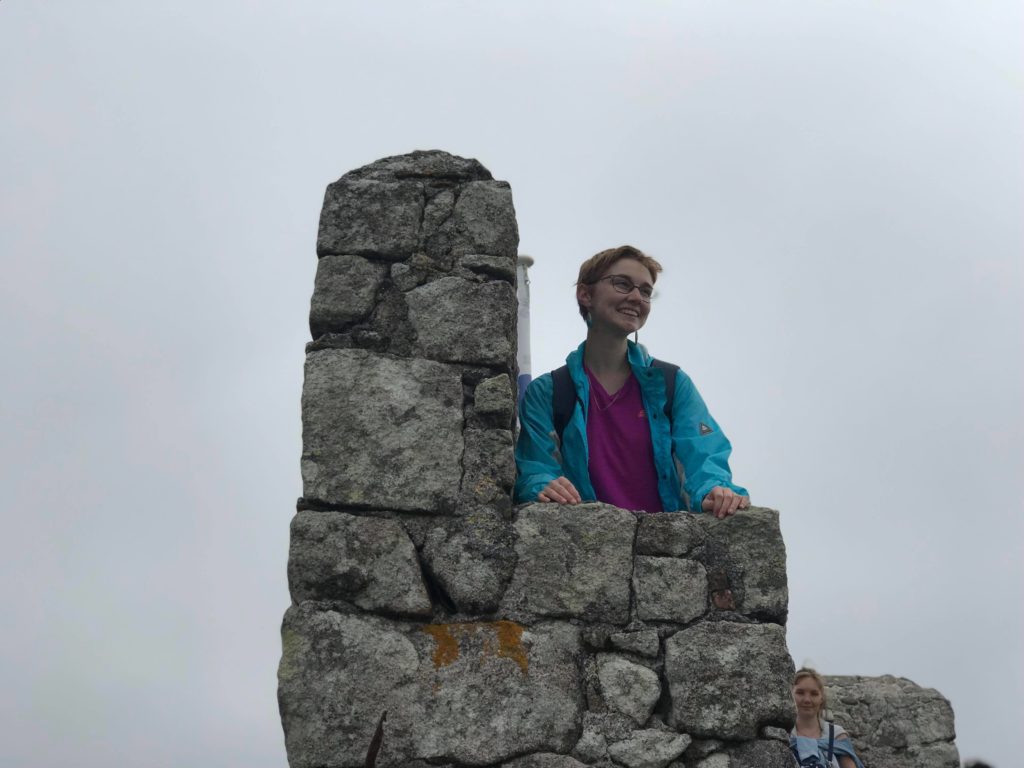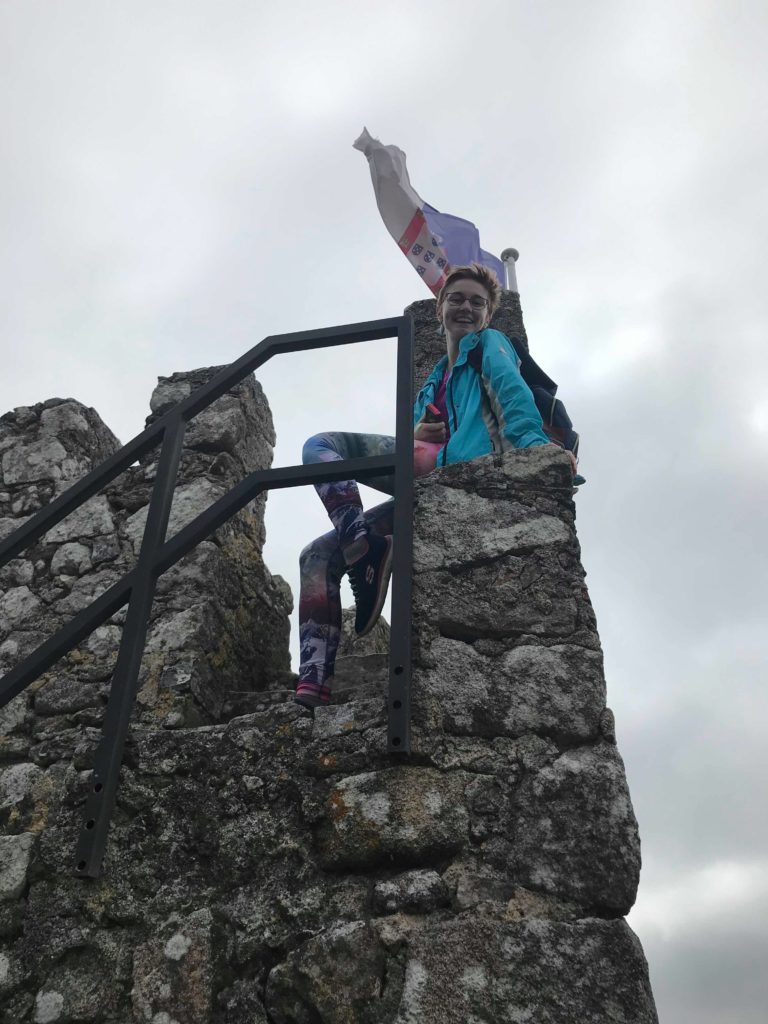 don't worry… it's much less scary than it looks in the photo!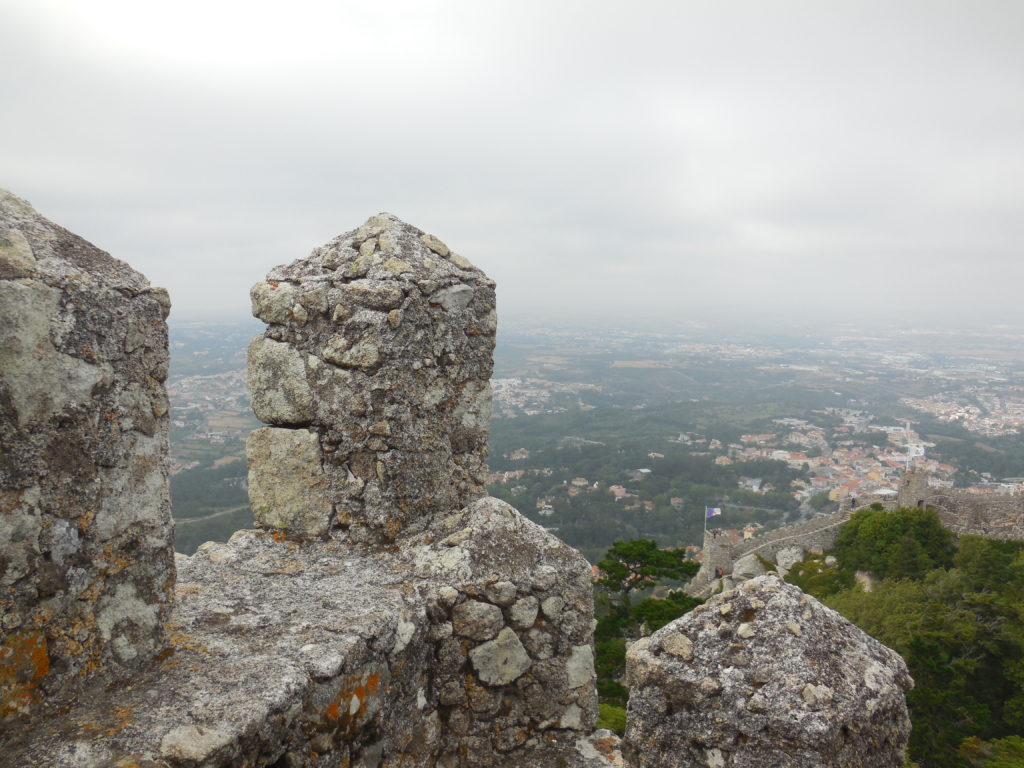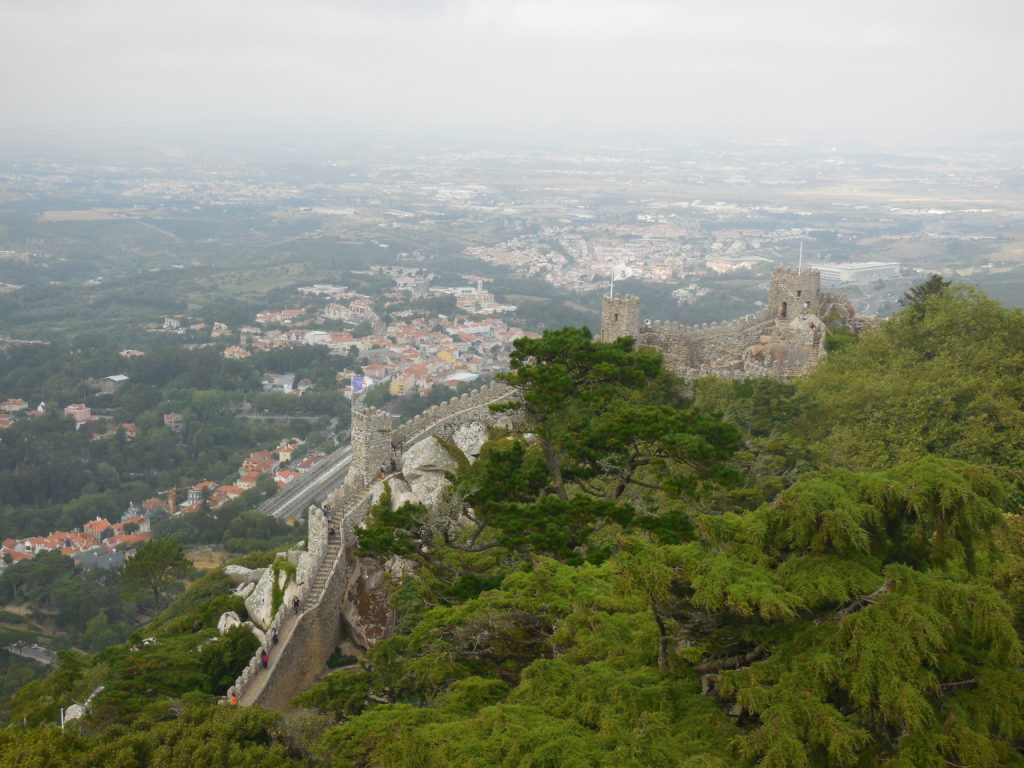 A breath taking (literally… the stairs were a lot) end to an amazing weekend.
Many thanks to Brianna for all the photos of me!
Much Love!