Today I did a lot–and quite a bit of walking, though not 32 kilometers. It was driven by this strong desire to "do things before I leave", which I know is kind of silly since I know I'll come back some day, but on the other hand–there is so much to see and do here. I love this town and I feel very integrated into it–I can name the neighborhoods and give directions (albeit in english).
Anyways, today I went with a coworker (not really an intern, not really a foreign service officer yet–she's a Presidential Management Fellow working in the State department) to the St. jeronimo's Monastery and Church. They were overwhelming and large and beautiful.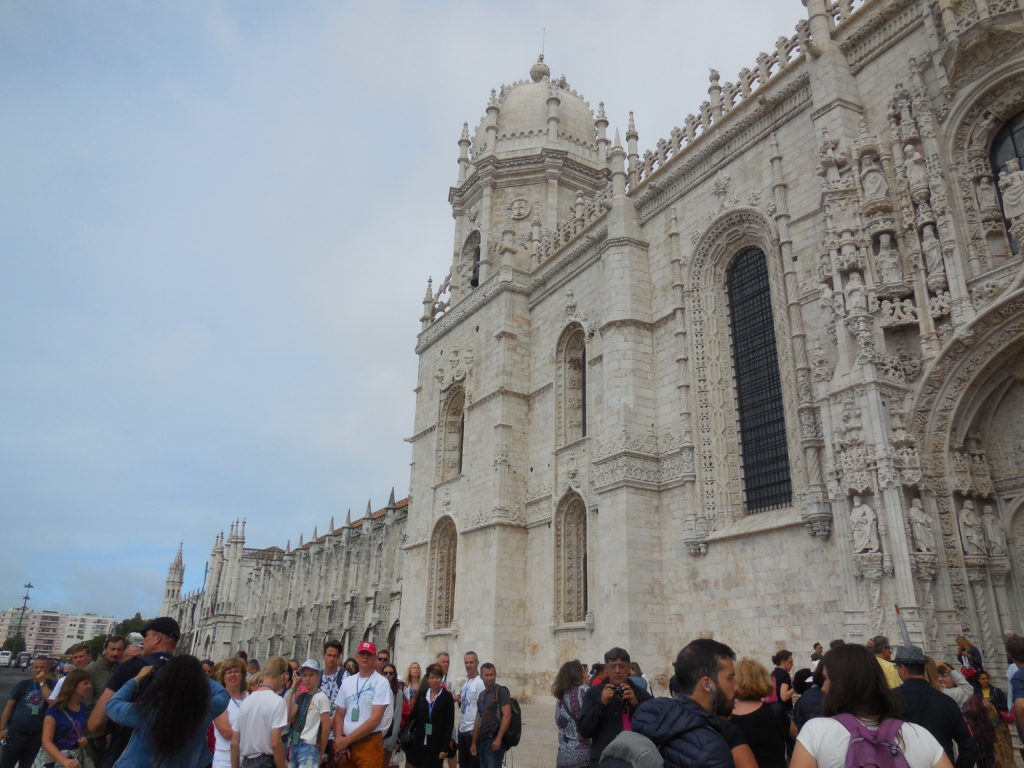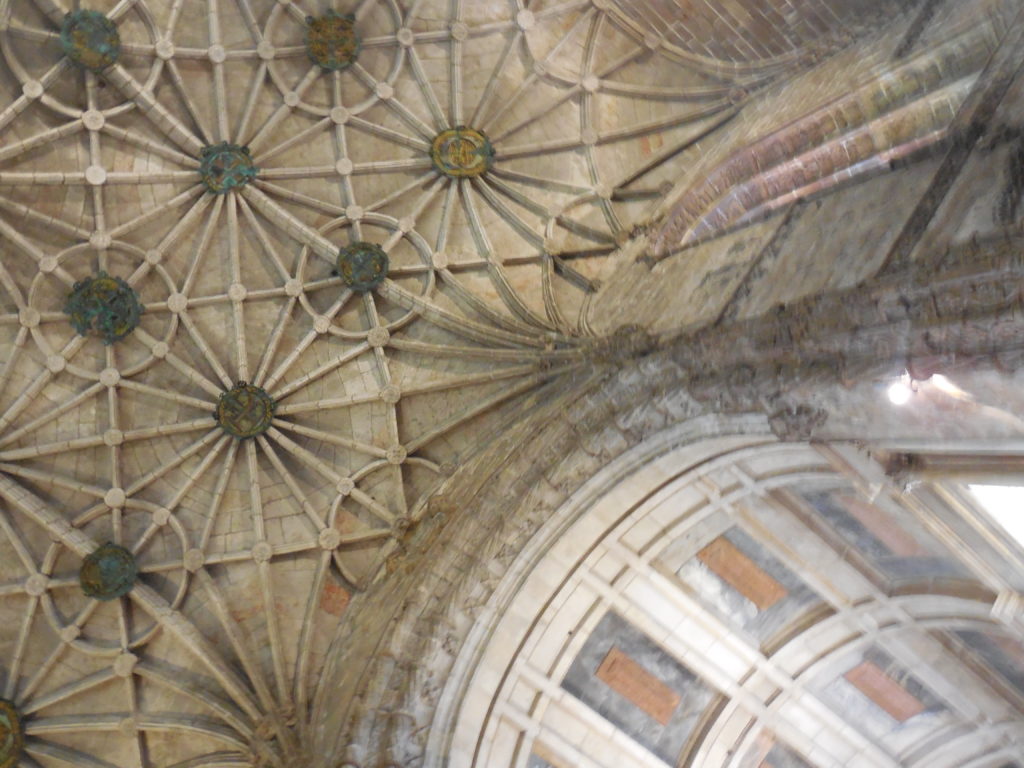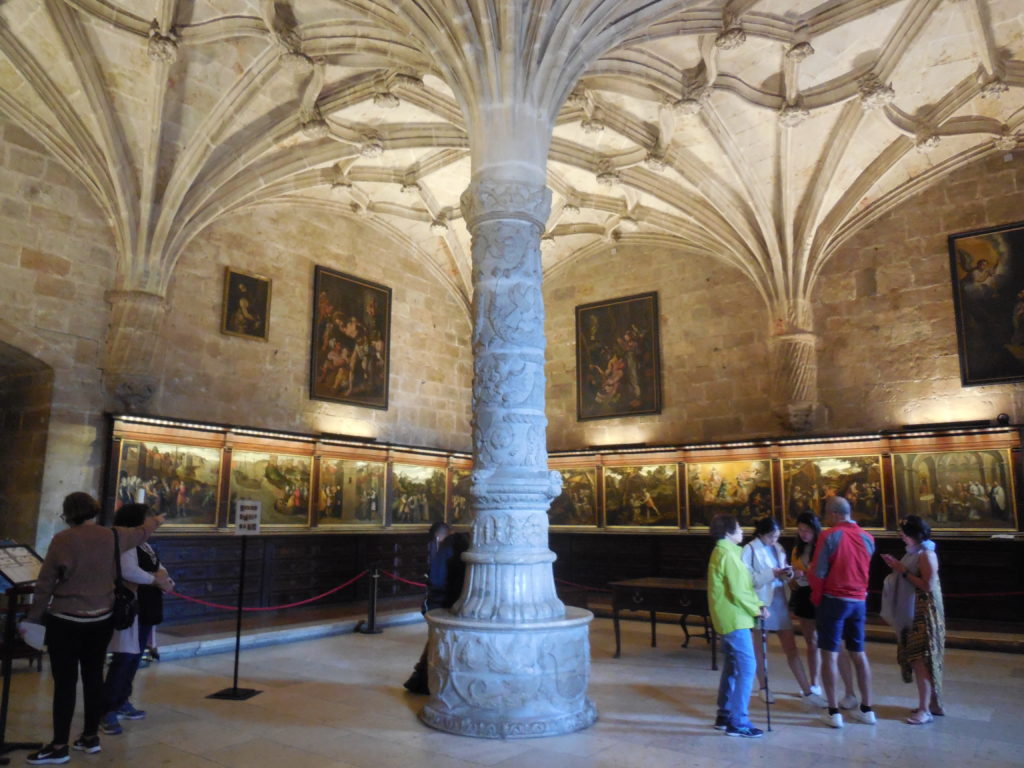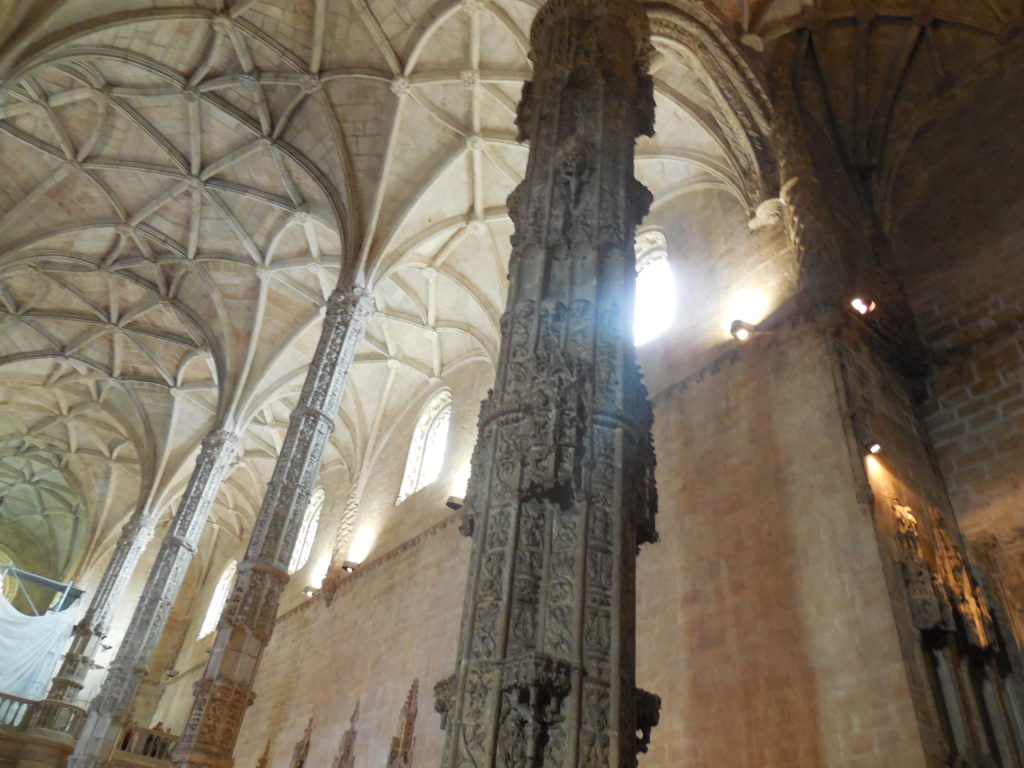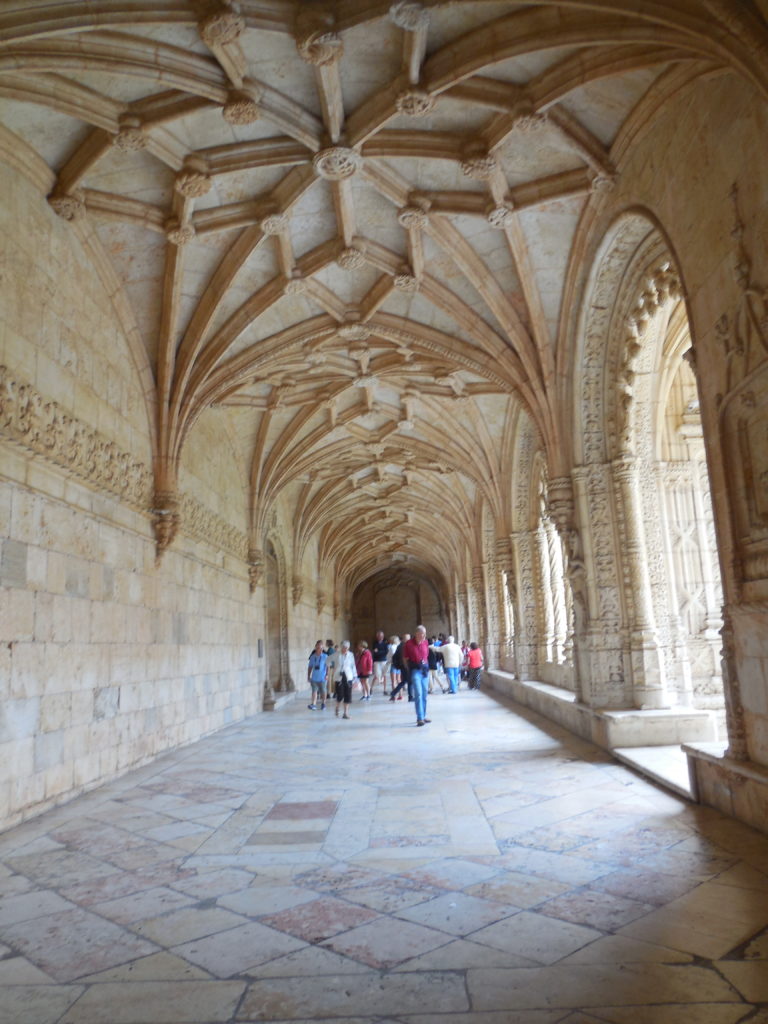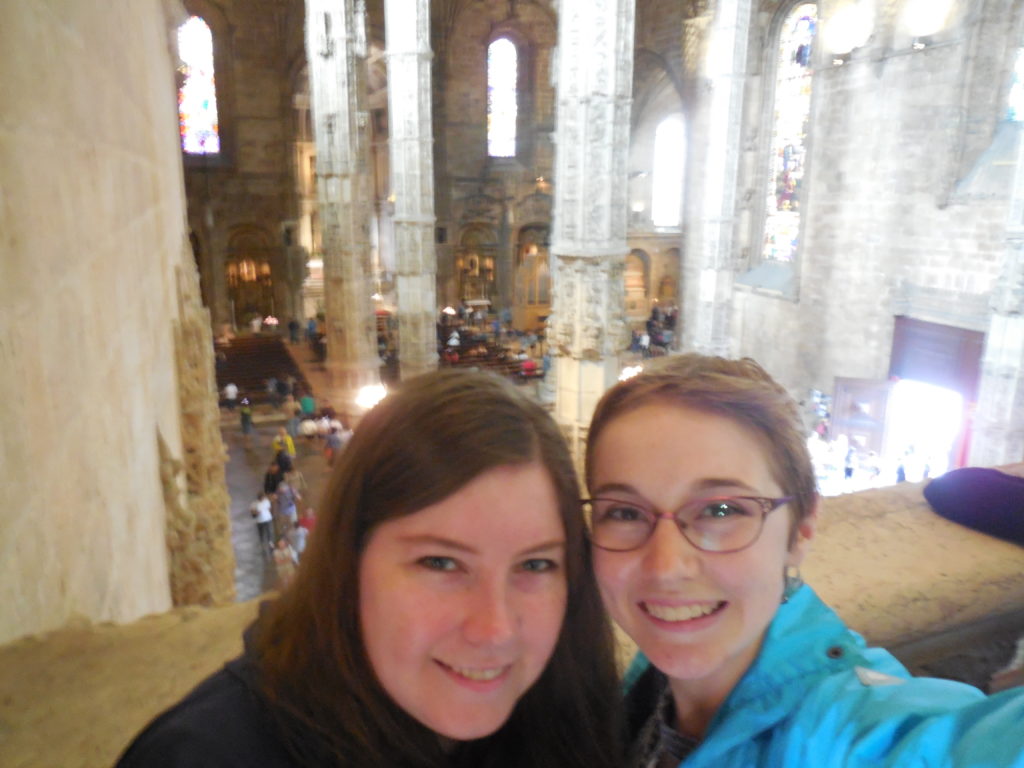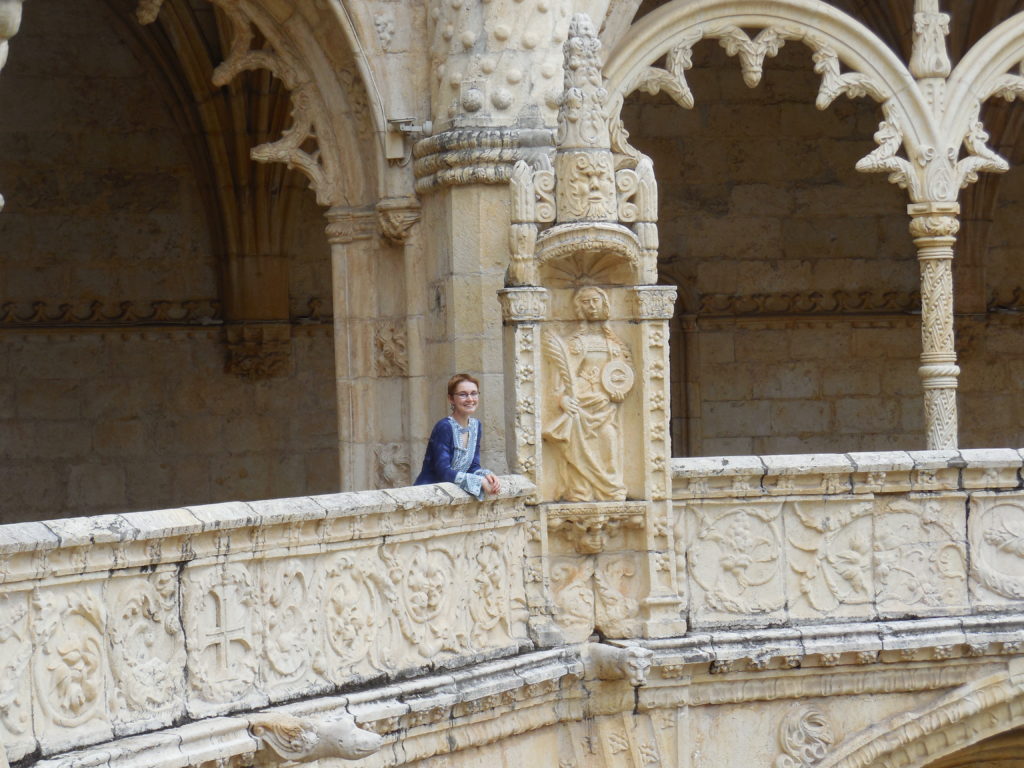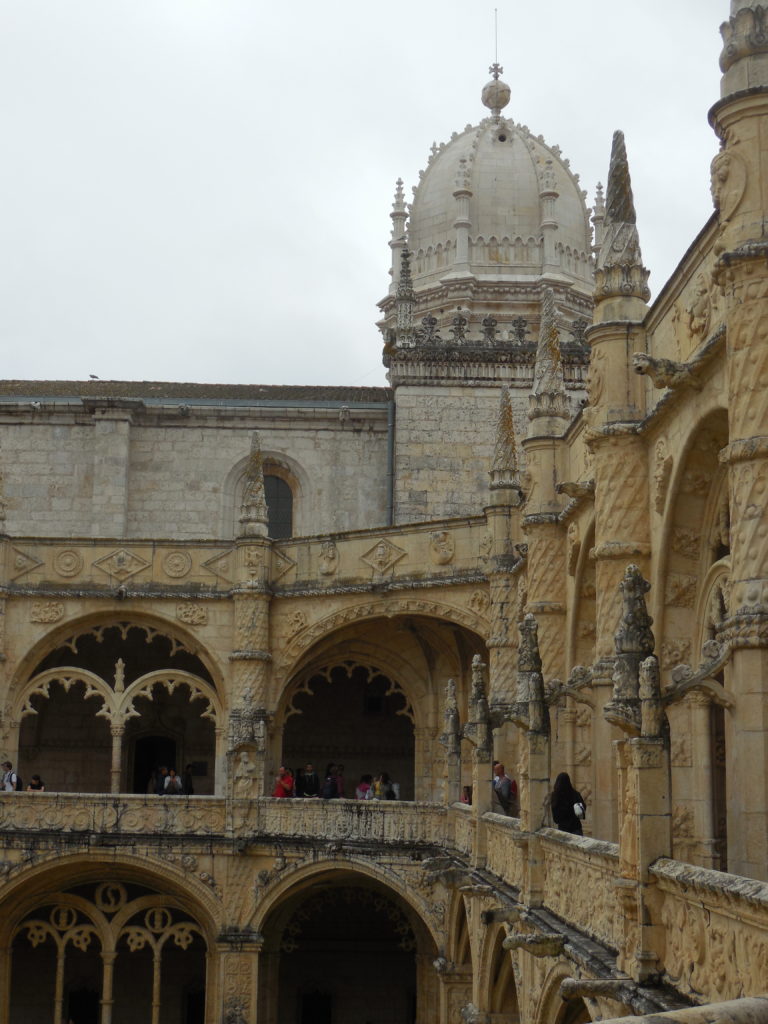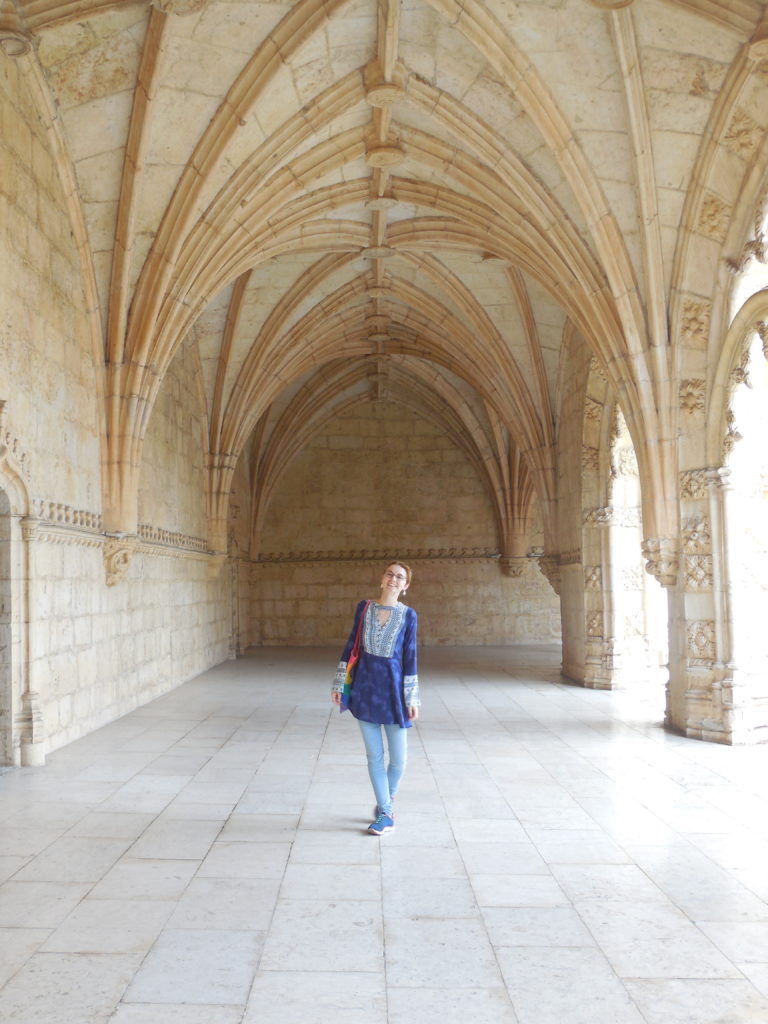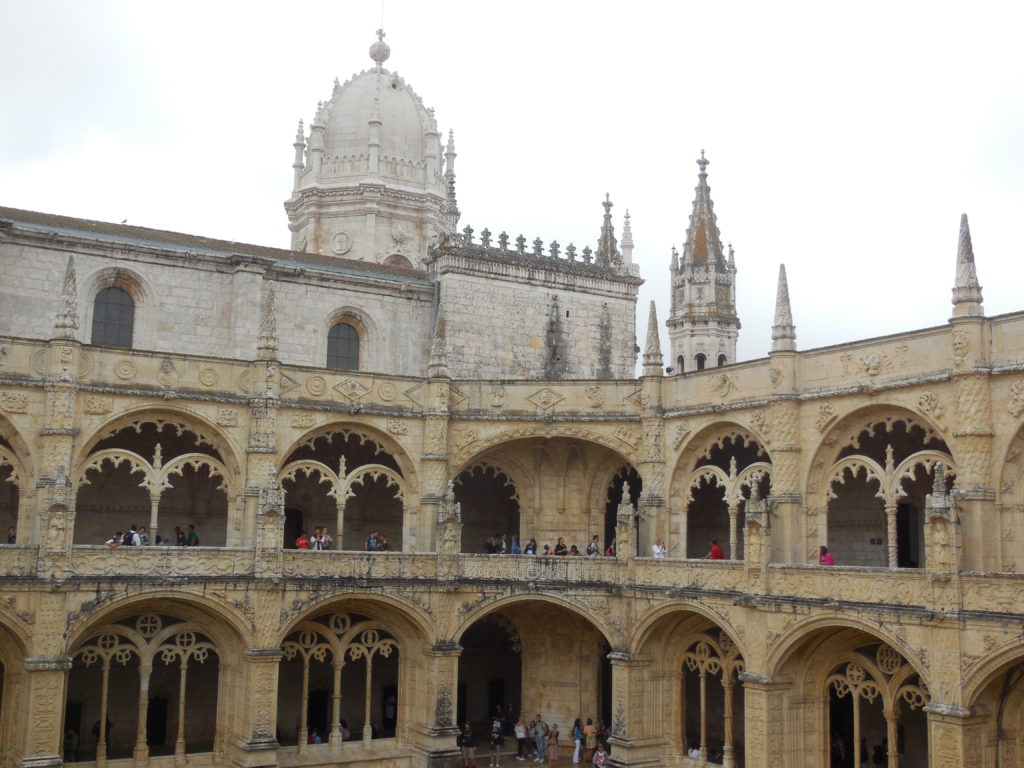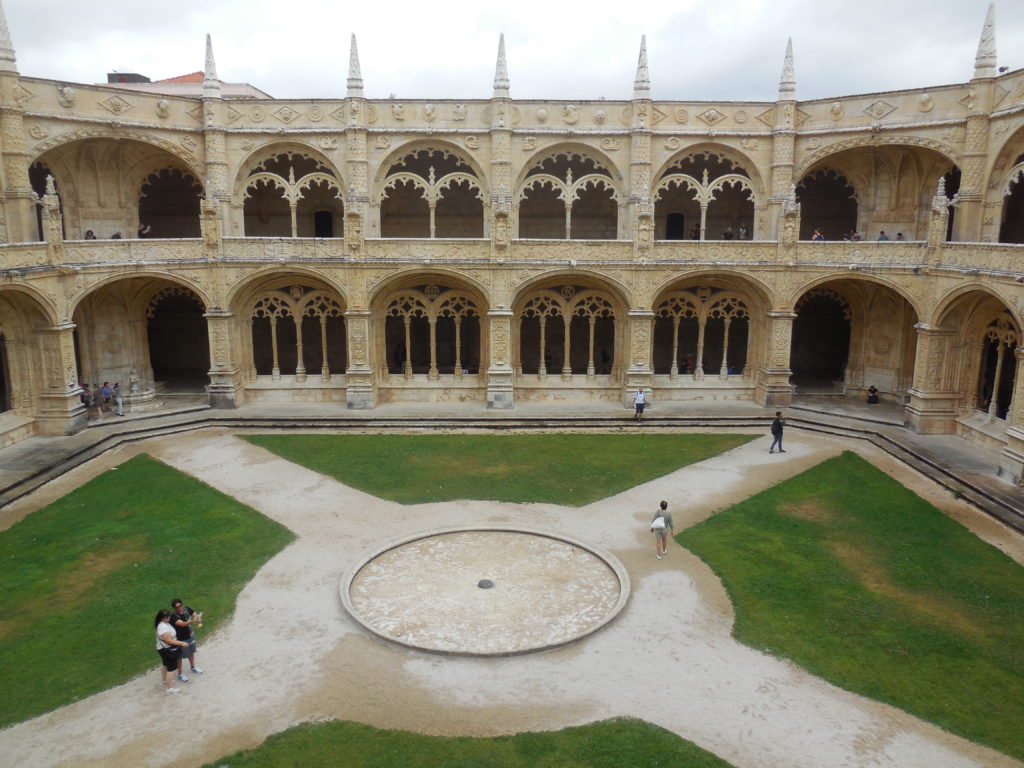 The ornate-ness is the Manuelian style of Architecture. More than that, I don't really know.
Also: shout out to Sebastiao (I hope you're reading this).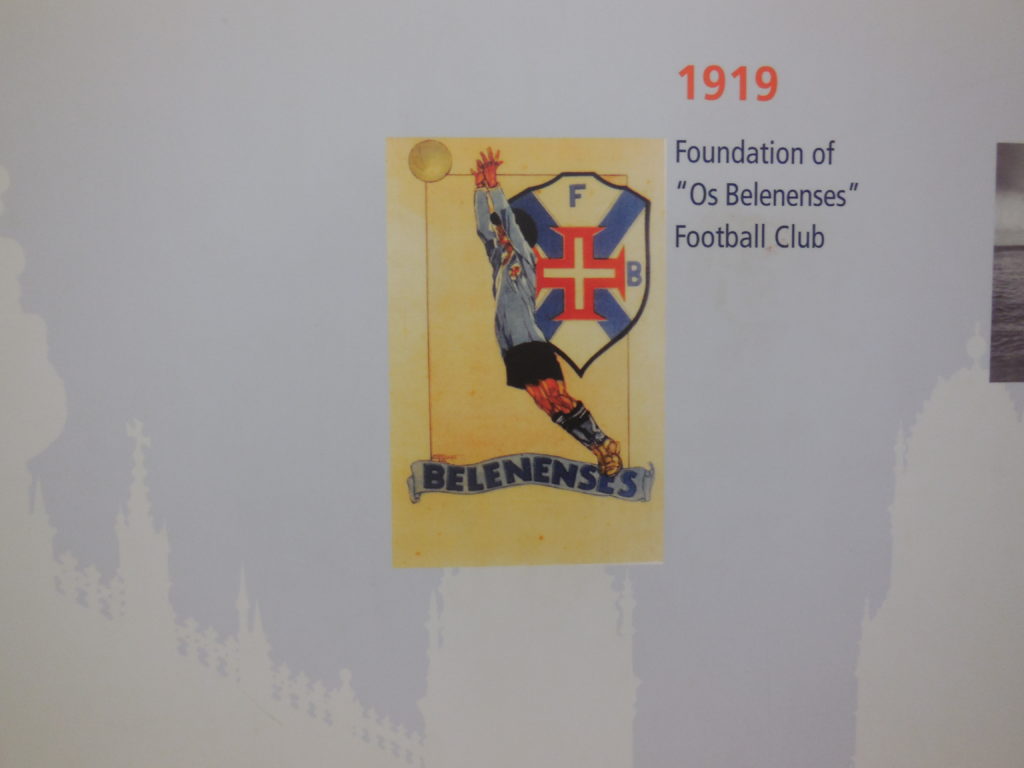 Enough said. <3
After spending about an hour and a half dooting around the monastery and chatting, Lilli and I went to this tile store that I had read about online and Laura's mom raved about. I needed some small souvenir, after all ;). The store's name is Fabrica Sant'Anna, and I really strongly recommend everyone goes there instead of buying the tiles found in antique stores and flea markets and used things stores, because tiles are going missing off of buildings in Lisbon and the tourist hunger for cheap authentic tiles is to blame. But the thing is, you don't need to fund the destruction of 100+ years of cultural heritage when there are stores like Sant'Anna that have been producing and selling tile–in this case, since 1741! Note: I'm not sponsored by this store, I was just so enchanted by it and so dismayed to read about all the tile that goes missing in Lisbon.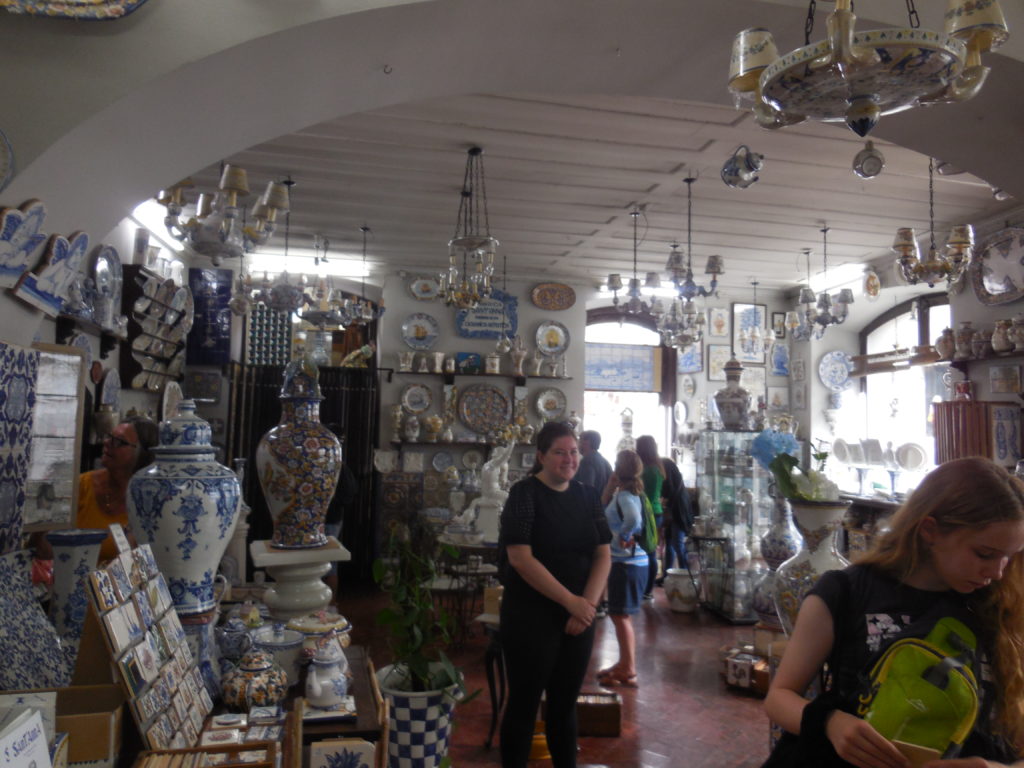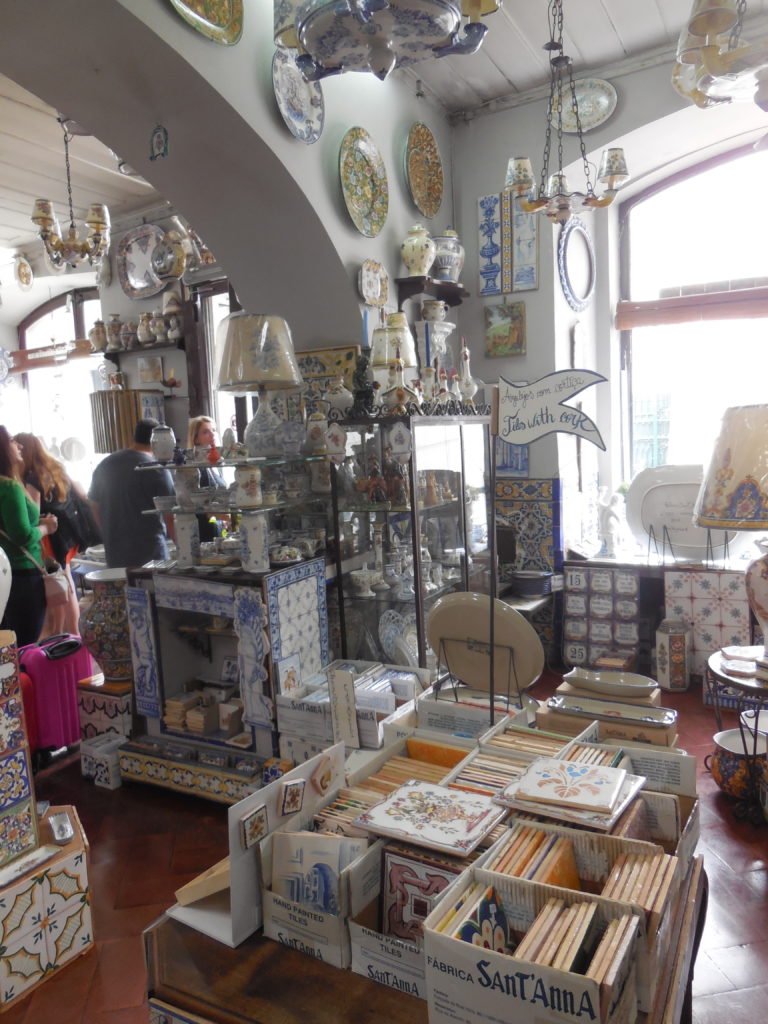 Then we met up with Brianna and Michael for some lunch at my favorite Ramen place in Baixa, Panda Cantina. I had the ice jelly again. 🙂 (see Day 18's post for photos of that).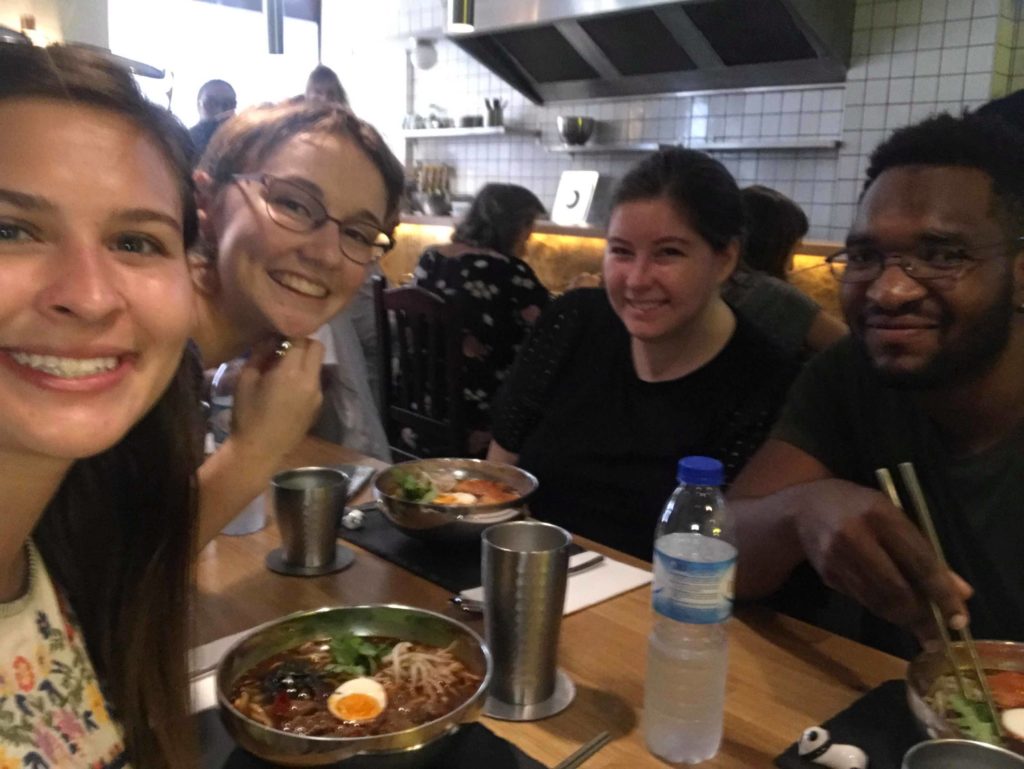 Afterwards, we made our way to the much-contested-but-overall-clear-winner of the "best Pastel de Nata in Lisbon" contest. Some say it's the ones in Belem. Others insist it's these ones, from Manteigaria. I like these a lot–and there's much less of a hassle to get them. But, admittedly, I've not had the others–I've merely looked at the crowd of people swarming the store in Belem and cringed. The cool thing about Manteigaria is that you can watch the process for making the pastries through the glass window as you eat them. I had the quintessential afternoon snack–2 pastries and an espresso. Man, I will miss these.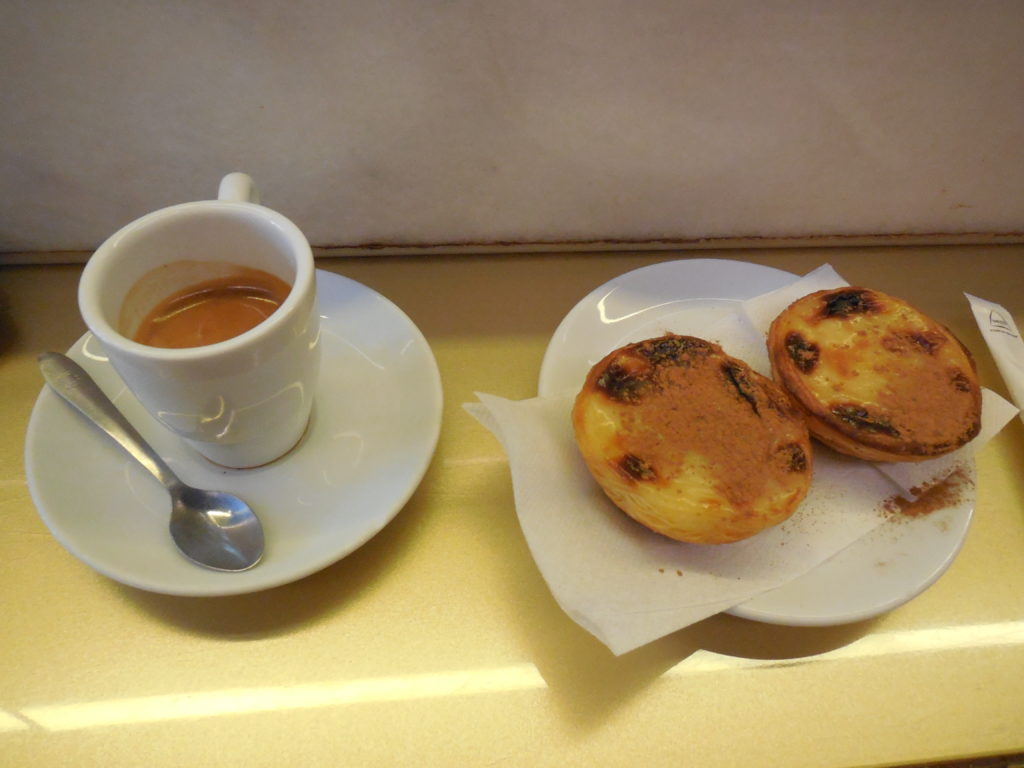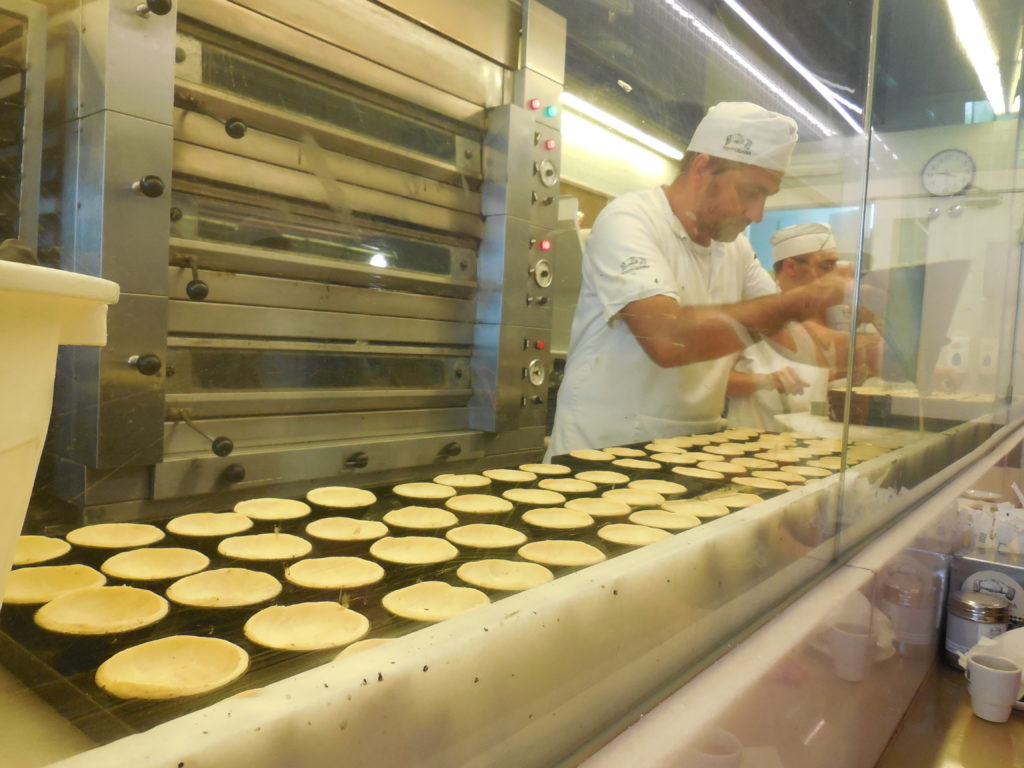 After that, the plan was to split up–I would go meet Laura and Lucas somewhere to go accross the river for the afternoon/evening, and the others would go back to their apartment to rest. Instead, we all collided in the Subway station, which was fun, because we planned tomorrow's adventure!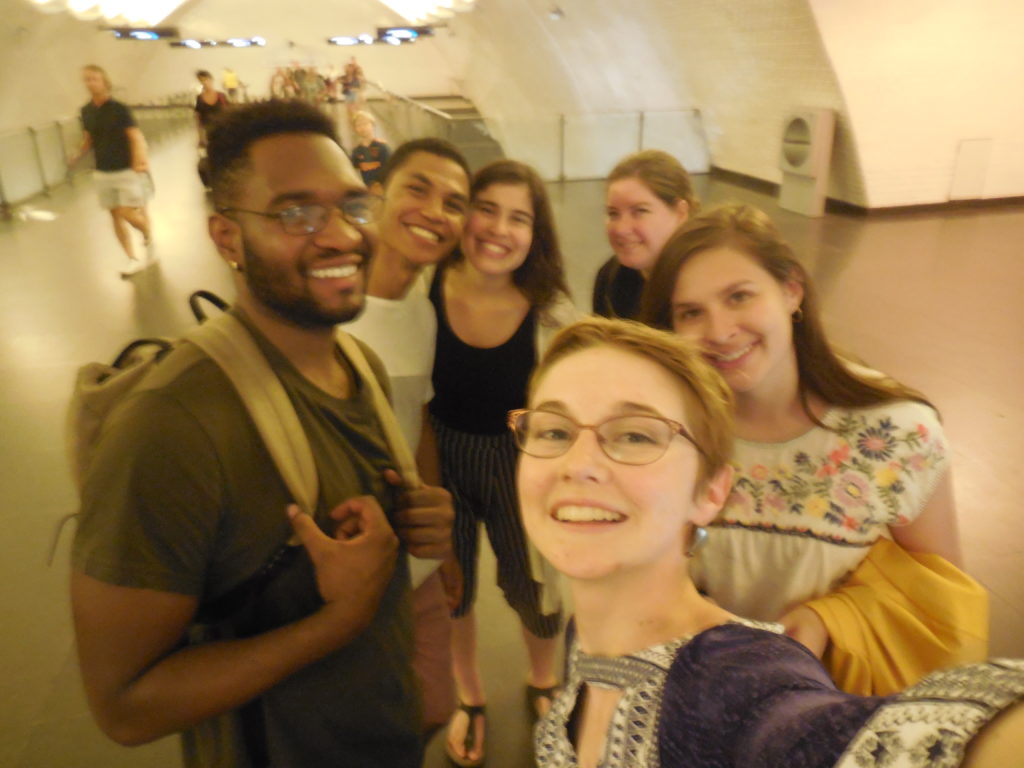 (yay! a blurry subway selfie! nothing like it 😉 )
Then we did indeed split up, and Laura, Lucas, and I took the public transportation Ferry across the river Tagus to Cacilhas! It was exciting to watch Lisbon zoom out–but that's also when the emotions started to hit. This small, red-roofed city is where I've spent the last 2 months, and I've had some of the most amazing adventures and done a job that I've loved.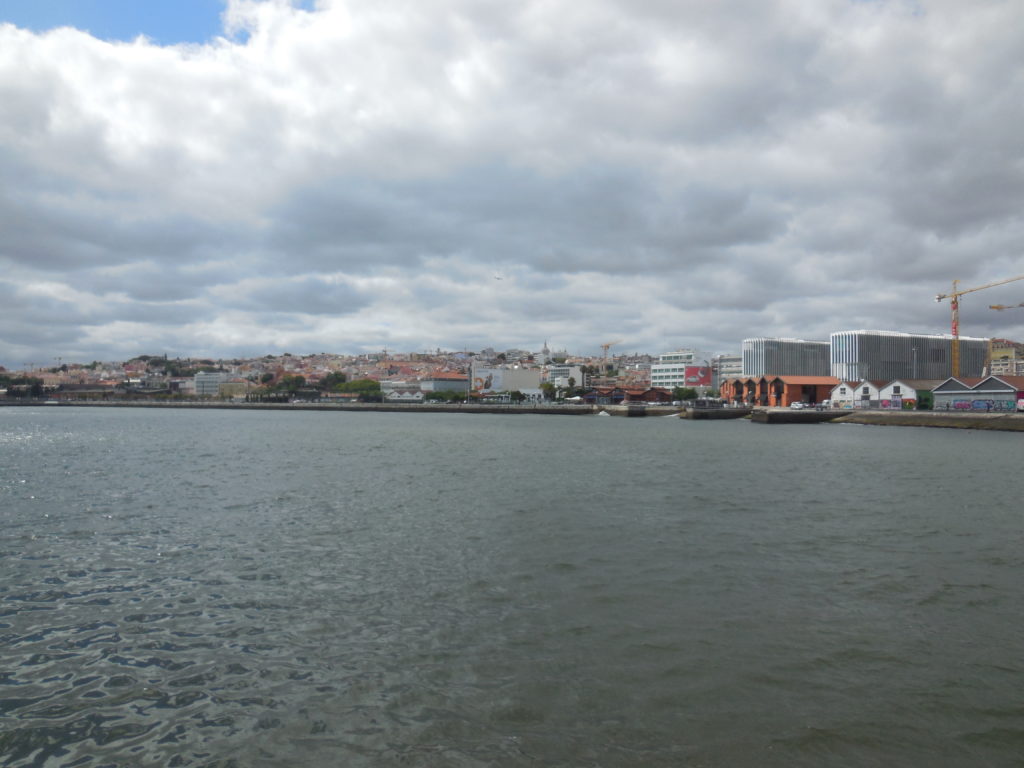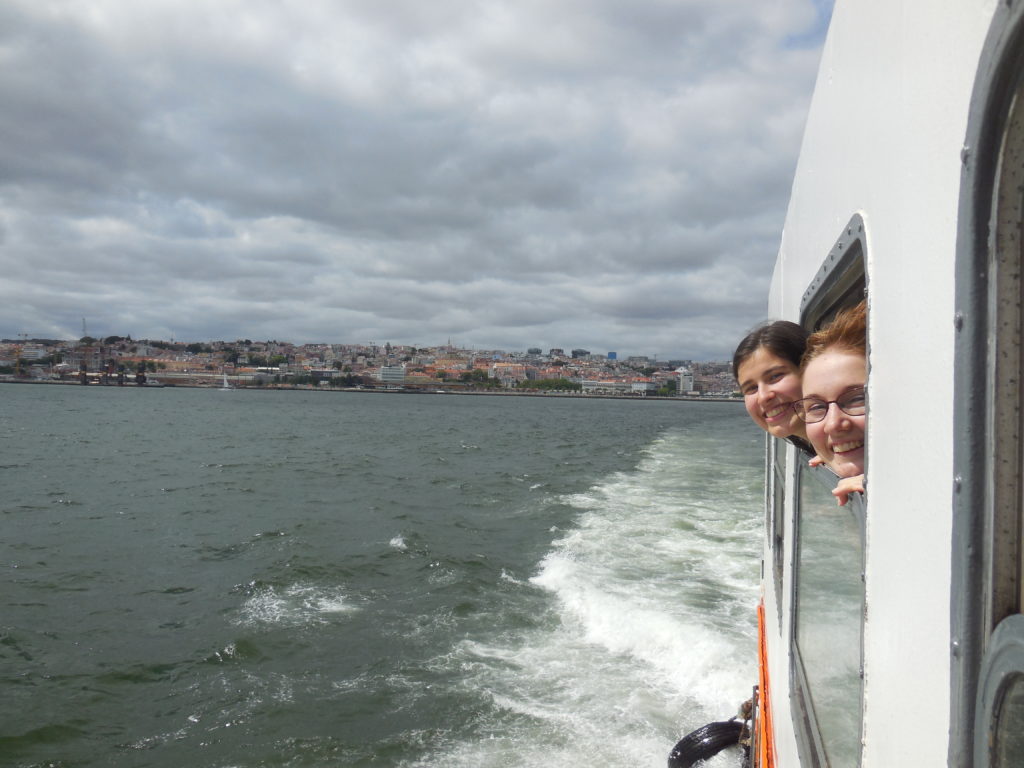 Shout out to Lucas who insisted on getting this photo–and it's by far my favorite from today because it captures my unfettered joy at riding a BOAT! tee hee!!!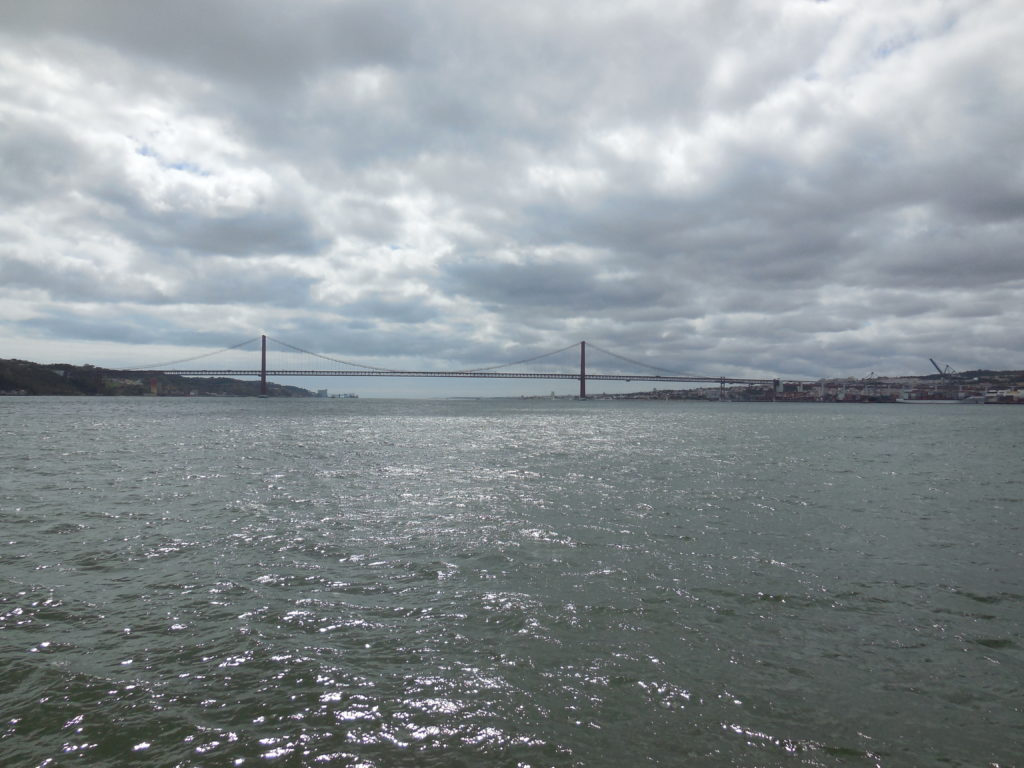 A view of the 25th of April (the day of the end of the Portuguese Dictatorship–a very important day) Bridge that I'll likely not get again. 🙂
Laura, Lucas and I then meandered along the coast of the Tagus, stopping at viewpoints and gift shops and just generally making our way over to the Christo Rei statue. We rode a panoramic elevator up and down–twice. We took glamour tourism and romantic photos. It was truly wonderful. My stomach and heart were full–I just also felt so heavy. "This will all be memories soon" was my internal monologue. But it was still so fun.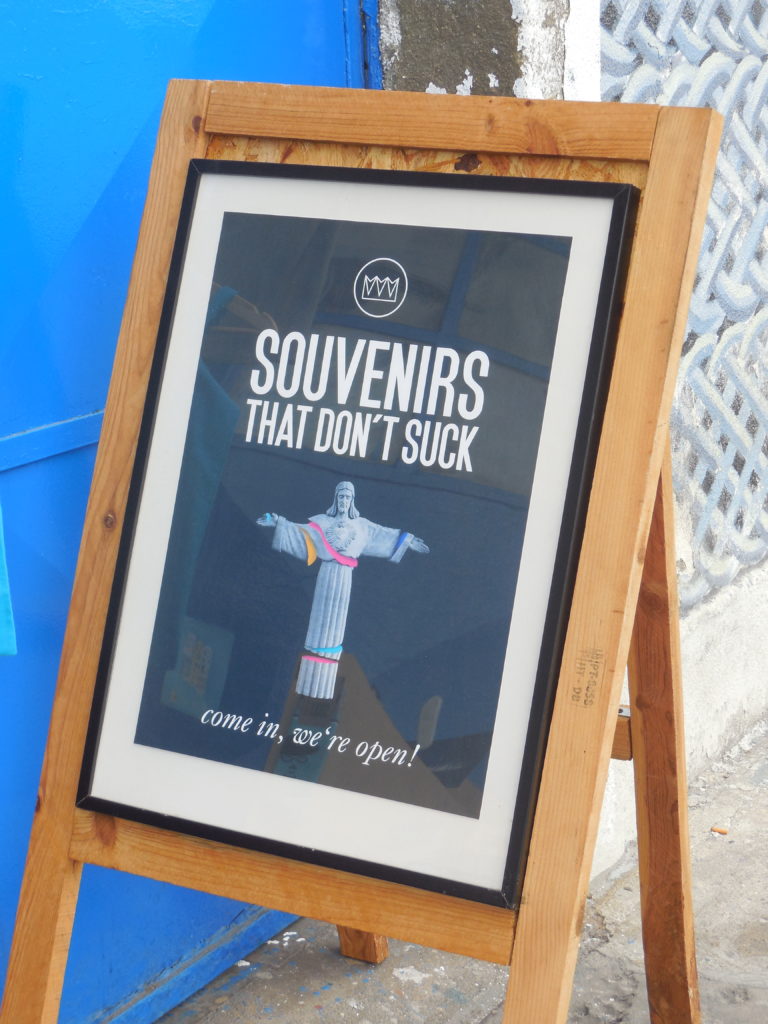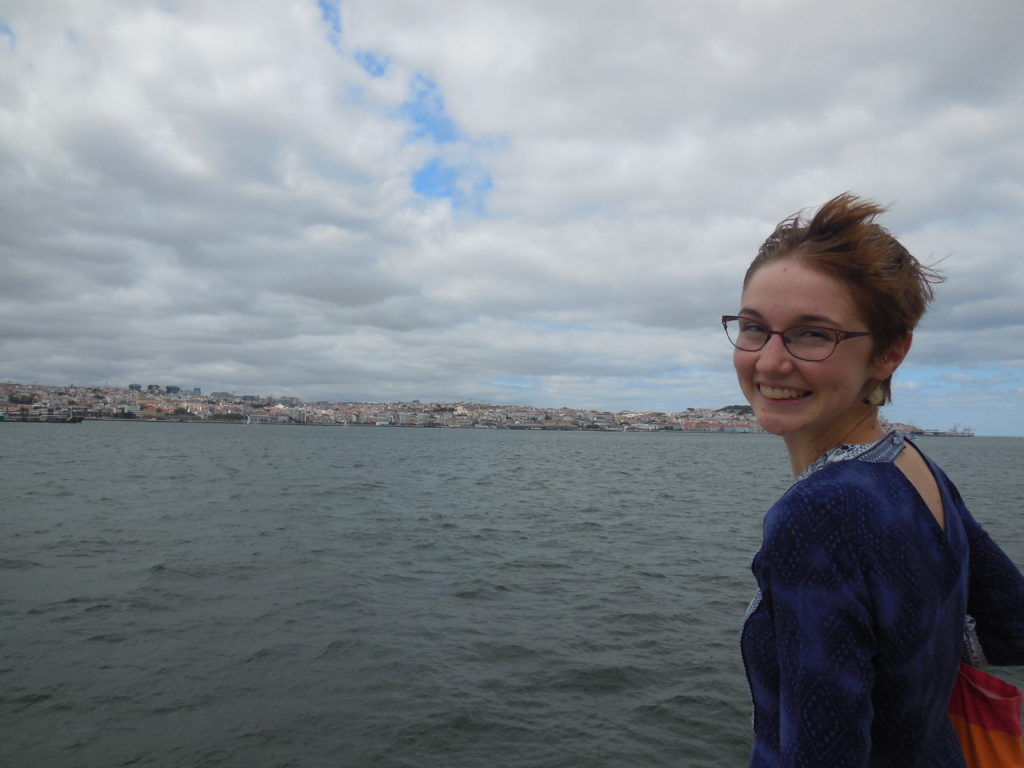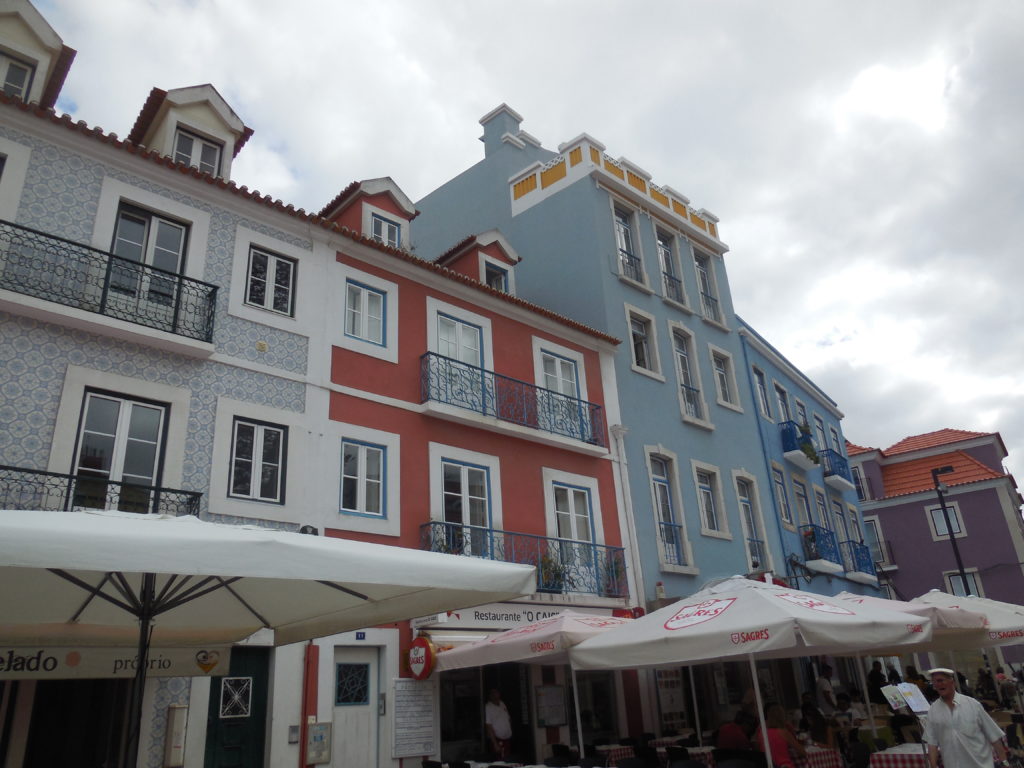 Cacilhas is adorable too.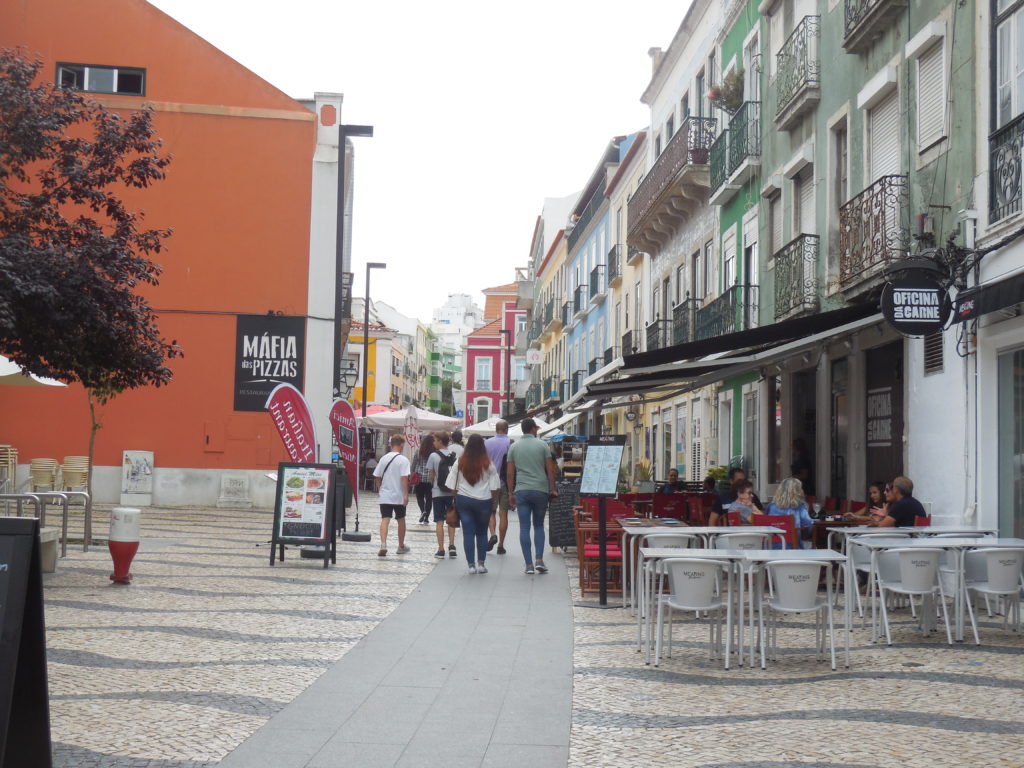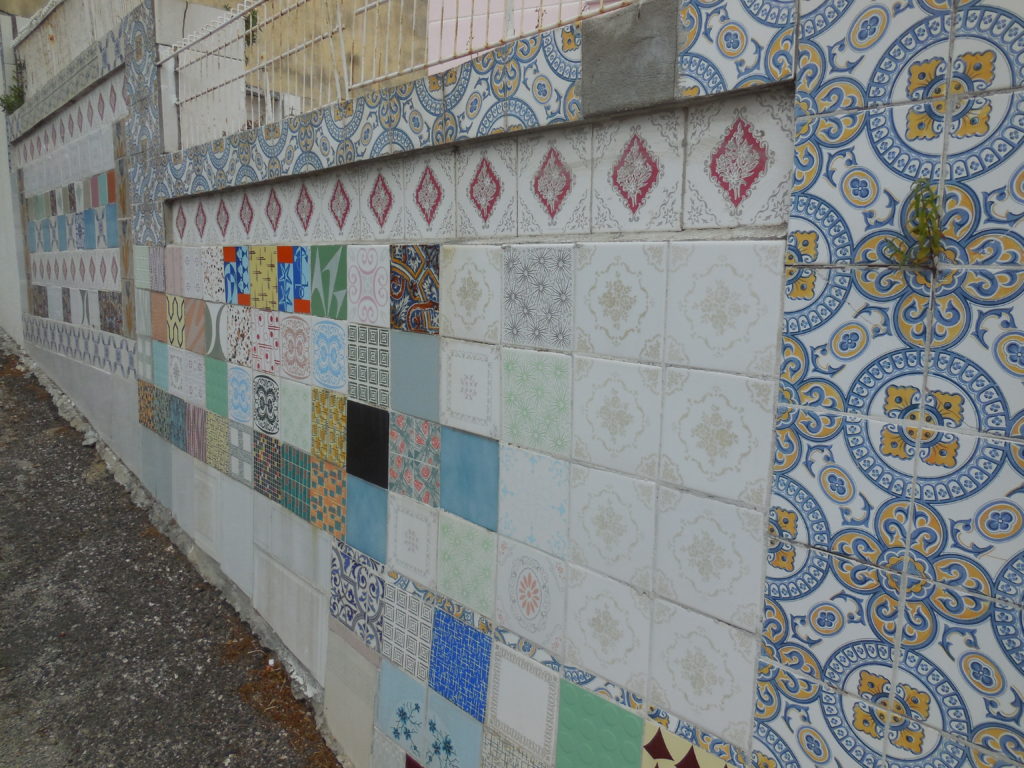 I envy this tile collection–especially after seeing the prices at Sant'Anna today! yikes yikes yikes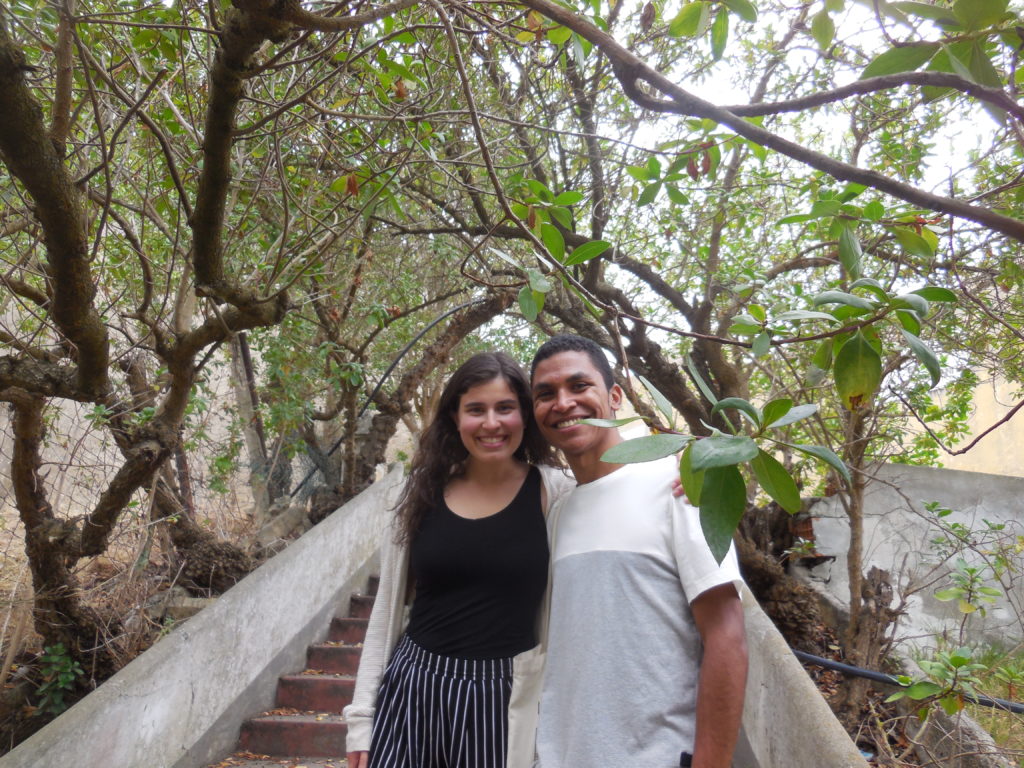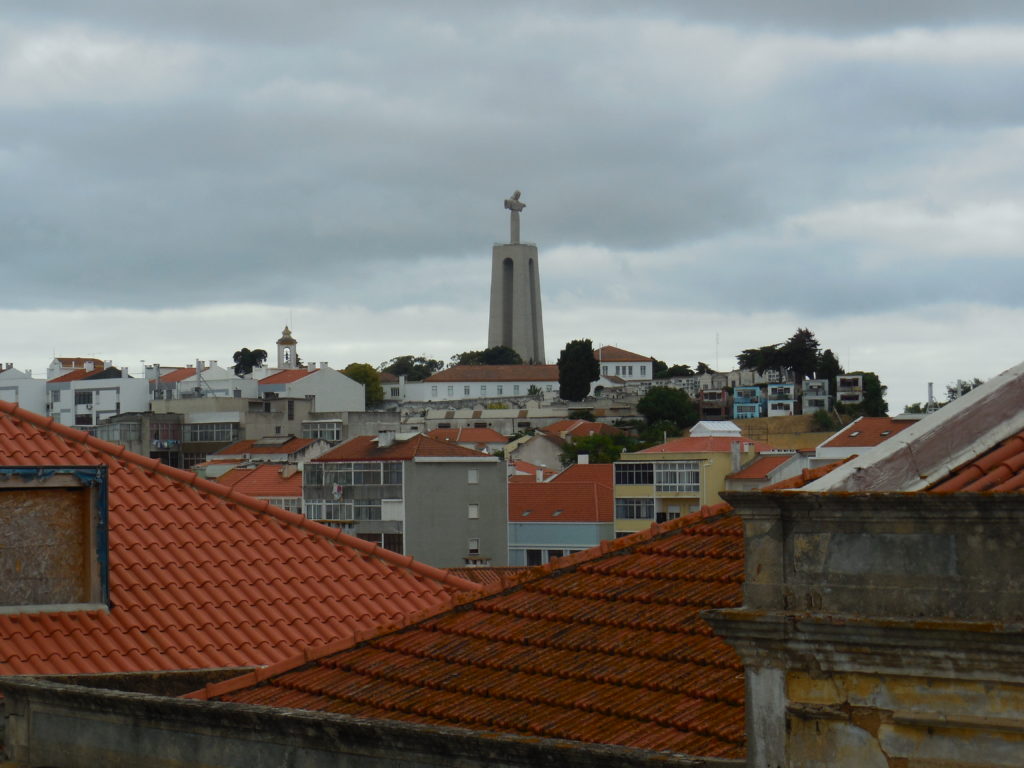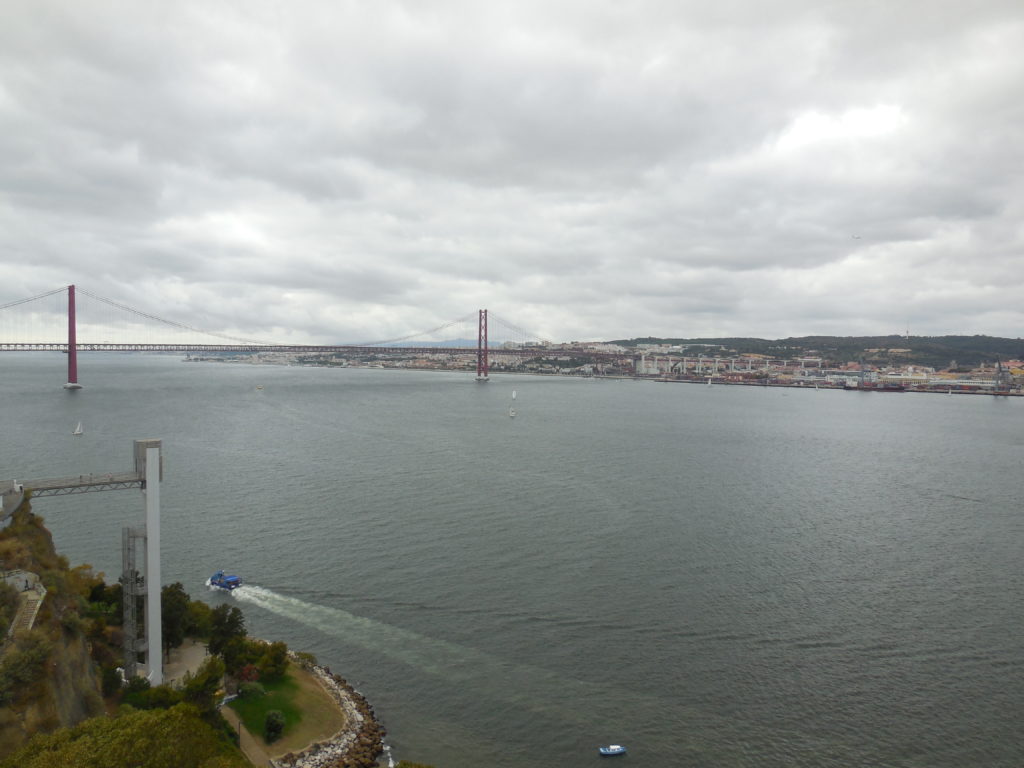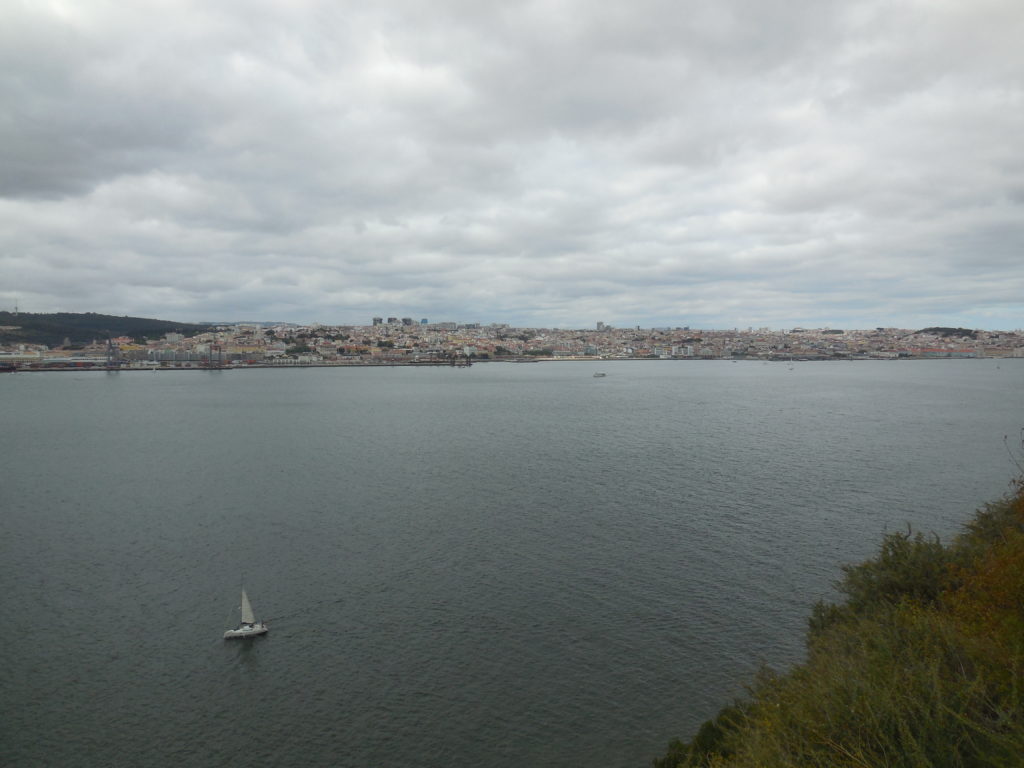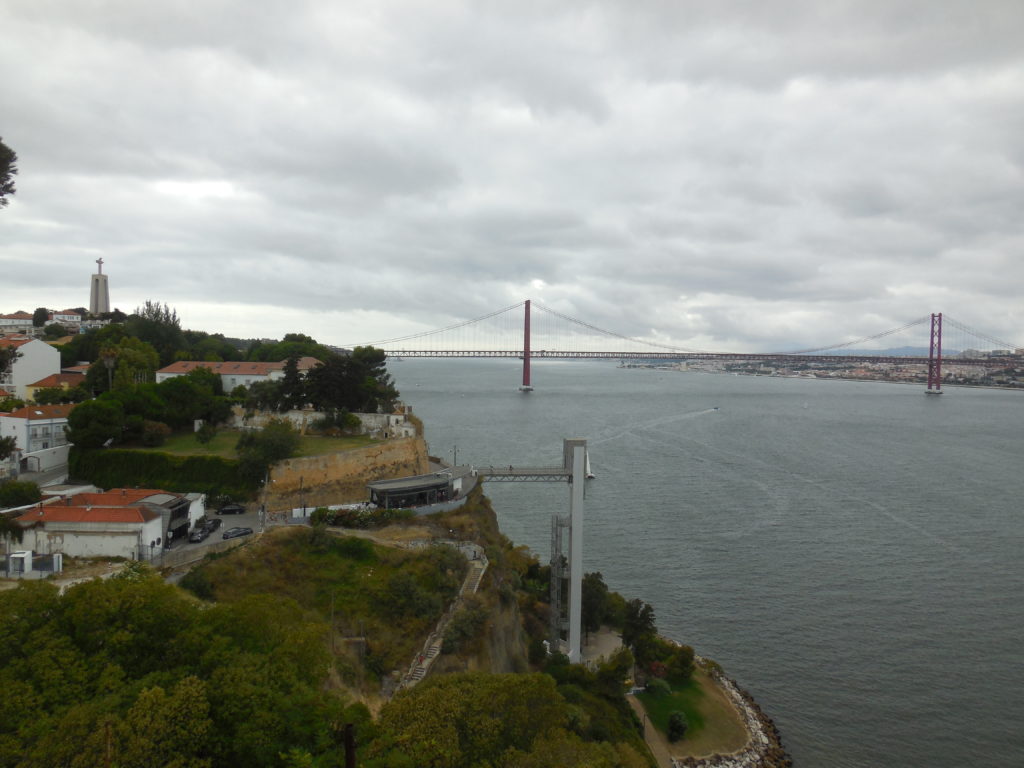 The structure you see there (the vertical grey one) is the free panoramic elevator. 🙂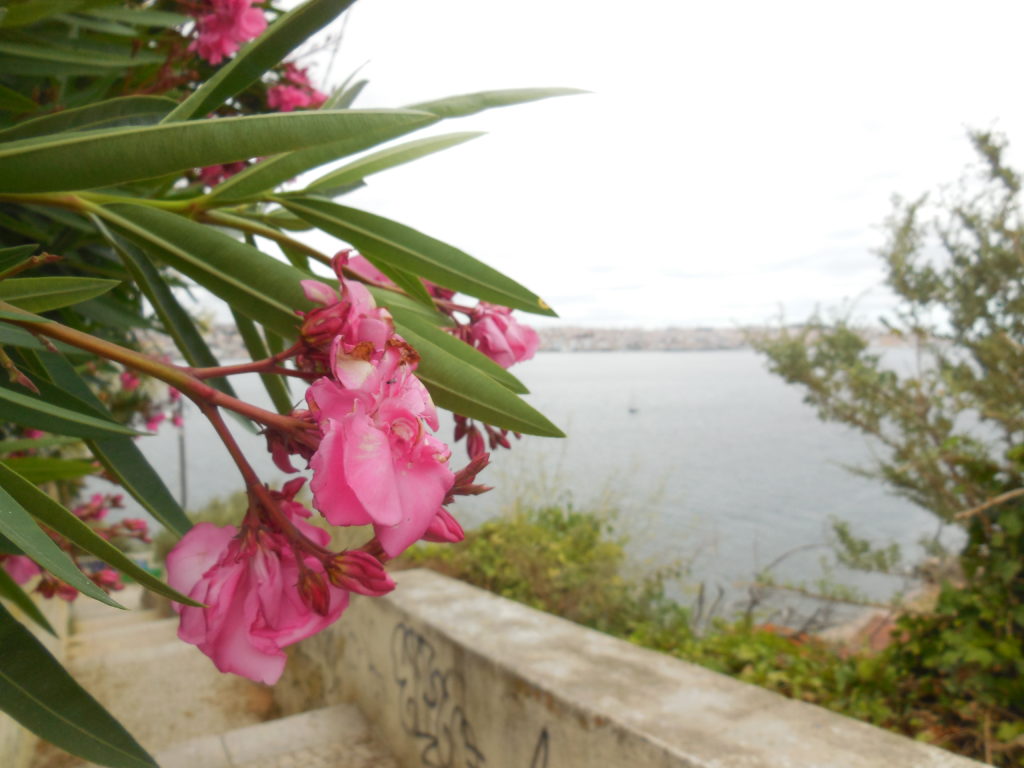 Photo credit for the flower picture goes to Laura <3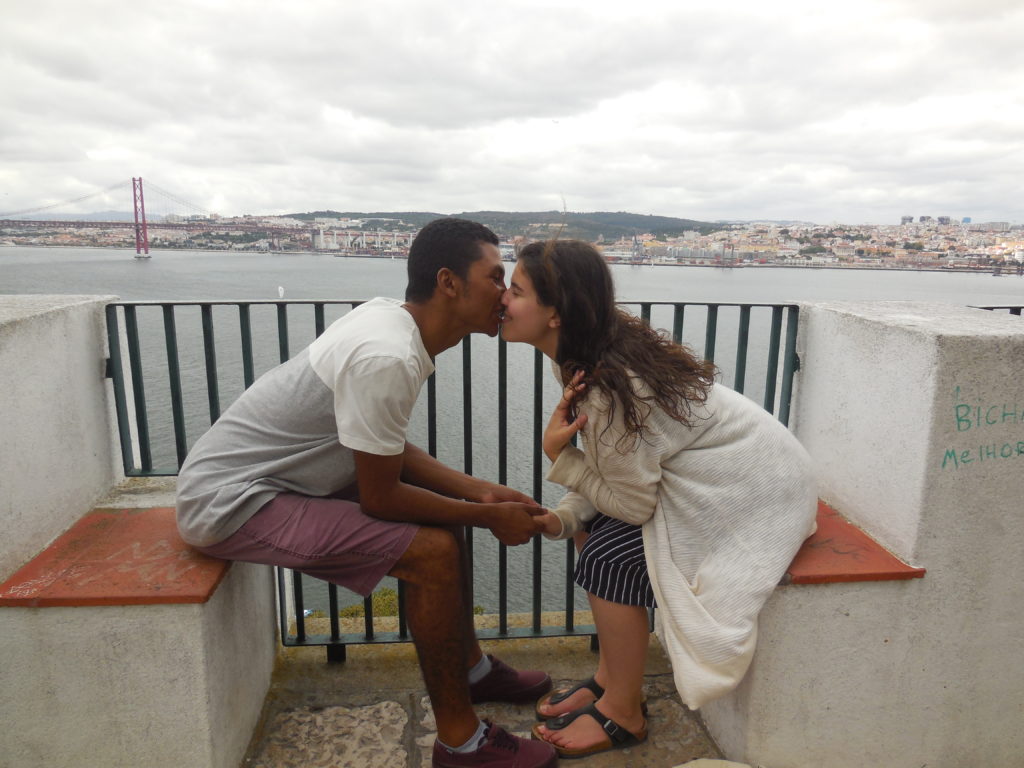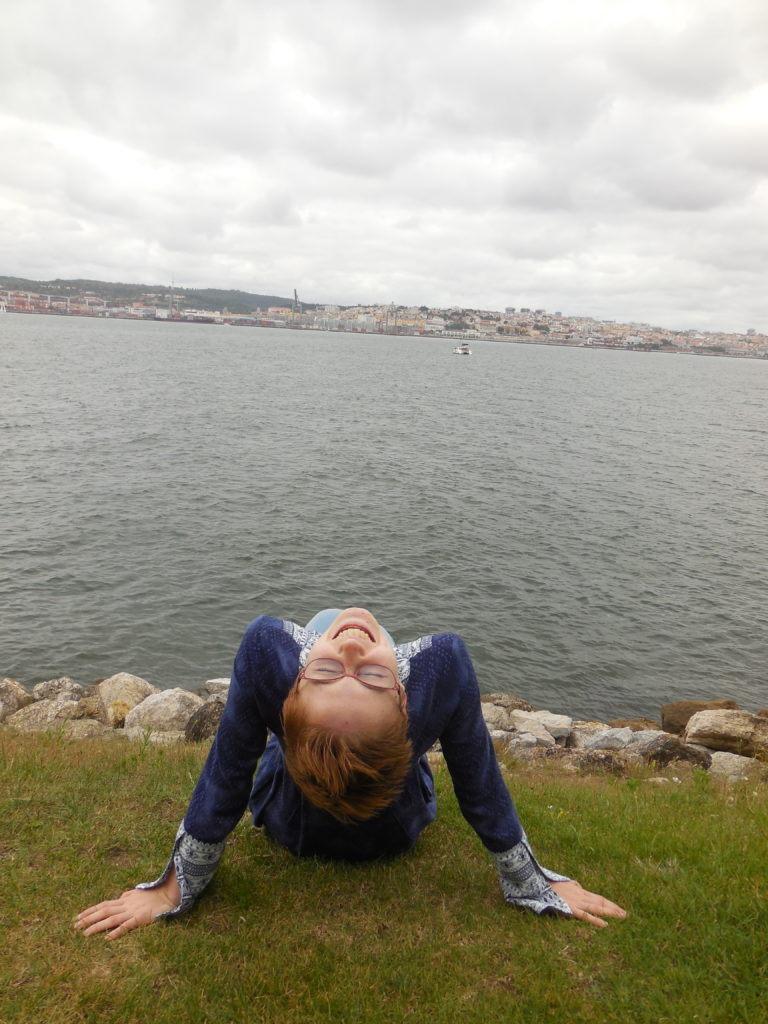 Then we made it to the statue, which was really big. We didn't really want to take the elevator up and it was closing soon anyway, so we explored what looked like the newly-renovated grounds and enjoyed the views of Lisbon.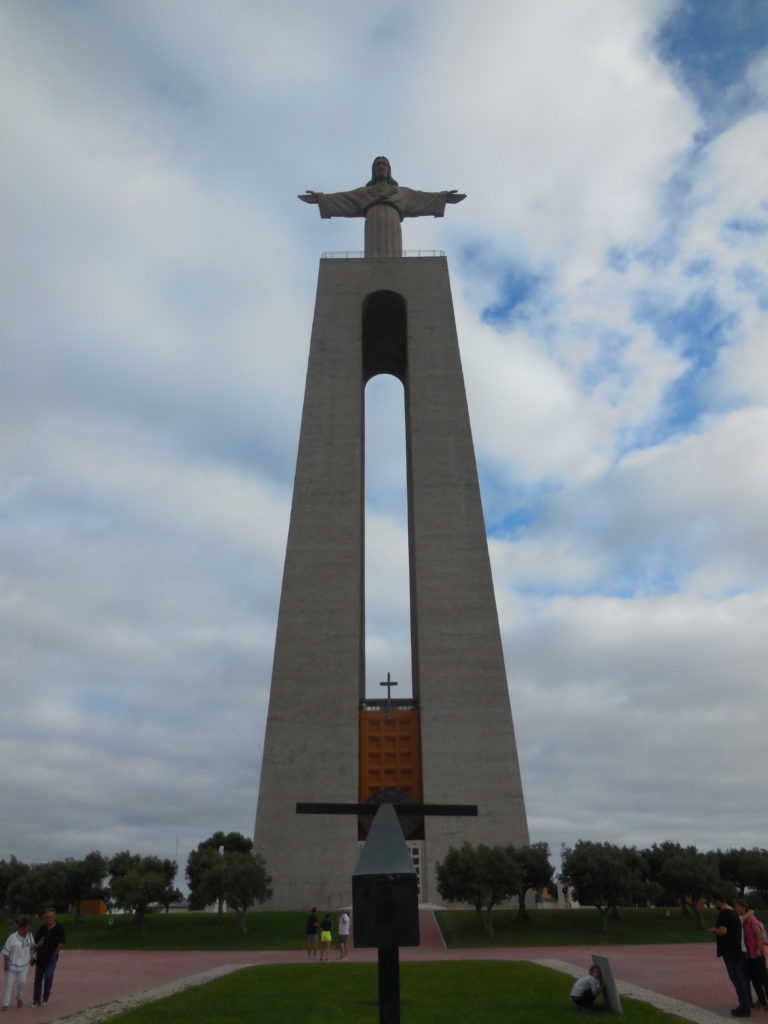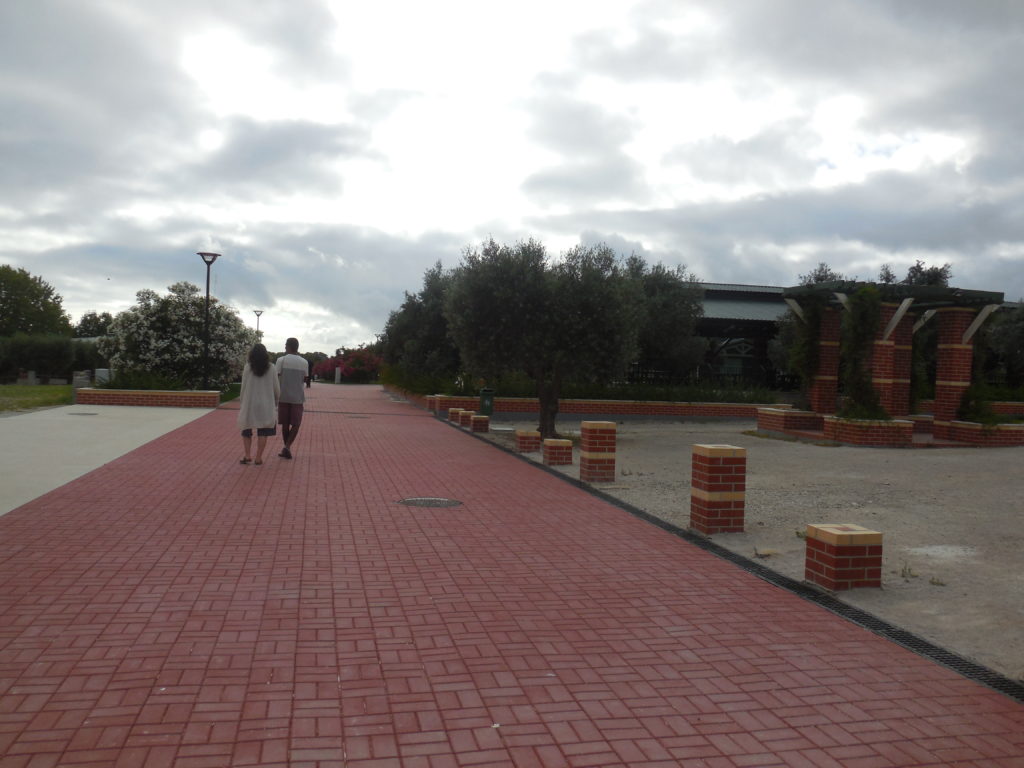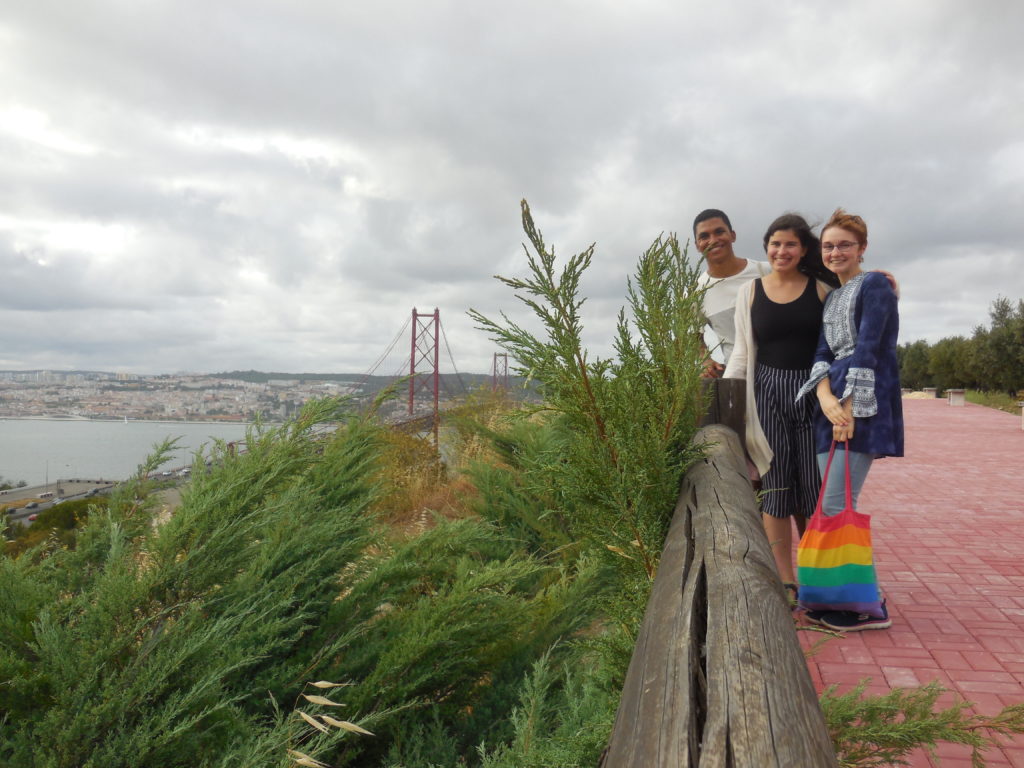 I really feel like Mama–the magic of self timer. I'm so used to this camera's self timer, but I'm not used to the running, haha.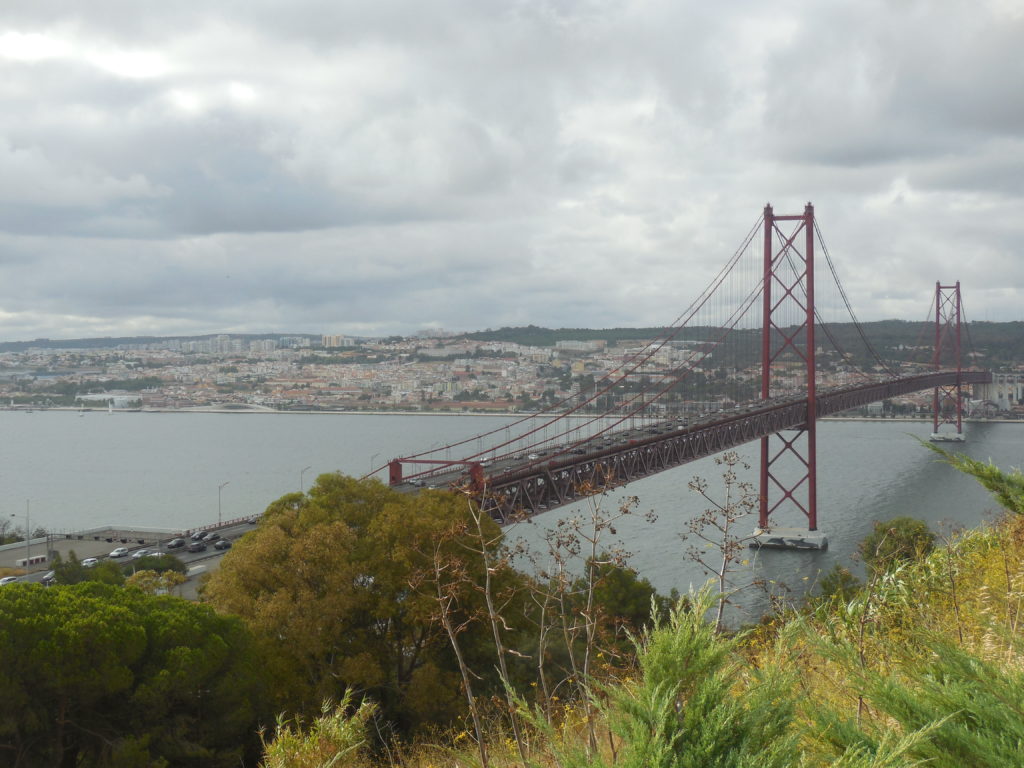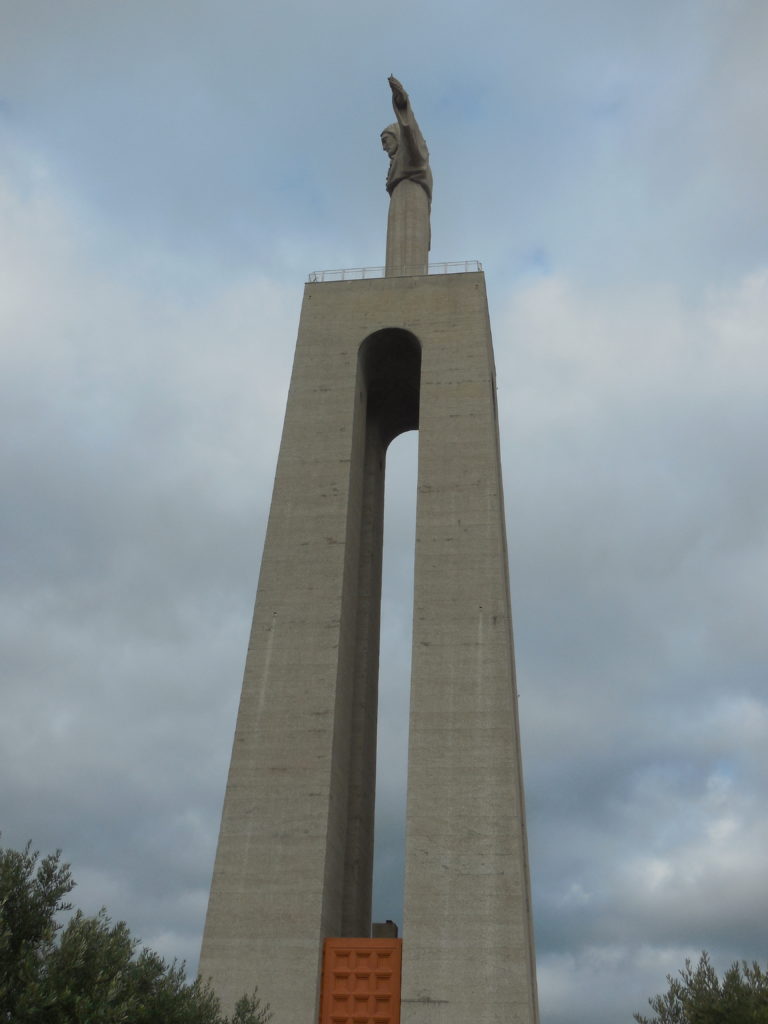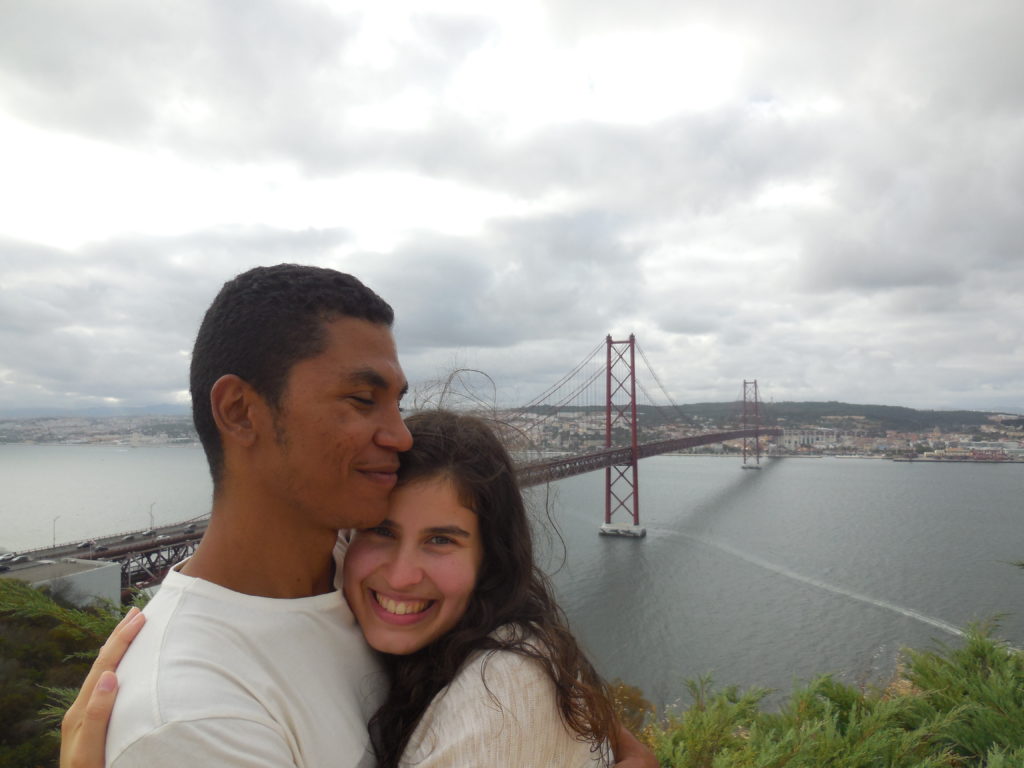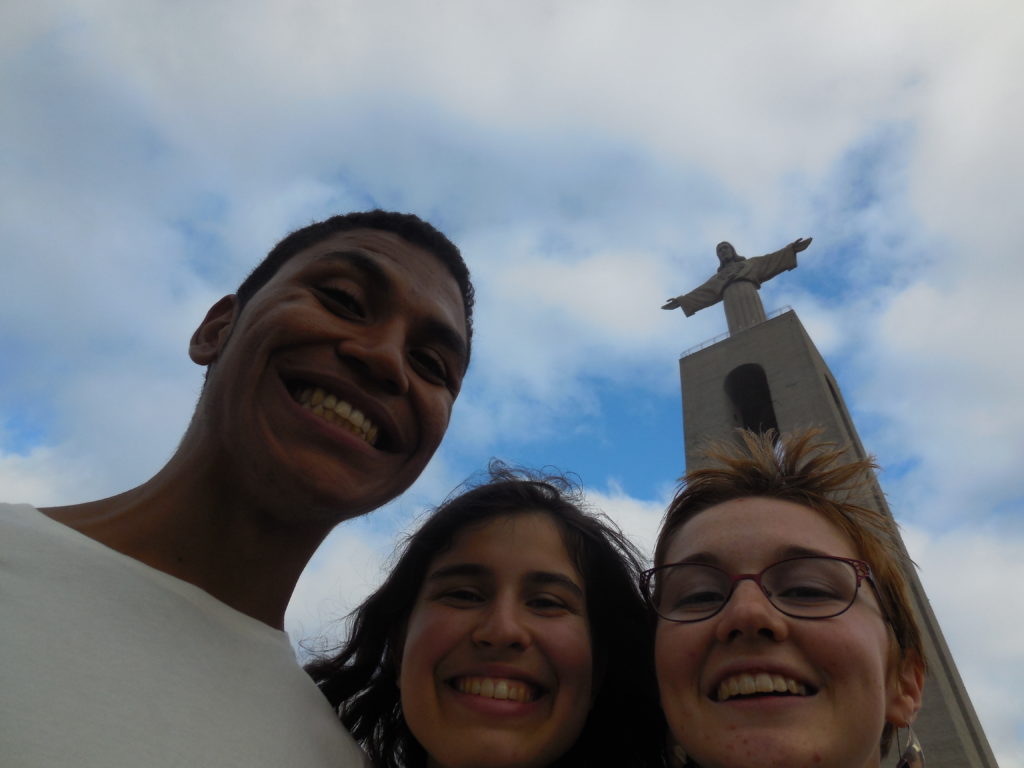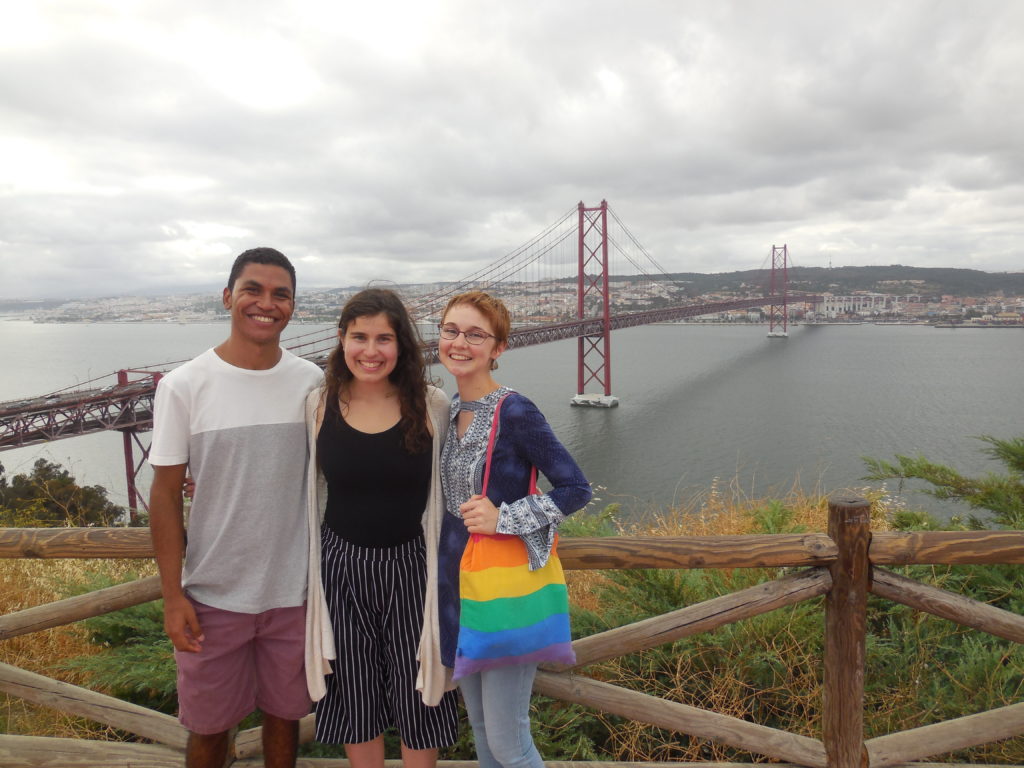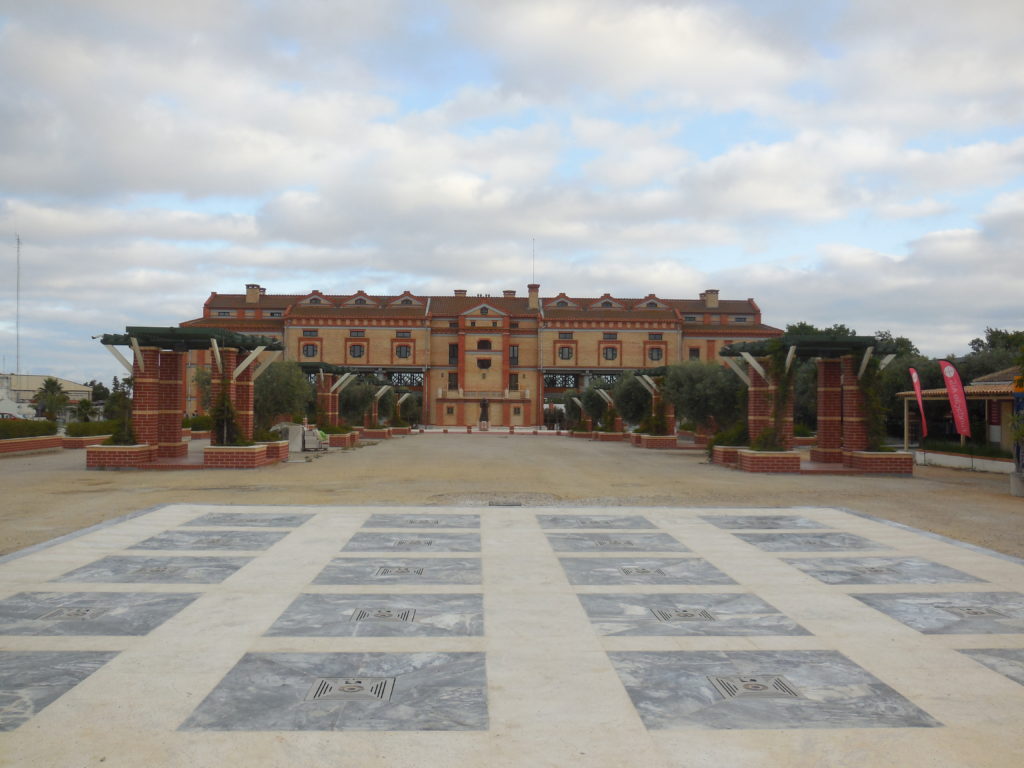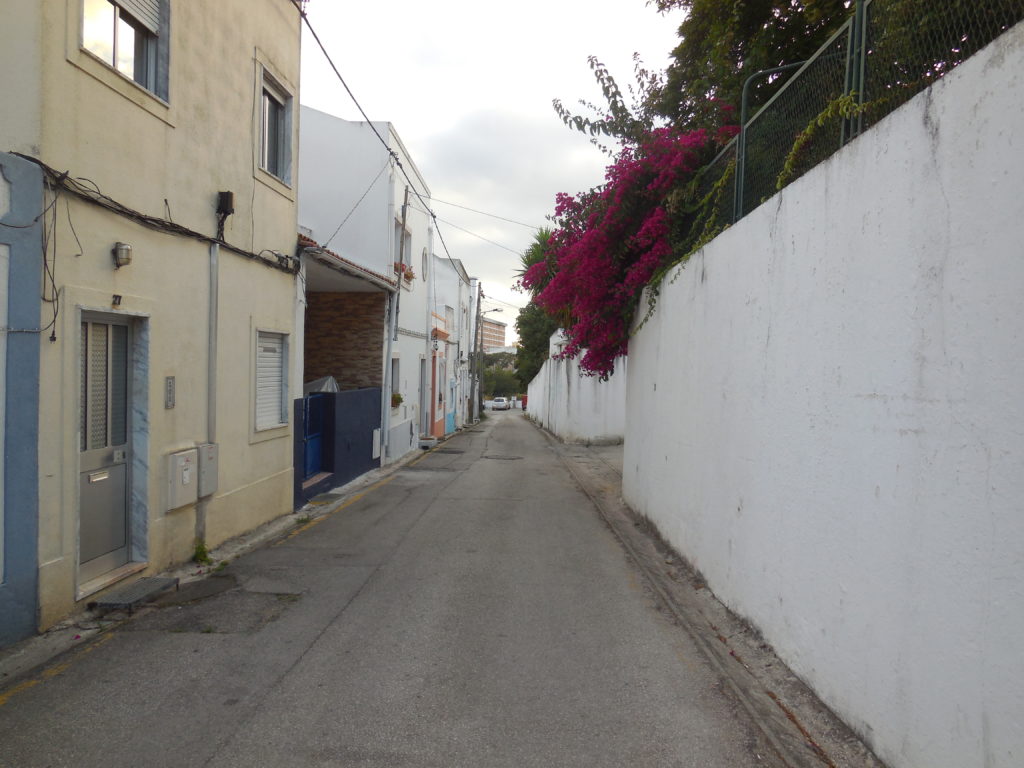 Getting back to the bus stop was an adventure–the first true failure of google maps that I've experienced. It had us going downhill through private property on a washed out dirt goatpath. We found a different route instead. 🙂
Laura and Lucas are truly a wonderful couple and amazing people individually. I am struck by how happy all of our conversations are and how much they make me smile after we say goodbye. They're the sort of people that leave you glowing on the inside.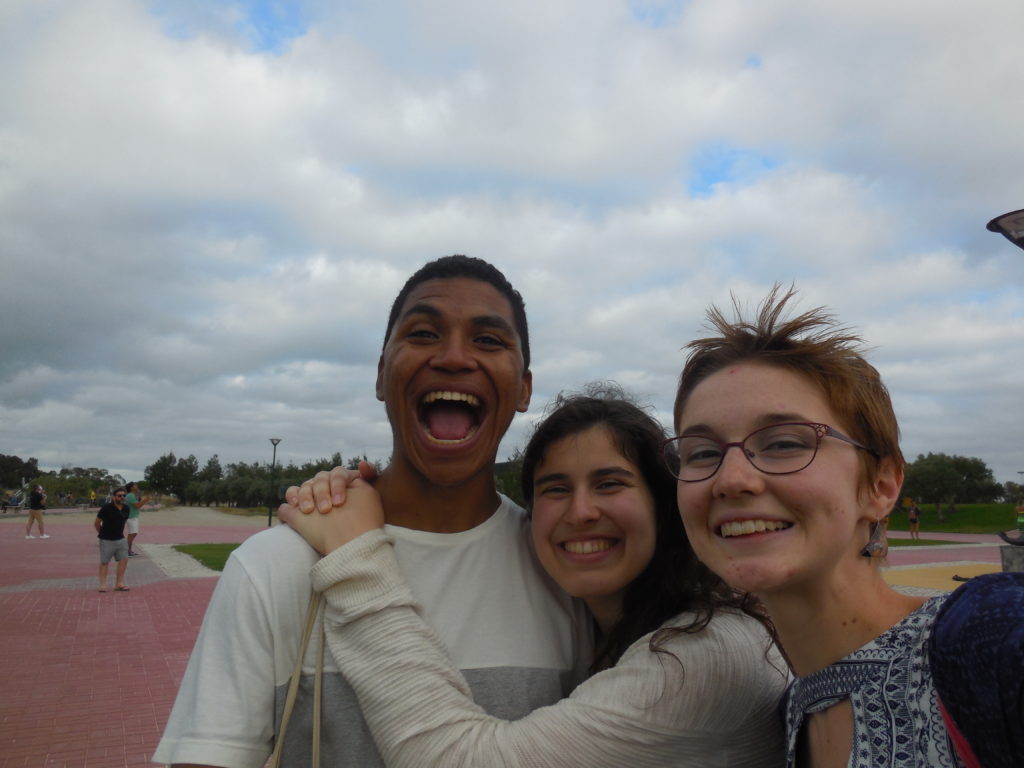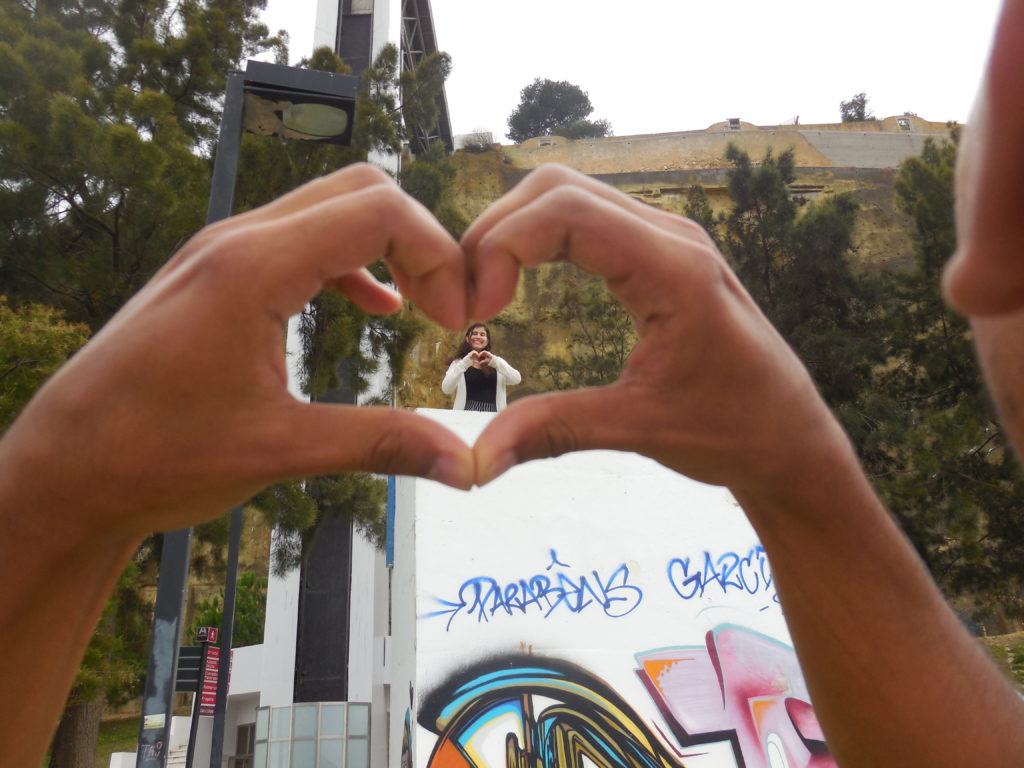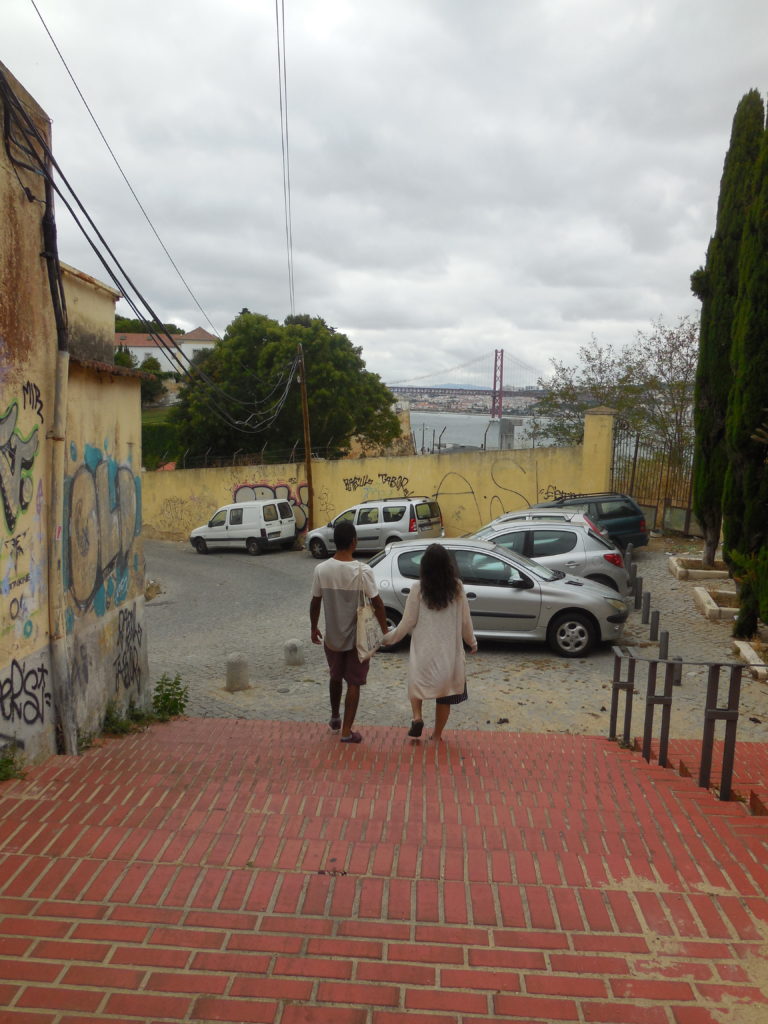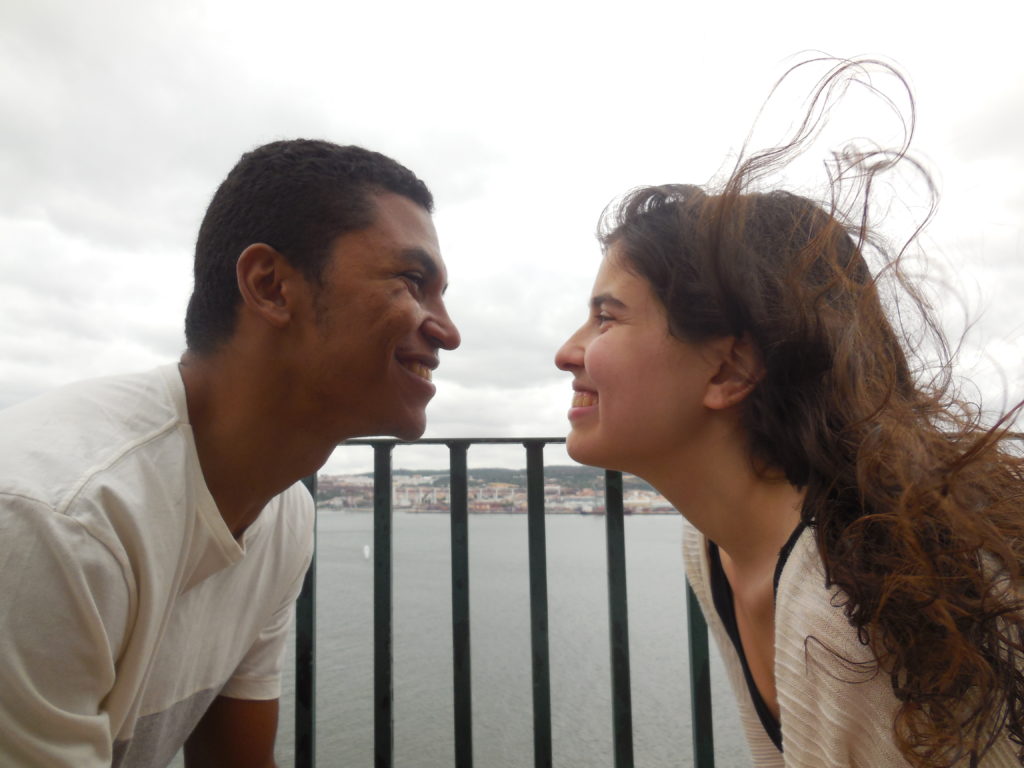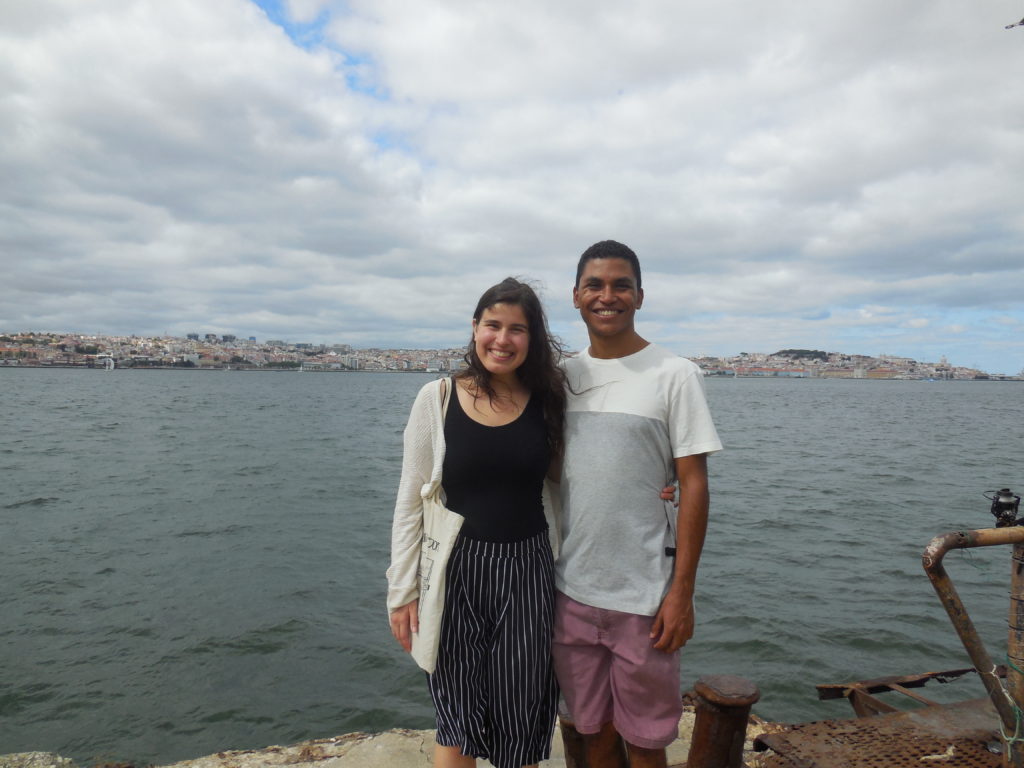 Then I went home, cooked some lentils and fried an egg, and wrote up this blog! I'm trying to use up my ingredients haha. I also entered all of my locations today into google maps and calculated that I traveled in a large loop, about 32 kilometers long, today!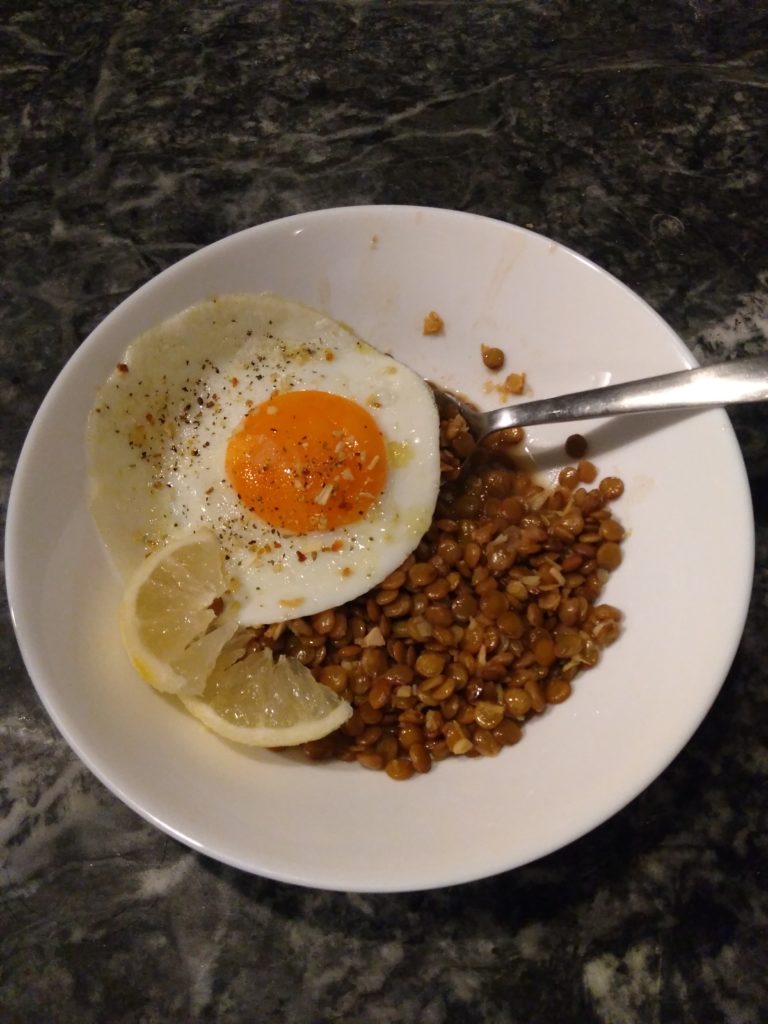 Much love!