Hello! Yesterday was a bad day so I didn't blog–sundays are always my least favorite day, because, much like the last day of the month, I just feel this unrelenting sense of dread on everything that's coming and everything that I haven't achieved. Additionally, I cooked something really lackluster for dinner and it was a disappointing experience to scrape the pan into the trash after nearly an hour of multitasking and cooking.
But, today was better! For one thing, I had three successful meals (overnight oats for breakfast that I made last night because I was so frustrated with myself). Additionally, going to classes that you've sort of prepared for is better than feeling like you'll never be able to prepare enough for them, and feeling like a failure. For lunch, I went for a comfort food: grilled cheese with tomato sauce and spinach, which was really nice. I also piloted a method I had seen on the Bon Apetit youtube channel: low and slow heating of the sandwich (ie, construct the sandwich in a cold pan and heat it as you go, but over low heat and patiently don't turn the pan all the way up), and using mayonaise instead of butter on the outside to encourage more even browning. I gotta say–success!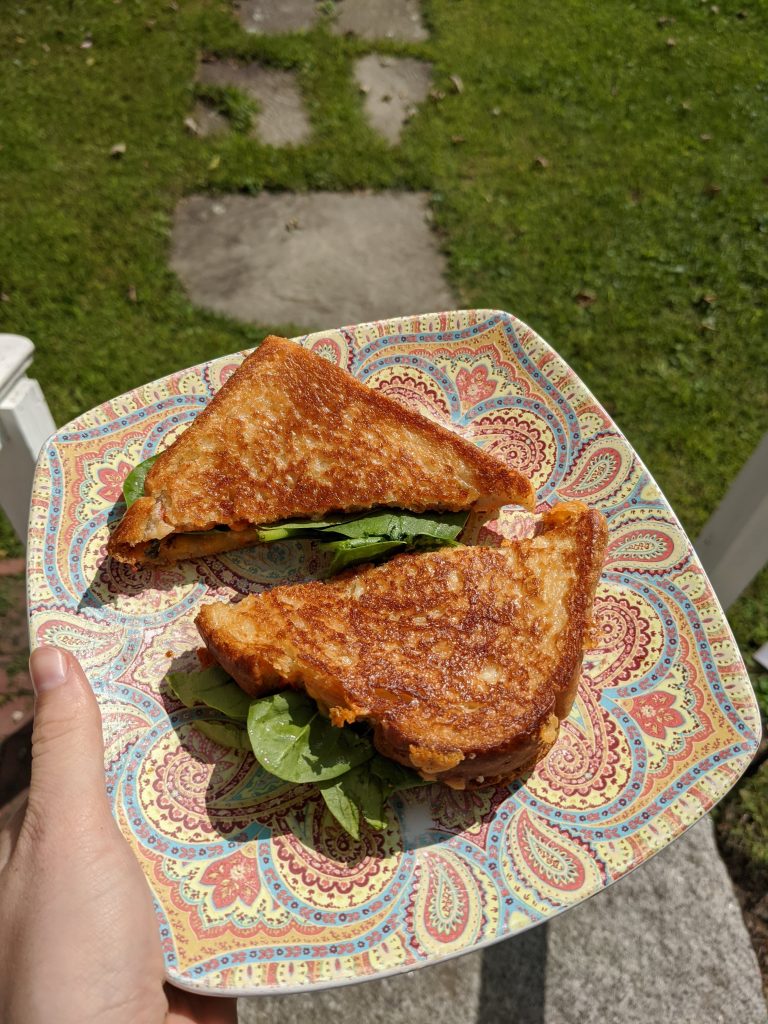 For dinner, I had two noodles.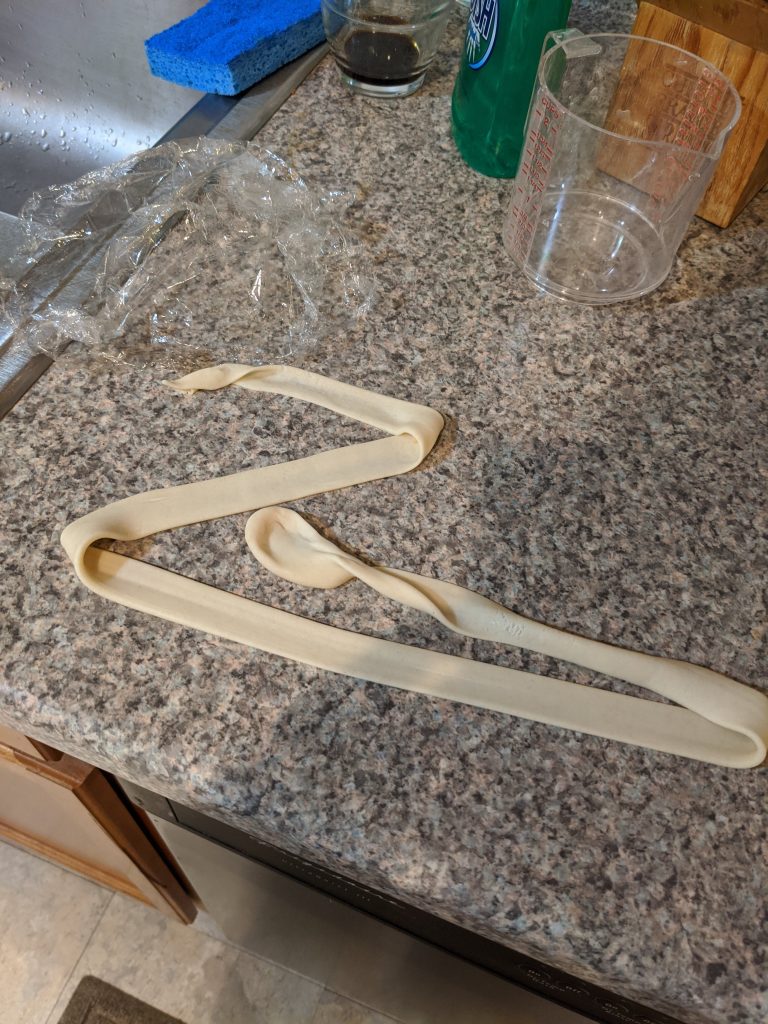 Don't worry, though, because this is one noodle (I boil them one at a time).
I also fried a massive egg that might have been a duck egg from the websters' ducks! Not sure (since they're not labelled but you just go by the size difference) and some veggies. I flavored these noodles as traditionally as I could–cayenne, onions (instead of scallions), minced garlic, red pepper flakes, soy sauce & vinegar (instead of black vinegar), paprika (because why not), and some untraditional vegetables (peppers and celery and cucumber). My favorite thing about how these noodles are prepared is that you heat a sip of oil in a pan until it is smoking, and then you quickly pour it over the noodles with all the raw aromatics on the top, where it will bubble, cook the flavorings, and seep into the noodles. Not the healthiest, but it's definitely one of my favorite foods to eat and cook for myself.
Sophie asked how I pull the noodles from their gherkin shape into the proper shape, and it's really simple–you squish the gherkin into a flat rectangle, let it sit about a minute or two, and then pull each end slowly and gently! to encourage the glutens to loosen up even more, you can bang them down on the counter, holding each end and tugging and slapping the center onto the counter-top. I have watched a few videos, plus I watched my host mom do this a few times in China! But this is the first time that this has worked really well for me, because I was extremely generous with the oil coating on the noodles as they are resting, and I made absolutely sure to store them in an airtight container. It's so satisfying that this works, and that I can tear the noodle in half lengthwise and keep slapping, because the gluten has had time to sit, rest, and become stretchy and strong. Water, flour, oil, and time are all that is needed!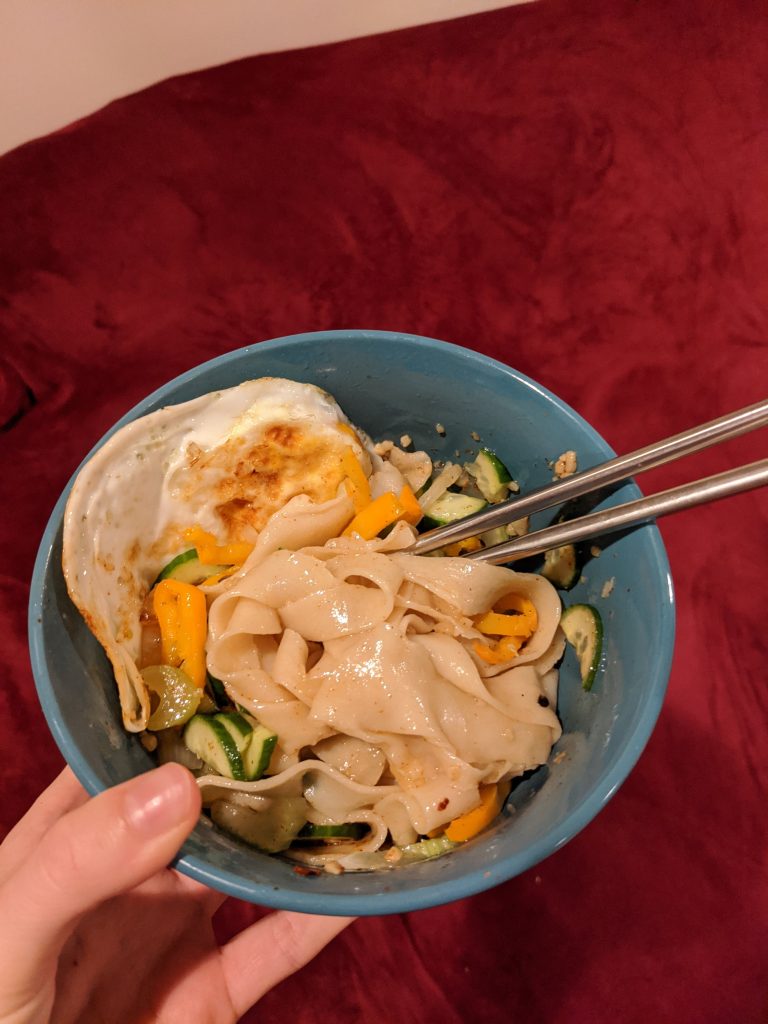 In the not-so-appetizing department, though, Sadie spent the day at the vet because she killed and partially ate a groundhog this morning. The groundhog had bitten her so she has facial stitches and is forlornly wobbling around the apartment, still under the influence of the anesthetic they gave her. Not to worry though, she was given shots for rabies and things and tonight I will keep her off the bed (I don't think she can jump up on it anyhow? she's in quite a state). I don't think her digestive system agrees with the groundhog (what a crazy pooch) and she's just leaning around and laying down sporadically… I'll give an update tomorrow!
Take care, much love!